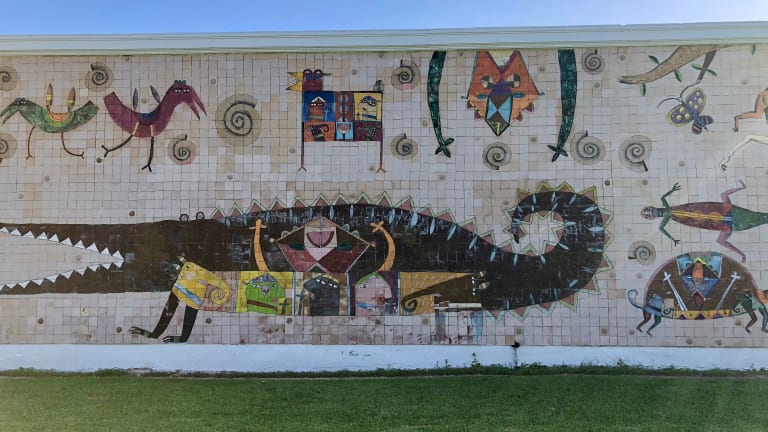 Dreams Tulum Resort and Spa Perfect for Families
Escaping to Sunny Mexico on Spring Break
It's been a long winter in New York. Spring may be here according to the calendar, but April hasn't been too kind to us. There's a reason schools schedule breaks right around now – everyone is starved for warmth and vitamin D. No wonder Tulum, Mexico seems to be popping up on my radar so much. I finally got to put my toes into warm sand at the Dreams Tulum Resort and Spa and let me tell you, it's perfect for families.
Picking the right all-inclusive family resort in Tulum isn't easy for working parents. In my family, there are all sorts of factions that need to be pleased and we all want our vacations to work around our specific schedules. A luxe family resort like Dreams Tulum can make everyone happy.
This was my first stay at a Dreams Resort and I can see why families keep returning to their properties. I will admit to my bias. When I think "all-inclusive," I have memories of a less than savory cruise I took. When it comes to booking a Tulum resort, you have to do your legwork (or let me do it for you) and find out just what you are getting. 
Dreams Tulum is a gorgeous resort spread out over 44 acres of land. The architecture has a nod to traditional Mexican design, while also being functional and contemporary. There are plenty of colorful splashes of hand-painted tiles and vibrantly painted walls mixed in with traditional wood and textiles. The property isn't showy or flashy. They let the natural splendor steal the spotlight. Most of the buildings are tucked into local vegetation and glorious Mexican flowers are everywhere… as are the local iguanas that delight all the young guests.
Feeling immersed in the local culture is important to me when I travel. I don't want everything Americanized. The rooms are uncluttered and neat – I loved our garden view deluxe suite and the spacious bathroom (rooms closer to the pools can be noisier, so book your spot accordingly!). Dreams Tulum has just over 400 guest rooms, work with your reservation agent to make your preferences known. There are a TON of options: haciendas, adults-only rooms, garden views, ocean views and more. I stayed in a Deluxe Junior Suite Garden View room and it is an incredible value in April at $168 a night per person.
The layout of Dreams Tulum beckons guests to get outdoors. Splashing waterfalls are the soundtrack of the resort. You won't walk far without encountering a handwritten sign with an inspiring quote or encountering a gorgeously landscaped nook. 
Let's Splash at Dreams Tulum
Water is a big reason for the appeal of Tulum. I want to see and hear the ocean as much as possible. Dreams has a long stretch of sugary white beach with loads of cabanas. You can do as much or as little as you like at Dreams Tulum Resort & Spa. Run along the private stretch of beach or lay under a thatched palapas for shade. In addition to the beach, there are two enormous pools. Water is never far away!
Many water activities are free. My friend Megan from www.tfdiaries.com and I took out a kayak to explore the coastline, and I was happy I didn't have to pay by the hour. For pool time, I gravitated to the quieter pool. The main pool has a pool bar and is ground central for daytime activities. If you are looking to be entertained, head over there.
I like to have a few hours of relative calm when I am "beaching," but other people like to go, go, go. Dreams can accommodate both. I marveled at the folks who wanted to play the pool games or try the Zumba class at the beach.
Space to Chill
Don't worry about rushing to get a chair at the beach at 8 am. They don't run out of chairs, or towels or any of your favorite foods at breakfast. Because every detail is taken care of, the guests can relax. They start to exhale, trusting that Dreams to the details.
From food to activities to entertainment, Dreams Tulum goes above and beyond to enchant their guests. I was repeatedly charmed by the serving staff and delighted by the entertainment.
The Upside of All Inclusive
It's definitely a value play. When it comes to family food and entertainment, Dreams is an affordable luxury. Unlike my stays at Four Seasons and Westins, I didn't start to feel panic attacks over $200 lunches by the pool (yes, that has actually happened). While I don't advise being wasteful and ordering too much, we all know that kids are fickle eaters. At Dreams, they can try new things and still get a burger. This way I feel as if I tried to expose them to the wonderful Mexican cuisine and don't have to battle with them to finish a $50 entrée they ordered.
The biggest deal? No reservations for meals when you make a VIP booking for your room. I ate when I was hungry, snacked when I wanted to and tried things I might not have otherwise tried.
What to Do With the Kids
There's a kids' club on the property to let little ones make new friends and participate in planned events. Dreams Tulum calls the supervised kiddie area the Explorer's Club—I call it a mom's best friend. With a Mayan theme and plenty of space, kids will WANT to go. Did I mention it's free for kiddos 3-12? It's a part of their Unlimited-Luxury® privileges at Dreams Tulum. There's also a playground, a shallow pool and tons of activities geared to kids for families to play together. 
For older children like mine (10 and 12), Dreams is a spot where you can feel safe letting them explore. The private property feels secluded and I would definitely feel comfortable letting my girls wander off to play ping pong, swing on the ocean swings or check out one of the poolside shows. 
For teens, the water sport will be a huge draw, from snorkeling to scuba to stand-up, there's no reason to groan about boredom. Dreams Tulum also offers the Core Zone Teens Club if they want to get social (otherwise known as flirting).
When I know my kids are happy, I feel no mom guilt about getting in "me" time. Dreams has all the things I look for in a beach resort. There's a full spa, a great fitness center, and quiet spots where I can dive into my latest book. Dreams Tulum is a spot where no one feels ripped off, and that's a tough proposition in a luxury resort.
A Few of My Favorite Things
I always jump at the chance to take yoga at the beach. Dreams offers two classes every morning on the Playa Central. Anna, the instructor is knowledgeable and patient. The 9 am class is a flow style vinyasa class. The 10 am class is perfect for beginners of all ages. Sadly, I missed out on trying the spa, but I did see the traditional Temazcal ceremony. On my next visit, I'll be sure to experience both of these.
I loved being able to eat what I wanted, when I wanted. There are six à la carte restaurants, a buffet, a grill and a café. If I wanted a bite of fruit, I could get a quick nosh. Then, when I wanted a full-service meal, I could settle in and enjoy that too. My favorite dining experience was at the traditional Mexican restaurant El Patio that included a Tequila 101 tasting and class. I admit to having zero tequila knowledge before this trip. I learned all about the five states that can, by law, produce tequila. I also sipped the different varieties and have a greater appreciation for the liquor.
For My Next Visit to Dreams Tulum
The perfect Dreams Tulum stay would be 4-5 nights--a few days to completely decompress and stay on property and a few days to explore the sights of Rivera Maya. For my next trip, I really want to explorea nd see the Tulum Ruins.
My family doesn't often make it to the beach. As you know, we ski a ton. But at least once a year, we need a good thawing. Mexico has incredibly reliable sunny weather and a wonderfully hospitable vibe. For a getaway to Tulum with kids, you can't beat Dreams. 
Five Reasons to Book your Trip to Dreams Tulum
1. Water Sports: The warm Atlantic Ocean is at your disposal, go make it your playground. Check into the water sports area and book a SUP or kayak. You'll have to pay extra for scuba and sailing, but if you're on the beach, make the most of it!
2. Freedom: Thanks to the all-inclusive set-up, it's the ideal spot to try new foods and activities without racking up huge resort fees. Now is the time to try a Zumba class or sip a second margarita while listening to music. You don't need to worry about making your reservation time!
3. Entertainment: There's always something going on. Highlights included the aquatic acrobatics show and the yoga classes. The team at Dreams goes above and beyond to make guests delighted.
4. Chillaxing: It's the perfect place to unplug. While there is Wi-Fi, it's not the place where you'll see folks staring at their phones. Families are connecting over all the activities. If you are looking for hi-speed internet and constant connection to your "other" life, this isn't your spot. If you want to try on a new, more chill you, this is just the place to make it happen.
5. Friendly Staff: Since they aren't in it for tips, you might think the staff would get a little less sharp. Nothing could be farther from the truth. The team at Dreams seems to genuinely love their work and it shows. Not all all-inclusive resorts are created the same. Dreams has figured a way to train their staff to be beyond welcoming and to nurture a property that is extremely conducive to slowing down.
Book your trip www.dreamsresorts.com/en_us/resorts/mexico/tulum.html
Pin it and Plan it!
Use pinterest to save your vacation ideas. Be sure to let us know if you try out any of our suggestions.
This Dreams Tulum Resort and Spa perfect for families feature is not sponsored. We were given lodging to help facilitate this review.