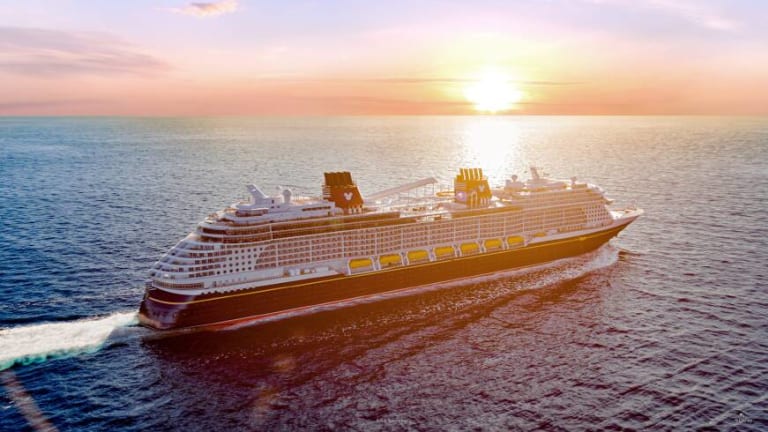 Disney Has a Brand New Cruise Ship Ready to Set Sail
The New Disney Cruise Line Ship Will Unlock Enchanting Family Vacations in Summer 2022. Check out the Wish.
In a sign that travel is going to bounce back, there was big news from Disney today -- they are launching new ship called Wish. This is the first ship in the Disney Cruise Line fleet expansion and will offer new ways to enjoy the magic of Disney at sea. The announcement came with an elaborate press briefing and I must say, I can't wait to set sail again.
Related: Momtrends takes a Disney cruise.
Disney Cruises Are Just What We Need
Back in 2014, I was lucky enough to cruise with Disney. After a rocky first few experiences with cruises (brands to not be named), I'd given up. But the lure of Disney was strong. When they invited me on a press trip seven years ago, I took them up on it and I was wowed. I completely buy into the Disney "difference."
We can all use a little magic in our lives right now. And I was dazzled with all the thought that Disney has put into this latest endeavor. When The Disney Wish sets sail in summer 2022, families will discover a mesmerizing new world created especially for them: a celebration of Disney's rich legacy of enchanting storytelling that brings to life the fantastical worlds and beloved characters at the heart of Disney, Pixar, Marvel and Star Wars adventures like never before. Take a look at a few details that will set this ship apart.
A Fabulous New Adventure on Board
One of the most intriguing features of the ship is the AquaMouse, the first-ever Disney attraction at sea. Sure, many ships have water slides, but this takes it to the next level. This first-of-its-kind water ride will send guests on a fun family adventure through 760 feet of winding tubes suspended high above the upper decks. It's a water ride on board a ship!
In addition to AquaMouse, families will have more pools, more deck space and more dining than ever before in an expansive pool district themed to Mickey and friends. Located on decks 11 and 12 midship, this area will include six pools of various sizes and depths. Disney is providing more space for deck chairs so families have a home base to play all day. Throughout the day, guests will enjoy a variety of poolside entertainment on Funnel Vision, a jumbo LED display that screens Disney movies, TV shows, live sporting events and more. For guests seeking a laid-back environment, another family pool will be available on deck 14 forward. 
Take a Look at Rooms
Every stateroom is a Disney fairytale come to life. I was dazzled by our room on our first trip, no detail goes unnoticed by the Disney team. Every inch of space has been designed to tell a story, from pixie-dusted furnishings to delicate linen embroidery inspired by the fleet's signature golden filigree. The staterooms have ample room for families and plenty of storage space.
Most of the ship's 1,254 staterooms will offer an ocean view, in addition, 877 (70%) will have a spacious verandah. 
Most staterooms will feature Disney Cruise Line's signature split-bathroom concept, with a sink and shower in one room and a sink and toilet in a separate room. 
All will include a bathtub – perfect for giving children a bath. 
For larger families, there are 451 connecting doors that adjoin rooms to accommodate larger families. this is most likely the configuration we will get for the girls. 
Here'a a cool little Disney detail: Little ones will delight in a secret starfield hidden above pull-down beds, with original artwork revealing a constellation of Fairy Godmother overhead.
Ok, let's talk about the fanciest options. When it comes to high end experiences, The Disney Wish will supply 76 concierge staterooms and suites – more than double the number available on other Disney ships. Accommodating up to five guests, these rooms will feature spacious living areas, king beds, luxurious finishes and premium amenities. Most will include a generous private verandah, and most have been designed with the rich color palette and distinctive iconography of Walt Disney Animation Studios' "Tangled." Seven exclusive oceanview rooms are Disney's first-ever staterooms located above the bridge. These will have extended living areas with breathtaking views of the ocean through floor-to-ceiling windows that overlook the bow. I will look carefully at the prices of these as we might just be ready for some bucket-list travel.
Got a princess in the family? The Disney Wish will also debut four royal suites that celebrate the gilded world of Disney Animation's "Sleeping Beauty," with two Princess Aurora Royal Suites and two Briar Rose Royal Suites. Each pair includes a single-floor option and a two-story configuration, the first of their kind for the Disney fleet.
What's on Board the Disney Wish
Disney always improves upon greatness. On this ship, they have outdone themselves. Families will embark on a splashtacular adventure with Mickey Mouse and Minnie Mouse aboard the first-ever Disney attraction at sea.
In addition to the water ride, guests can expect more delights like a royal theatrical dining experience with "Frozen" friends; and enjoying a first-of-its-kind Star Wars experience on board a Disney ship.
A hallmark of the Disney Cruise Line experience is the unparalleled roster of original Broadway-style stage shows developed exclusively for the fleet by world-class creative teams. These dazzling shows will be presented in the Walt Disney Theatre, an elegant 1,274-seat show palace that spans three decks with orchestra and balcony seating.
As part of its line-up of theatrical productions, the Disney Wish will feature a reimagined adaptation of "Disney's Aladdin – A Musical Spectacular," a guest-favorite show from across the fleet. This fastpaced musical comedy is based on the classic Disney Animation tale of "street rat" Aladdin meeting the wise-cracking Genie, battling the evil Jafar and falling in love with Princess Jasmine. Iconic scenes and songs from the movie will be re-created on stage, including a lively, Las Vegas-style rendition of "Friend Like Me" and a breathtaking performance of "A Whole New World" atop a flying magic carpet. Grammy Award-winning composer Alan Menken created an original song for Disney Cruise Line entitled "To Be Free," a solo performance for Jasmine.
Disney Wish Kids Clubs
Aboard the Disney Wish, kids of all ages will find a ship filled with fun – from an immersive wonderland of heroes, princesses and storytellers, to a whimsical nursery for babies and toddlers, to seriously cool hangouts for tweens and teens.
For the littlest cruisers ages 6 months to 3 years, It's a Small World Nursery will offer babysitting services in a whimsical environment inspired by the beloved Disney attraction of the same name
Children ages 3 to 12 will enter the captivating worlds of favorite Disney stories in the reimagined Disney's Oceaneer Club, a real-life wonderland of immersive spaces specially designed to unlock their imaginations.
Older kids ages 11 to 17 will chill and play in their own way aboard the Disney Wish, with trendy hangouts and counselor-led programming designed to engage the unique interests of tweens and teens.
My girls will love heading to Vibe. This club is for teens ages 14 to 17 where they can watch movies, play games and hang out in a space inspired by a Parisian artists' loft.
Adult Entertainment
Guests ages 18 and older will find a variety of opportunities to unwind and indulge, including a first-of-its-kind lounge in a galaxy far, far away and a trio of premium culinary experiences inspired by a tale as old as time.
For the first time on a Disney ship, guests will embark on a space-jumping tour of the Star Wars galaxy at Star Wars: Hyperspace Lounge, a high-end bar styled as a luxurious yacht-class spaceship. This richly themed, immersive experience will be reserved for adults every evening, offering interactive tasting experiences and signature beverages inspired by the films.
Aboard the Disney Wish, guests will savor gourmet meals and exceptional beverages at Palo Steakhouse, Enchanté by Chef Arnaud Lallement and The Rose, an upscale suite of epicurean excellence exclusively for adults, inspired by the elegant icons of Walt Disney Animation Studios' "Beauty and the Beast."
And when it comes to rest and relaxation, mom is in luck. Head to the Quiet Cove, where guests ages 18 and older will find a secluded adults-only district dedicated to lounging, sipping and soaking. Set away from the bustle of family activities, this relaxing refuge at the back of the ship will offer breathtaking panoramic views of the ocean from a luxurious infinity pool.
When Can Can You Book?
The Disney Wish will sail its maiden voyage — a five-night cruise to Nassau, Bahamas, and Disney's private island, Castaway Cay — on June 9, 2022, followed by an inaugural season of three- and four-night cruises to the same destinations from Port Canaveral, Florida. Bookings open to the general public on May 27, 2021.
MORE FAMILY ISLAND TRAVEL FROM MOMTRENDS
PIN IT!
Use Pinterest to save your favorite luxury family vacation ideas. Be sure to follow our Travel-with-kids board here.
Momtrends was not paid for this post