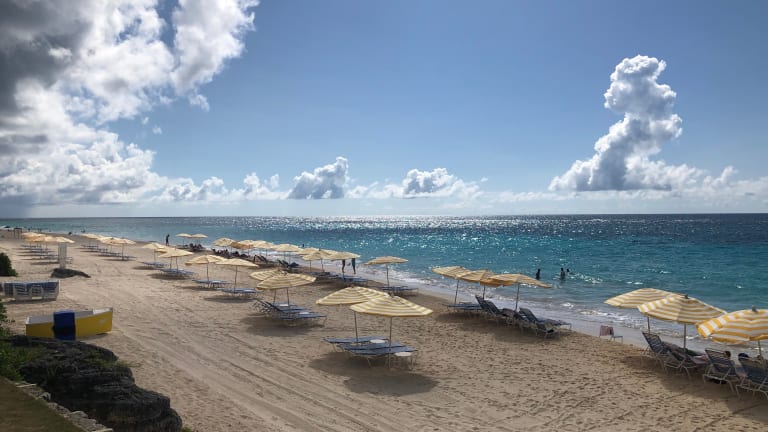 Coral Beach Club Bermuda
Is a private club right for your family vacation? Find out how we rate a vintage beach resort.
Travel is a big part of our lives. Mr. Momtrends and I long ago decided having budgets for travel was more important than flashy cars or bigger apartments. When we celebrate anniversaries and birthdays, we pick travel over STUFF. To celebrate Mr. Momtrends' 50th birthday we planned a trip to Bermuda. For a portion of the trip, we teamed up with Bermuda Tourism (more on our stay at the Hamilton Princess soon), and for a portion, we brought Mr. Momtrends' parents along for a stay at the Coral Beach Club, Bermuda.
Why Pick Bermuda for Your Holiday
This was my fifth time to the island, and Mr. Momtrends has been on 15+ visits. We feel the pull of this place.
This was a big holiday and we invested a lot of money and time planning this trip. We could afford to go to just about any destination, and we picked Bermuda. We split our stay between two spots and I'm going to share both of them with you in hopes that on your special trips you spend your money and time well. 
Spoiler Alert: We loved our time with the kids at the Hamilton Princess. 
But what about the far more expensive and theoretically "exclusive" Coral Beach and Tennis Club? Sadly, I don't think we will be back to this property until some significant changes are made. 
Coral Beach Club History
The Coral Beach and Tennis Club is a private members only club. Guests who wish to stay at the property have to be recommended by a member. It's a long story on how we got recommended. It happened back in the 1980's, long before I knew Mr. Momtrends. He and his family enjoyed many happy years at the CBC in the 80 and 90's long before he met me an d started a family.
The Club dates back to 1948, and as far as I can tell survives on the beach and tennis social memberships. Previously owned by a Bermuda family, The Club has changed hands quite a bit. Recently, The Club has fallen on tougher times. It appears recent owners are short of cash to return the club to glory. 
The locals and ex-pats love the CBC for the long, pristine beach and the lively tennis community. Little time and money seems to be invested into the lodging. Of course, as a private club, this is the prerogative of management and members. 
The Case for the Coral Beach Club
Situated on the south shore of Bermuda. Coral Beach is in Paget's Parish in the middle of the island and it's home to one of the prettiest stretches of beaches I've seen in my life. (For a full map of Bermida, head here).
I've been to Bermuda quite a few ways over the years. I started with a trip to the Fairmont Southampton back in 2000. I've also cruised there in 2012 on a Celebrity Cruise. Neither option is perfect. With a Celebrity Cruise, you can't beat the convenience. The ship left out of Cape Liberty New Jersey, a short drive for us from Brooklyn. We found the cruise a little too gritty for our family. The food wasn't exceptional and we found the activities lacking. In 2012, we took the girls to Bermuda a second time, and stayed at the Coral Beach Club. On this visit, the bloom was definitely off the rose, but we found it charming especially since the kids were so young. Elegance would have been lost on them. 
In the seven years since our last visit, we expected the resort to have invested in the rooms that were getting tattered and well beyond "charming." We took a chance opting to tap into memories when planning this big birthday trip for Mr. Momtrends. 
Our trip included the girls 11 & 14 and Mr. Momtrends' parents. We needed a property that could serve all our needs. 
Coral Beach Club Housing
The club is set on 26 acres of coastal land. The undulating grounds give the club an air of privacy. It's easy to find quiet spots and one never feels rushed or crowded on the property. Housing options consist of nine cottages, five suites and 26 rooms. 
When we first arrived, we split ourselves into three rooms (about $800/night, per room). But after our first night, we were so displeased with the condition of the rooms, management moved us to the Breakers Cottage. Each of the cottages is unique in design. All have fireplaces, living rooms, and dining rooms. Cottage sizes range from one-bedroom to five-bedroom and vary in condition.
Our first set of rooms had broken blinds, rusty spots on the floors and spotty air conditioning. The cottage, was definitely a step up, however at $3000/night, it felt exorbitantly priced.
The kitchen was extremely dated, chairs were splintered and fabrics were tattered.  
Beaches at Coral Beach & Tennis Club
Fortunately, the beach at CBC quickly makes one forget the state of the rooms. If you plan your day right, you'll barely spend any daylight moments in your room.
One of Bermuda's main selling points is the impeccably clean pink sand beaches and CBC has a stretch of beach that would make even Oprah jealous (rumor has it, she tried to buy property on Bermuda, but couldn't due to their strict rules about residential home ownership).
The water is warm and the waves are gentle, making it perfect for young families. The CBC offers beach service of beverages and food from the grill. Thanks to ubiquitous yellow striped umbrellas and a friendly beach staff, families can spend all day in the shade and surf.
The staff is well-trained and efficient. They are quick to offer fresh towels, cold drinks and complementary beach toys and boogie boards.
Food at the Coral Beach & Tennis Club
One thing The Coral Beach & Tennis Club excels at is island fare. The members clearly value good food. Fortunately, the guests at the CBC can benefit from this offering. There are three restaurants on property and the resort does an exceptional job delivery breakfast with a view. 
Let's start with breakfast, enjoy a breakfast buffet at the clubhouse's Terrace, or order it the night before and have it delivered to your room. We loved this option. Golf carts delivered our eggs prepared to perfection. We sat outside and watched the ocean as we dined on our eggs and fresh fruit.
Lunch can be delivered to your chair at the beach or enjoyed at the more casual terrace. Either way you'll get a fresh breeze and a light meal done well. We tend to skip lunch and wait for a snack during tea time.
Tea is served at the clubhouse and its lovely. Proper English tea with crustless sandwiches and scones. It's one of our favorite traditions. 
While it's fine to wear a cover-up or shorts to tea time, you'll want to dress sharp for dinner at the Longtail restaurant. Our favorite meal there is the weekly seafood buffet. It's an embarrassment of riches. Oysters, lobster, seviche and more, it's a decadent affair.
When dinning at the Longtail Terrace, you'll need to dress up. Either in Bermuda dress for men (shorts and those long socks) and dresses or skirts for the ladies. I love these elegant touches. 
Fitness at Coral Beach Club Bermuda
Coral Beach & Tennis Club has been associated with tennis since its opening. The Club offers eight championship clay tennis courts and a full pro staff and tennis shop. Guests can participate in clinics, tournaments and socials. Momtrends Tip: The courts don't get much breeze, so plan to play early in the day or close to sunset. 
If country club sports are your thing, there's also an 18-hole putting green to practice your short game before taking on one of the offsite courses. In addition, there are two squash courts (though they get quite toasty in summer weather).
Unlike most resorts, CBC doesn't have a resort pool. There's a tiny plunge pool tucked away near the tennis courts.
Members can also partake in the variety of fitness classes offered each week, including outdoor yoga on the terrace and there's a very old, very shabby gym. For a place invested in keeping tennis players fit well into their 80's, I'm surprised that they haven't updated the gym. 
I was impressed with the HIIT workout. My entire family took the one-hour class and we felt the burn. Too bad the class was held in a cramped room with peeling paint.
My favorite workout? A run on the beach! It's a half mile long and the perfect place to run off those scones.
Should You Stay at Coral Beach Club Bermuda?
Come for the beach, stay for food. That's the motto for this particular private club. Momtrends standards are high. Until this club invests in room upgrades, I think families are far better off at another Bermuda property.
The CBC experience in no way reflects on my feelings for Bermuda. I'm a huge fan of the island and hope to send many families here to make some memories.
Trip Planning to Bermuda
Pin it!
Use Pinterest to save your favorite family travel destinations to help inspire your next trip.
This Coral Beach Club Bermuda review is not sponsored.