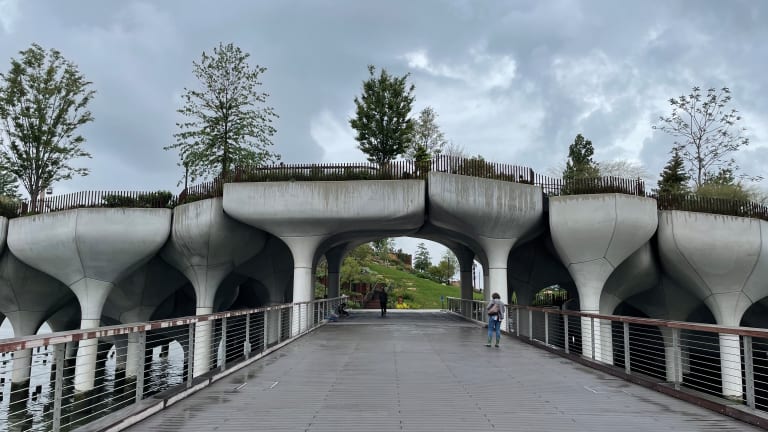 Cool Public Spaces in New York City Little Island Park
Climb up and down this new green space in NYC to take in the views of the Hudson River.
NYC is constantly reinventing itself. It's never boring and usually messy and noisy, but all this movement and chaos also brings great beauty. The newest gem is the Little Island park along the west side of Manhattan. This is one of the coolest public spaces in New York City and wonderful for for families.  
Related: Family visit to the Vessel in Hudson Yards, NYC 
New York City Little Island Park
On May 21, 2021, Little Island opened to visitors. The cool new park is located on Pier 55 in Hudson River Park. It's part of an effort to green up the city and was heavily subsidized by a duo of wealthy New Yorkers. 
The space was designed by Heatherwick Studio to be interactive and inspiring. Little Island covers 2.4 acres and is supported by 132 pot-shaped structures called "tulips." It's up to the viewer to determine if they are attractive or not. I'm not a big fan of the shape --I find them rather clunky-- but I do admire the gumption to create this space.
The park has various lawns, paths, and plants. Climbing up and down was a lovely relief from my phone and laptop and gave me a fresh perspective on the western views. 
In addition to all the greenery and the stunning views, Little Island has a small stage and three concession stands, as well as a 687-seat amphitheater. There are also big open spaces for kids to frolic. It's 100% kid-friendly.
How it Started
The big bankroll behind the project comes from Barry Diller and Diane von Fürstenberg. This NYC power couple has been flinging money in and around Chelsea with stunning effect. I'm not sure what I would do if I had a bajillion dollars, a NYC park is a pretty big dream. It's quite a legacy to leave a park behind. 
The money came from The Diller – von Furstenberg Family Foundation (DVFFF). The duo's foundation was integral to getting The High Line jumpstarted--they've done a lot to make their neighborhood one of the most dynamic places to visit and live.
What Happens on Little Island
It's a place to meditate on the city and the skyline and get a new perspective. There are quite a few rules (pretty much forget bringing anything with wheels other than a stroller), come with your mind and your camera, but leave your pooch behind. 
Day-to-day visits are welcome and I imagine this will become a tourist destination, but there are lots of treats for locals too. Little Island will be home to dance festivals, cabaret, puppetry, and more.
Plan Your Visit
Admission is free to see the space. I suggest taking the subway to 14th street and walking a couple blocks to the Hudson River. The park is located between 13th and 14th Streets. 
Get more information here Littleisland.org
Open daily from 6 am. Timed entry reservations are required on Saturdays, Sundays, and Holidays from 12:00 PM through the remainder of the day.
MORE NYC CENTRIC THINGS TO DO
PIN IT!
Use Pinterest to save your favorite NYC outings. Be sure to follow our New York City board here.
This is not a sponsored post.