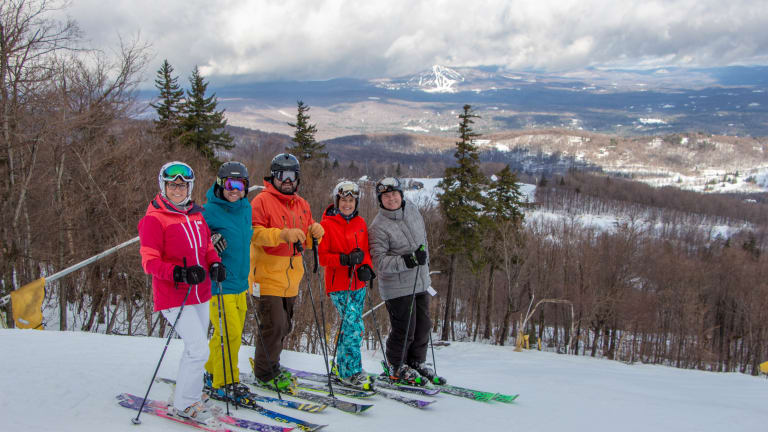 Christmas at Stratton Mountain
Holiday Skiing and Riding in the Green Mountains
When it comes to getting a white Christmas, Vermont is a good bet. This time of year many families plan a winter holiday to ski or snowboard. From New York City, Stratton Mountain is one of the closest mountains that offers steep terrain and a full resort experience. For most of 2018, Stratton was my home mountain. And I want to share some tips for planning the perfect Christmas at Stratton Mountain.
Related: Top SUV's for families
Stratton Mountain is home to southern Vermont's highest peak and boasts 99 trails. It's a popular destination from the Tri-State area. Stratton is just a 4-hour drive from New York City and less than 3 hours from Boston. As part of the Northeast Winter Weather Summit hosted by the NASJA (North American Snowsports Journalist Association), I learned a little more about how Stratton makes their winter magic happen. My last feature on Stratton was in 2014; it's time to update some things.
Snowmaking and Stratton
Stratton hasn't gotten any larger since my last piece, it's still 670 acres. But they have continued to invest in snowmaking and grooming. I met up with the head of the operations team to talk about filling in where God leaves off. Currently 95% of the 670 acres can be covered with snowmaking. Stratton has 1200 snow guns and can cover 100 in a foot of snow every 24 hours. 
Once the snow is made, the expert team of groomers is deployed. On my visit, I hitched a ride in a fancy Prinoth Cat. Stratton uses the groomers to carefully manage the snow. With the right equipment, they can spread out snow like frosting and deliver a sublime skiing experience. It's truly impressive how Stratton manages the logistics of providing skier and boarders a snow-filled experience. Stratton Mountain had 220" of snow last year spread out over 36 days.
Snowmaking is key when it comes to skiing out East. We can't count on 400 inches of powder each year, so we need to fill in the blanks. When you book a Christmas ski trip to Stratton, you are relying on technology to help out Mother Nature. 
Holiday Skiing and Riding in the Green Mountains
Starting December 22, Stratton will begin its holiday celebrations starting with a visit from Santa Claus and live music at Grizzly's. 
Throughout the week, Stratton will be offering programs like guided snowshoe hikes, tubing, and fireworks, as well as skiing and snowboarding from southern Vermont's highest peak. 
For those looking to relax and get started on their New Year's resolutions, Stratton's training and fitness center is the perfect place to break a sweat or take laps in the 75 ft salt water pool. The spa, located in Stratton Village, is here for all wellness needs. Head to the Mill House to ice skate under the stars and sip on hot chocolate. 
To ring in the New Year, Stratton starts the celebration for families with kids crafts in the East Wing as well as a firework snowshoe hike and fireworks at 8:30 p.m. The hike will meet in the Courtyard at 7pm. The hike starts promptly at 7:30pm, as the fireworks are planned to hit the sky at 8:30pm. This is a moderate exertion exercise, kids must be at least 12 yrs old and prepared to hike to mid mountain in cold temperatures. After the fireworks display, the group will descend the mountain and finish the evening in the Courtyard with a fire and hot chocolate. This is a spectacular way to take in fireworks from a new perspective. An experience you will never forget!
For those looking to stay by the slopes, Stratton's holiday getaway package includes two nights of lodging and three day lift tickets; save up to 50 percent in select lodging when you arrive between Dec. 2 and Dec. 25. To book, visit https://www.stratton.com/
Where to Eat Near Stratton
For a list of mom-approved restaurants head here www.momtrends.com/ski/where-to-eat-near-stratton-mountain-vermont
Chapel of the Snows
The non-denominational Chapel of the Snows offers Christmas services at 6pm on Christmas. Get updated information here https://www.stratton.com/the-mountain/community/chapel-of-the-snows
Kids Night Out Dropoff
Kids Night Out is for kids ages 7 to 12. Parents drop off the kids for an evening of crafts, snacks, activities and friendships. New for this season, there are three versions of Kids Night Out, including the Mill House, New Year's Eve and Gingerbread. Dates, prices, and details of each can be found below. Each Kids Night Out session will have limited availability, so if interested book early before it sells out. All prices include the corresponding skate rentals, craft supplies and food & beverage. Get details here: www.stratton.com/things-to-do/activities/kids-night-out
Tips for Skiing Stratton on Busy Holidays
Time your trip: Ski from 11:30pm to 4pm. Start your day as everyone else is heading in for lunch. In the morning, try snowshoeing or a yoga class at the gym.
Park at Sun Bowl: This side of Stratton tends to have shorter lines and parking is less hectic. Start at Sunbowl Express lift or scoot over to the slower Solstice 4 lift to start your day.
Pack snacks: Put some snacks in your pocket and skip the long lines. While food has come a long way at Stratton, hectic weekends are not the time to try the fare. In our family we stash Kind Bars for just these days.
Favorite Runs at Stratton
Some of my happiest days of the 2018 season happened midweek at Stratton. I did loops off the Ursa lift on Polar Bear and Black Bear.
Mr. Momtrends picks the Upper Kidderbrook off the Shooting Star (or Ursa) lift. It's a rambling trail and he ducks in and out of the trees along the side. 
What's Coming to Stratton Mountain
Over the summer, Stratton Mountain broke ground on the new speedy Snow Bowl lift. This means ride time is reduced from 14 to five minutes. Good news for the riders and skiers who hate waiting in long lift lines.
It's part of the investment of Alterra Corp to enhance the snow experience.  When it debuts, the new high-speed quad is positioned to minimize wind impact with lower towers hugging the tree line. It also has a 1,000-feet-per minute speed.  
MORE FUN IN THE MOUNTAINS
PIN IT!
Use Pinterest to save your favorite family travel articles, and be sure to follow our Travel with Kids board.
This Christmas at Stratton Mountain feature is not sponsored.