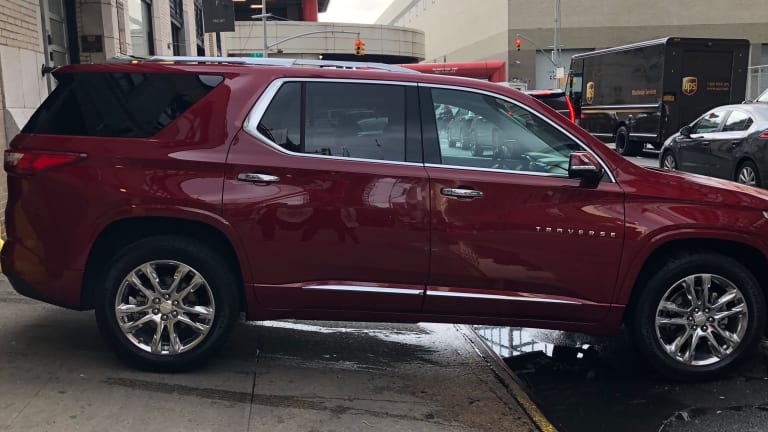 Chevy Traverse Mom Road Test
Family road trip with three rows!
Mom life is a good life, but it's certainly not simple. Navigating the day-to-day experiences of my family takes a lot of planning and I need support. I need a car than can handle all my kids. This year I've been testing a series of cars that have a third row. You can read my reviews of the Audi and the Volvo. Today I'm taking on the Chevy Traverse. Thanks to our community of moms, I'm well aware that many of you drive this car. So I thought it was time I did a Chevy Traverse Mom Road Test.
Related: Heading back to school in the Volvo XC90
Testing Cars with Three Rows
We're in the market to replace our Volvo XC90. We have a 2012 model and want a car with all the latest safety features. Since this is such a large purchase, I've been doing a good bit of research to see what cars compare. I've now driven five cars in this class and feel like I understand the category. 
The Volvo is great. This is where our search started. Here's what the 2018 model offers...
Starting price $47,700
Dimensions: 195″ L x 79″ W x 70″ H
MPG: Up to 21 city / 29 highway
Cargo volume: 15.8 ft³, 85.7 ft³ with seat area
It's not inexpensive and the third row can be a bit squishy. So I continued the hunt. I posted this on Instagram and a slew of moms told me to test drive the Traverse. And so I did...
Why I need the Chevy Traverse
Because I value our community so much I listened. You guys know as much as I do about picking a car that can make family life easier. We have a contact at Chevy and I was able to arrange a long-term road test.
While this may sound easy, it's not. It took 18 months to arrange a Volvo test drive. The folks at Chevy were MUCH easier to work with. But in general, car folks don't work with moms. You and I know moms pick what cars we drive, but the industry hasn't caught up with us.
Chevy made it easy. Momtrends had our annual work retreat at Woodloch and we needed to get our team out there with all our weekend gear. After that, I had to haul my daughter's ski gear from JFK to Vermont. In all, I hauled a ton of people and a ton of gear in the Traverse.
Chevy Traverse Mom Road Test
Bottom line: It's a great car. After my extensive road test, I was really impressed with the Traverse as a great value option in the category. 
Let's compare the Chevy:
Starting Price: $29,930
Dimensions: 204″ L x 79″ W x 71″ H (a little longer,  making it harder to park in the city)
MPG: Up to 20 city / 26 highway (worse mileage, making it more expensive to drive)
Cargo volume: 23 ft³, 98.2 ft³ with seat area (it stores a lot more gear...a big selling point).
Here's our third row review of the Chevy Traverse:
Why I love the Chevy Traverse
The third-row functionality is pretty awesome. I love the second row captain's chairs that make it easy to access that 3rd row without uninstalling car seats. You can't do this with the Volvo. And I've got to say, the middle seat in the third row is a dream for anyone with long legs. 
When it comes to hauling gear, the storage capacity of the Traverse is awesome. Yeah, it's a pain to park in NYC, but on our weekend adventures, we can haul all the gear we need.
The Driving Experience of the Chevy Traverse
I spent HOURS in this car. I drove almost 1000 miles and found it a pleasurable ride. It was easy to hook up my phone for navigation and entertainment and the car had tons of safety cameras.
The Chevy Traverse has a nice luxe interior. When it comes to safety features, I liked the predictive cruise control. I will say the "alert" when the car is too close to another car is a little jarring. A big red light goes off on the dash. I felt very secure and thought Chevy had put a big focus on safety.
As far as the interior, it's hard to compete with the Chevy. Since it's a tad longer, there's room to spread out. For the driver, the car is a luxury ride. The dashboard is well thought out and informative and the seats are awesome. Take a look inside:
Where the Chevy Traverse Fits in
For me, I have to rationalize the price. Do I really need to spend an extra $20K on a car. Compared to Audi and Volvo, Chevy checks almost all the boxes on safety. The overall construction of the Chevy seems a bit skimpy compared to the European counterparts...the doors just don't seem as "solid" as the XC90. 
Curb Appeal
I'm really torn. This car seems more expensive than the sticker price. From the street, it looks sharp. Chevy obviously is trying to make us enjoy the ride! For example, we loved the 2nd row sun roof, (side note: we couldn't figure out how to retract it. Is it just for light and doesn't open?) and we loved all the cup holders and chargers for those in back.
When it comes to the drive, the engine is powerful and climbs mountains like a dream. It handles a little truck-y compared to the euro competitors, but overall it's a nice ride. The big issue was when we were on some twisty Vermont roads. I definitely noticed the steering isn't as "tight" as other 3-row SUV's.
Momtrends Review:
Overall this is a terrific car for any family with a lot of gear. It's a great value in the three-row SUV category.
For more information, head to https://www.chevrolet.com/suvs/traverse-mid-size-suv
Pin it!
Use Pinterest to plan your car research.
This Chevy Traverse Mom Road Test feature is not sponsored. The car was given to me for a four-day road test. I paid for all gas and parking.