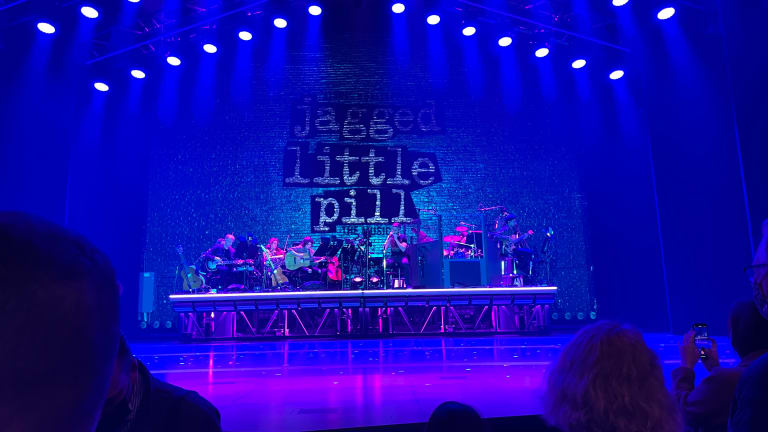 Checking out Alanis Morissette's Broadway Musical
You Ought to Know that Jagged Little Pill is a timely show for fans of Alanis Morissette's music.
In the 1990's, Alanis Morissette voiced the discontent and rage for millions of girls. Her rock songs made us feel seen and heard. Her unapologetic anger was incredibly cool and I've loved her art for decades. Now a new generation can discover her music with a Broadway musical called Jagged Little Pill. For our post-COVID return to Broadway, I took my daughter to see the show and we were simply blown away.
Related: NYC Little Island Park
Checking out Alanis Morissette's Broadway Musical 
Alanis Morissette's Jagged Little Pill is playing at the iconic Broadhurst Theater and the crowds of women are showing up and cheering. It's not an easy or light show, the themes include date rape, LGBTQ rights, and opioid addiction to name a few. These important topics are treated respectfully and thoughtfully by the production crew, but I would feel irresponsible if I didn't put this information front and center on our review. If you aren't comfortable talking with your kids about these issues, this show isn't for you.
Jagged Little Pill is a timely show for fans of Alanis Morissette's music
A little history of the show: it opened in December 2019...pretty unfortunate timing. But they did get enough shows in to earn 15 Tony nominations
You're not likely to need to be sold on Alanis Morissette's music. And this show makes excellent use of all of her big anthems: Ironic, You Oughta Know, All I Really Want, Hands Clean and more. They're all in this story and used to maximum effect.
The trick was coming up with a book that could work all this passion and emotion into a musical. Diablo Cody (he nabbed a Tony for this work) came up with a wonderfully disfunctional family to take us for the ride. When it comes to modern day traumas, the Healy's check all the boxes. It's a story of a family losing each other and finding each other and learning to live with truth and compassion--and can't we all use these kind of life lessons.
The cast is stellar, with stand outs being Lauren Patten who gets to belt out two of the best numbers in the show. Her rendition of You Oughta Know is out of this world. She's backed by a full rock band on stage and the audience is transported from Broadway musical to rock concert. It's a pretty cool theatrical move and a great use of Patten's talents. She won the 2019 Tony for this performance.
It's a deep bench of talent in this show, the chorus dancers are amazing and give an additional layer of angst to Morissette's lyrics. The show uses a minimal set with some clever lighting tricks, it's a stripped down production that lets the artists do the work rather than relying on pyrotechnics and cheap artifice to entertain. You've got to show up and let the music inside you to really experience this work. I was thrilled to bring my 13 year old daughter and expose her to this glorious art. 
Plan Your Night to Alanis Morissette's Jagged Little Pill
Jagged Little Pill is playing at the Broadhurst Theatre, 235 West 44th Street. New York, NY 10036
Warning: this show depicts sexual assault and might be triggering for some audiences. 
Get tickets at www.broadway.com/shows/jagged-little-pill
Listen to the official Broadway cast album here. (note: this is an Amazon affiliate link)
MORE NYC CENTRIC THINGS TO DO
PIN IT!
Use Pinterest to save your favorite NYC outings. Be sure to follow our New York City board here.
This is not a sponsored post. We were given tickets to facilitate this review.