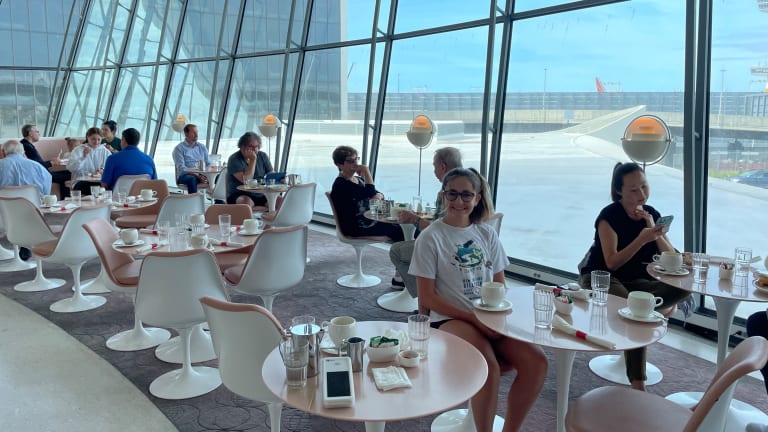 Checking in to the TWA hotel at JFK Airport
This retro-inspired hotel gives travel buffs the chance to step back in time to the glory days of air travel
When life gives you travel challenges you've got to get creative. A delay in our summer trip to Europe meant we had to come up with a Plan B. For our family this meant checking in to the TWA hotel at JFK Airport. 
Due to a set of very unfortunate health circumstances, we found ourselves at the Jamaica ER instead of on our flight to Athens. After some excellent healthcare, we were cleared for travel...the next day. We had about 24 hours until our next flight so we decided to stay over at the TWA airport hotel in New York.
About the Space
The hotel is a reinvented use of the iconic former TWA flight center designed by architect Eero Saarinen. The building was erected between 1959 and 1962 and featured a prominent wing-shaped thin shell roof. The hotel opened in 2019 after an overhaul that converted it from a functioning airport building to a modern hotel by MCR Hotels.
Trans World Airlines was a major United States airline which operated from 1930 until 2001. I do remember flying TWA before it was gobbled up by another airline carrier. This hotel is inspired by the glory days of air travel--the 1960's.
Online Booking
There are 512 rooms in total so in theory, it'll rarely be booked up. I booked online and got a rate of $300 for a king room. I also added $75 to extend our checkout the next day until 3pm. I LOVE this added feature than you can extend your stay with a few clicks of the phone. Normal checkout is 11am. After that, you can extend your stay to meet the needs of your family. Note: though we did extend, I still had to go to the front desk to have my room keys updated. We were locked out after noon. 
I also booked our dinner. There's a cool food hall, but we wanted more a sit down after a very long day. Using the Resy app, (it's linked right on the TWA hotel website), we secured a 8:15pm table. The dining room was packed, so I'm glad I did book a table.
Dining at the TWA hotel at JFK Airport
The Food Hall looked fun, but we opted for two sit down meals and a snack at the rooftop pool bar. We went to The Paris Café by Jean-Georges. It serves breakfast, lunch and dinner. The menu is inspired by historic in-flight menus from Trans World Airlines.
For dinner, I started with tuna tartare, it was a bit soupy, and I didn't love the cloying dressing on my goat cheese and berry salad. I did like the generous pour of my sparkling rosé. For $44 a glass, I was happy to see it almost hit the brim of the glass. Fortunately, my daughter loved her meal. As I sipped, she dug in to a crisp Casear salad. It was a large starter with the perfect amount of dressing. Next up she had the pasta with meatballs. A classic, kid-friendly meal. It was perfect, she needed some comfort food, and frankly I just wanted to keep her happy and comfortable. Service was friendly and we thought the pace of the meal was good, especially considering how busy the restaurant was. 
We headed to the same spot for breakfast. I booked a table again, but didn't need to as there was plenty of space. There were a couple of girls sitting next to us eating pastries, they told us to steer clear--they were stale. Instead we ordered, eggs Benedict (her) avocado toast (me). Successful all the way around. I sipped a nice Harney & Co. green tea while she had fresh OJ. It was lovely. 
For a snack, we ordered sliders (three very mediocre burgers) up on the pool deck. I have a feeling the pool bar is a better bet for drinks, not food. 
The Rooms at the TWA hotel at JFK Airport
We picked the simplest room available, the Standard King. The decor fit the hotel, it was all very 1960's with loads of wood. It was spare, clean and lightly furnished. The best part was the sound-proof windows and blackout shades. Don't worry about being able to get to sleep, it won't be a problem here. According to the Skift.com, each room has 4.5-inch glass curtain walls to drown out the noise. Our room was $299 midweek.
It's a tad skimpy on extras--there wasn't a notepad, any toiletries or bathmat, but it was highly functional. We didn't plan to spend too much of our awake time in the room. Our view was pretty grim--only the parking lot, but as I said, we only used it for sleeping and changing.
If you want to get fancy, you can book the Eero Saarinen Presidential Suite With Historic TWA View for $880 a night midweek. 
Daytripper Rates
Guests can also book a room for a few hours midday (nothing sketchy, I promise). From 6am to 8pm rooms are available in 4-hour chunks of time. When I checked, standard room was $149 for 4 hours midweek.
Working out at the TWA hotel at JFK Airport
One of the great features of this spot is the workout center. It's open 24/7. Hotel guests get free access, but they offer day passes and memberships as well. For day pass use, there's a roomy locker room with clean showers, towels and space to freshen up post-workout.
There's a huge Peleton room (14 bikes)--if that's your thing you won't have a problem finding a bike. We used the free weights and cardio machines. There are 12 treadmills, 10 ellipticals, TRX Suspension Trainer, kettlebells, resistance bands and so much more.
It's a great perk of the hotel. Day passes are $25 and monthly memberships are $30 (a steal!).
The Pool 
There are a LOT of rules to use the pool. There are charts, graphs and staff to help you navigate it. On our stay, the pool was free until 11:45am. After that, guests booked 2 hour blocks starting at 11. Each block was $25 per person. The pool and observation deck has Summer/Fall and Winter/Spring schedules. 
The pool is very warm and pretty small, it's 63 feet long (21 yards) and quite narrow and shallow. Don't be fooled by the photos. It's NOT a lap pool (well, I guess if you were the only one swimming it would work), but it is fun and the kids loved it. There are very few lounge chairs (weird). Most of the chairs were standard. One gets the sense that they want guests to keep it moving!
Cool Things to See at the TWA hotel at JFK Airport
You'll want to pay a visit to Connie, the vintage plane that sits on the property. Commissioned in 1939 by TWA's eccentric owner, Howard Hughes, the Lockheed Constellation "Connie" broke the era's transcontinental speed record on a flight from Burbank, California, to New York in 1946. The plane also served as Air Force One for President Dwight D. Eisenhower in the 1950s.
If you've been charmed by your stay, you'll want to get a souvenir at the TWA gift shop. You'll find tees, pins, patches, etc. 
For kiddos, the hotel offers a scavenger hunt, check in at the front desk for the rules and clues.
Our favorite thing was the fashion display. They had a treasure trove of TWO styling through the years. I had no idea Ralph Lauren took a turn at styling the flight attendants. 
Nostalgia rooms are another highlight. I loved showing my daughter a rotary dial phone and an old-fashioned typewriter. Kids will get a kick out of the 60's tech.
Plan Your Trip
You'll want to use your phone to book your stay. All the reservations are made via the web portal--they are definitely trying to minimize human interaction.
The TWA hotel is located near Terminal 5 at John F. Kennedy International Airport. Terminal 5 is mostly Jet Blue. For other terminals, you can take the air bridge to Terminal 5 and then get on the AirTrain to your desired terminal. 
If you are arriving by Uber or cab, the address is One, JFK Access Road, Idlewild Dr, Queens, NY 11430. Be alert: The signage is small and our driver missed the entrance on his first attempt.
MORE TRAVEL TRENDS TO CONSIDER
PIN IT!
Use Pinterest to start your bucket list travel ideas. Be sure to follow our Travel with Kids board here.
Momtrends was not paid for this post.