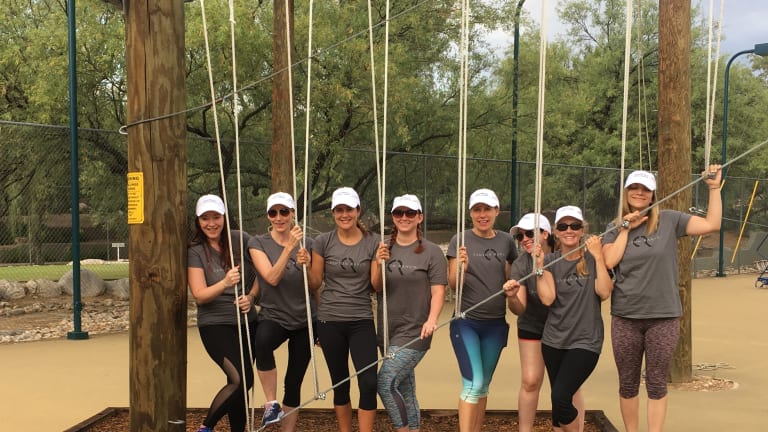 A First-Time Guide to Canyon Ranch
If you are planning a spa retreat to Canyon Ranch, let us help you with your trip planning.
Recently, our team here at Momtrends got together for our yearly summit to collaborate, rejuvenate, and create some team-building memories together at Canyon Ranch in Arizona. Canyon Ranch Tucson is a luxury spa resort that offers everything from fitness classes, spa treatments, and life-enhancement lectures. It's basically a desert oasis and it's a perfect spot for moms to hit the reset button. If you are planning a spa retreat to Canyon Ranch, let us help you with your trip planning.
Related: Emerson Resort a perfect Catskills getaway
As a busy mom, I always seem to put myself last—after my kids, husband, work and running the household. If you're like me, a first-timer headed to a spa resort, you might not know what to expect or pack. I've put together a first-time guide of what to do, what to pack, and what to know before you go. And be sure to visit the Canyon Ranch website to learn more about the experiences that they offer.
Canyon Ranch Tucson - What to Pack
Canyon Ranch Tucson is pretty laid back. They offer lots of different spa treatments and fitness classes throughout the day. Be sure to pack plenty of comfortable clothes—several different tops, bottoms, and, of course, some good tennis shoes. When we were in work meetings, we spent most of our free time in our workout gear. You don't need to worry about dressing up—so leave the high heels at home. We wore sundresses and sandals to dinner and felt totally comfortable—just keep it casual. 
The sun and heat can be brutal in the Sonoran Desert, so it's a good idea to pack a hat, sunglasses, and some sunblock. When you arrive at Canyon Ranch you are given a water bottle with your name label on it. I think every building we went into has a place to fill up your water bottle with either water, cold tea, or their signature sports drink (found in the spa), so it's easy to stay hydrated, even in the dry desert heat.
Canyon Ranch - What to Do
Canyon Ranch offers a great variety of activities—and sometimes it's hard to choose. Be sure to try different classes. Mix it up with some fitness classes, creative classes (like this DIY terrarium class), and maybe step out of your comfort zone a bit with something like a cooking class, meditation session, or the high-ropes course.
But, be sure to leave some time to just enjoy the area. Don't over-schedule yourself. You're there to relax and recharge. Swim some laps in the pool, or just enjoy the hot tub and lounge in the quiet room at the spa. Check out the meditation garden and the serenity pond to find some zen.
While you're there, treat yourself to one of the outstanding spa services. I pampered myself with a facial and shiatsu massage.
Canyon Ranch - Know Before You Go Tips
To help you (and others) get reconnected with yourself and nature, cell-phone use isn't allowed in most areas. You can use your cell phone in your room and in designated cell-phone areas. It's good to unplug for a while and just be! (And don't worry, you can still text and take photos.)
Speaking of unplugging, I didn't even touch the TV while I was there. I brought a book and got in some good quality reading time—something I don't get enough of in my daily life.
First Time Visitor Video
For even more "Good to Know" tips for your first time be sure to check out our video.
If you want to travel on the East Coast, check out our visit to the Canyon Ranch in Lenox here. 
MORE TRAVEL FROM MOMTRENDS
PIN IT!
Use Pinterest to plan your next getaway. Be sure to follow our Travel board on Pinterest.
All opinions expressed are our own.