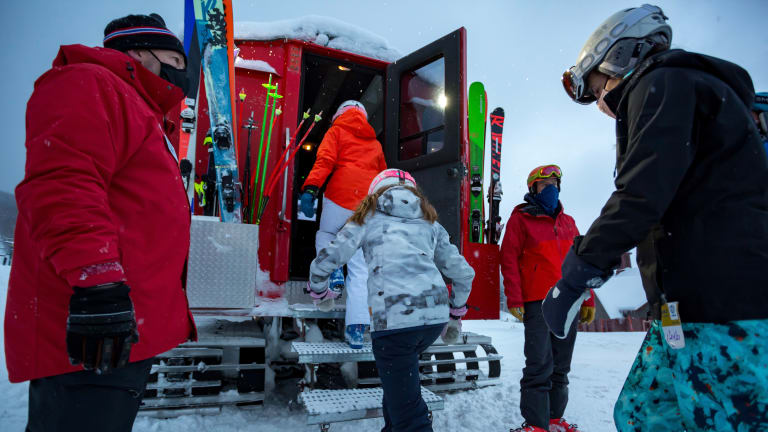 Cabin Cat Skiing Adventures at Sugarbush Vermont
In a ski year that's been pretty rocky, splurging on outdoor family fun seems like a great investment.
Our family had planned a move to Vermont long before COVID arrived. Our arrival time just happened to coincide with the national lock down. We missed a lot of spring skiing last year and vowed to take advantage of whatever we were given this year. When the opportunity came up to join a cabin cat skiing adventure here at Sugarbush Mountain in Vermont, we logged off of remote school and work and made it happen.
Head here to plan a perfect Sugarbush ski/ride day with our tips for families. 
Check out our video review here
The sunrise cabin cat adventure at Sugarbush 
These special mountain adventures are the stuff of family legend. Getting up early and heading into a quiet ski village while everyone else is still snoozing feels almost illicit, but this outing is fully sanctioned by the mountain. 
Snow cats are normally used to groom the mountains and prep them for safe skiing. The grooming happens when the lifts are closed. Sugarbush invested in a special snow cat that carries passengers and serves as a speedy ski shuttle. 
The sunrise cabin cat adventure is a private morning ski session. Your family gets to enjoy first tracks in a truly spectacular setting: you'll get  access to the terrain off the North Lynx Triple before the lifts start spinning. 
Snow Cat Skiing at Sugarbush 
We met up with the snow cat (dubbed the Lincoln Limo) at the main base area at Sugarbush and went over safety protocol for skiing and COVID. We had an experienced driver, Jeff, and a guide, John, along with us to make sure we maximized our fun, while remaining safe.
By 7am, we were securely in the warm and spacious Cat (it'll seat up to 12) on our way up the mountain. We rolled all the way up to the top of North Lynx to start our turns. On the morning of our adventure, we were treated to a few inches of fresh powder, with the snow still dumping, we missed out on the sunrise, but the fresh fluffy snow more than made up for it.
With a pristine run set ahead of us, and no one in sight, we started our descent-- it was pure bliss. All we needed to worry about was having fun. There's no lift line, no crowd, just your family and the mountain. 
Momtrends Tip: Ride upfront for a run or two! I encourage you to take advantage of the front row too. Jeff, the driver, has a passenger seat that gives a great view.
With an hour and a snow cat, you can get in about 5-6 runs as a family (legend has it, there was a group that got in 8 runs before the lifts opened). To end the adventure, you can scoot down Pushover run to the base area or finish up with a glade skiing session.
Add on a Glade or Two
Our crew opted for the glades. I've gotten to ski Slide Brook with a ski camp and was excited for my girls to get to experience the off-piste joy of fresh powder and trees. We were guided through the narrow Slide Brook traverse to the woods on the backside of the resort. This area underneath the Slide Brooke lift isn't maintained by the mountain. There are a few "doors" (decision points) where it really helps to have a guide. We opted for the route that leads back into the condo villages (another option is to run out Slide Brooke all the way to German Flats road and then get a shuttle to breakfast).
What a treat! Having a professional guide you to the sweet stashes makes these experiences worth every penny.
We got in a full day of adventure before most people were logging on to work. With our busy work schedules right now, a full-day ski adventure for our family of four is pretty rare. This morning cat outing was a perfect thing to gather us together doing something we love in a spectacular setting. In a ski year that's been pretty rocky, splurging on outdoor family fun seems like a great investment.
Is this adventure right for your family?
These tours are for any age but require intermediate – advanced skiing/riding ability. When you get to the top of North Lynx, there are no beginner routes down. Plus, it's no fun for any skier to be pushed too hard, too soon. But if your family consists of strong skiers who are looking for something special, they will absolutely LOVE this. 
Ready to Book your Cabin Cat Adventure?
The current rate is $900 for a family of up to 12.  You'll meet up at 6:45am for the safety run through and finish around 8:30 AM when you return to the base area. Cancellations made by 12:00 PM the day prior will be eligible for full refund. 
For availability and to book, please call Lincoln Peak Guest Services at 802.583.6590 or gservices@sugarbush.com
Other Cabin Cat Adventures at Sugarbush
In addition to the Sunrise First Tracks, your family can also plan other cabin cat adventures to turn your family ski trip into a special memory. Options include a ride to Allyn's Lodge Fireside Dining, Sunset Groomer Rides and a Mt. Ellen Cat Ski/Ride. Get all the details on winter snow cat adventure options at /www.sugarbush.com/activities/cabin-cat/
One to consider for your family is a spring break day at Mt. Ellen. For $1500, you'll get a private cat for your crew for four hours. This is available beginning Monday, April 1st for as long as conditions allow.
WHAT'S HAPPENING IN VERMONT
It's important to check out Vermont State Travel Guidelines, the Sugarbush Health Protocols, as well as, attestation requirements before you make the trip to Sugarbush. Head here to read our How to Safely Ski in Vermont this winter post to get up to speed on travel guidelines.
MORE SKI FEATURES FROM MOMTRENDS
PIN IT!
Use Pinterest to save your favorite family travel features. Be sure to follow our Ski Moms Pinterest Board.
Momtrends was not paid for this post. Photo credits John Atkinson/Sugarbush Resort