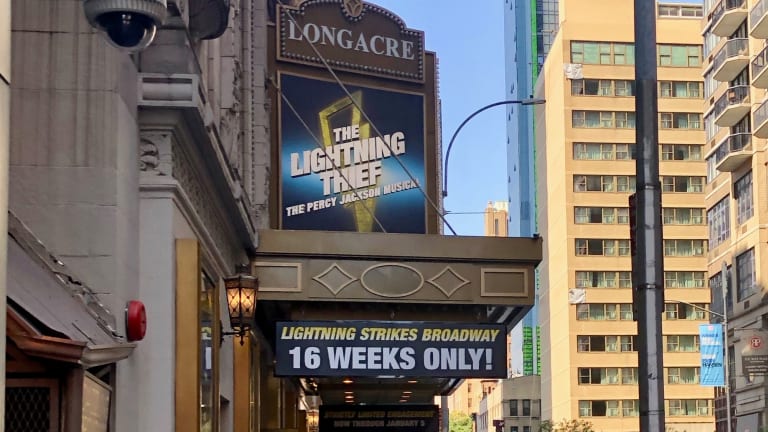 Broadway Musical The Lightning Thief
Review of the new The Lightning Thief: The Percy Jackson Musical on Broadway
The trend of taking popular young adult books and turning them into Broaday shows is pretty hot. We've currently got two shows running, Harry Potter & the Cursed Child and Be More Chill; and then Dear Evan Hansen was flipped, they turned the musical into a book! No matter the order I'm thrilled that Broadway producers are trying to lure young audiences to the theater. The new Broadway Musical, The Lightning Thief is a wonderful success story. In limited engagement, this new musical is a pure delight.
Broadway Musical, The Lightning Thief Starts with a Book 
It started with a book. Author, Rick Riordan, introduced Percy Jackson in July 2005. The book and the follow-ups in the series have sold millions and millions of copies. The book won many awards and was adapted into a film named Percy Jackson & the Olympians: The Lightning Thief (2010). 
The franchise centers on 12-year-old Percy. He's a bit of a misfit, understandable so since he's a "half blood" that is, half god, half human. He's the son of Poseidon, god of the sea. He bands together with other half-bloods on quests to save the world.
Broadway Musical, The Lightning Thief
The musical is closely based upon the books. It started an Off Broadway run back in 2014 and then did a national tour. Now, five years later, there's a Broadway home for this show. 
The success is well-deserved. The show has energy, passion and a winning cast. I admit I haven't read the books, but I was immediately swept up into Percy's quest. 
Percy is a lovable misfit. He struggles with his ADHD, dyslexia, and a smelly stepdad. He's close to his mother, but can't quite seem to find where he belongs (along the way he gets expelled from six schools). As a result of his latest expulsion he learns about his exceptional lineage.
Once Percy learns he's a demigod he goes to Camp Half Blood to learn how to harness his powers. At camp he befriends other demigods and gets his quest. Percy and pals have to retrieve Zeus' lightning bolt to prevent a war between the gods.
Broadway Musical, The Lightning Thief is a Winner
Written by Joe Tracz and composed by Rob Rokicki (also the lyricist) the show is long on charm. I loved the minimalist sets (they make great use of scaffolding and lights) and the stripped down costumes. 
Chris McCarrell as Percy Jackson is fantastic. He joined the cast in 2017 Off Broadway, and his energy is infectious. He's nailed the teenage angst, and I'm glad he's reaping the rewards of devoting himself to this role. Listen to Good Kid to get a sense of the musical. Follow him on Instagram here.
Annabeth Chase was our favorite character. We love My Grand Plan (yep, it's on our Spotify playlist). The plucky actress, Kristin Stokes inhabits this role. She's a modern heroine we can all cheer for and what a voice! The rest of the cast is also awesome. 
Percy should be a hero for any kids suffering from learning challenges. He's smart, sweet and has a load of courage. The universal teenage themes are there -- kids learning that adults aren't perfect. This is a family-friendly show that deserves to sell-out.
The Lightning Thief: The Percy Jackson Musical on Broadway
The Lightning Thief is playing at the Longacre Theatre. 220 W. 48th St. NYC, (between Broadway and 8th Avenue.) Get tickets here www.lightningthiefmusical.com/
Find More of our Broadway Reviews Here
PLAN YOUR NYC VISIT
Check out our NYC page for things to see and do in NYC and don't miss these highlights.
Momtrends was not paid for this post. Chris McCarrell and Jalynn Steele photo by Jeremy Daniel.