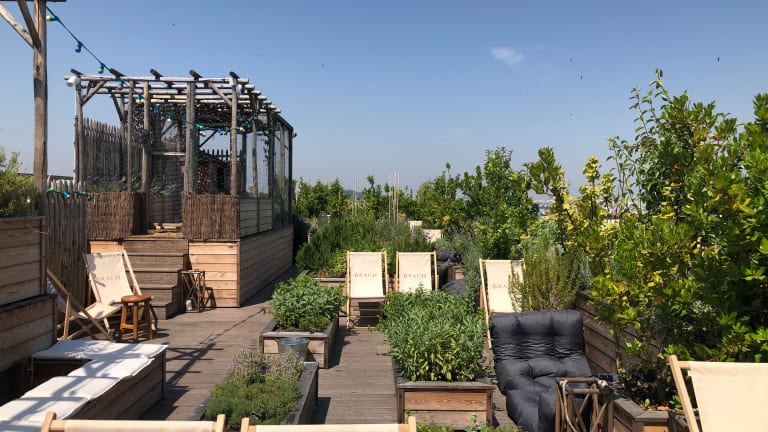 Brach New Stylish Paris Hotel
First visit to the new Philippe Starck hotel in the 16th arrondissement of Paris
I've been to Paris 18 times. Someone recently suggested that perhaps I should venture out beyond Paris on my next trip to Europe. In my defense, I do get to 3-4 non-US countries each year. But I keep returning to Paris because they are the cultural epicenter of my universe. With each of my nearly 20 visits, I've discovered something new. This time it was the Brach hotel designed by Philippe Starck. My First visit to the new Philippe Starck hotel in the 16th arrondissement of Paris took my breath away and gives me yet another reason to head back next year.
Momtrends 10 Second Overview Brach Hotel Paris
Type of Resort: Boutique luxury urban hotel
Best Age Range for Kids: 11-up, better for a romantic getaway or mix of business & pleasure
Food: Excellent quality and a large variety
Activities: Large health club, rooftop with view of Eiffel Tower, very close to Bois de Boulogne
Childcare: n/a
Spa: No, but there is a barber
Clientele: Upscale, chic Europeans speaking a variety of languages. Chill but classy vibe.
Charm factor: High. First, hotel I've stayed at to have roof chickens. And the chickens have names.
The Vibe of Brach 
With just 59 rooms and suites, the hotel feels quite intimate. Compared to other parts of Paris, the 16th tends to be quiet and residential.  It's a bit unexpected that this fashionable hotel popped up in a somewhat staid neighborhood. Let me assure you, there is nothing stuffy or stale about this new hotel. In partnership with Evok, Stark has created a space that is a haven for artists, businessfolks and tourists. It's a foodie paradise and the aesthetics make me swoon. Plus, there's the location, the Brach is a few minutes' walk from the closest metro station, and nearby both the Eiffel Tower and the Arc de Triomphe. 
From the designer Phillipe Stark:
Design Brach hotel by Phillipe Stark 
Philippe Starck is known for his quirky, cool partnerships. From furniture to flip flops he's known for bringing playful, joyous design to both spaces and things.
Stark got a ton of public attention in 1983 when President Mitterrand picked him to renovate the Elysées Palace. From there, he's gone on to develop a number of restaurants and hotels. This latest adventure has turned a sleepy Parisian street into a vibrant artists hub. 
The hotel is a celebration of connections. It's full of spaces that draw the guests out of the their rooms into common areas. While the rooms are full of charm thanks to layers of art collected from Africa, Asia and Brazil, they pale in comparison with the lounges, gym and terraces. 
Service is a big part of the luxury hotel experience. The stay was in a word, gorgeous. Clearly looks count when the Brach hires. And it should be noted, there is always a trade off in efficiency when a hotel hires with such limiting requirements. To be fair, the staff was friendly, but there was no crispness to the service. Our favorite staff were the friendly bellman who helped us get cars to the airport. 
Restaurant Options Brach Paris Hotel
Experience is definitely NOT lacking in the restaurants of the hotel. The Brach's main restaurant is led by chef Adam Bentalha. The menu blends seamlessly with Starks design. The nods to Africa in the decor work sublimely since the chef grew up between Algeria and France.
The menu mixes the flavors of the Mediterranean. As such, it's on the lighter side, which is a joy since traditional French cuisine can be heavy and complex. Bentalha simplifies things and relies upon the best ingredients and careful combinations to deliver the wow factor. Says chef Adam Bentalha,
Head into the meal with a plan to share dishes. The portions are small but packed with flavor. On my visit, I had the tajine of summer vegetables (photo) and my husband had the beef tartar. Both were exquisite. Momtrends tip: Don't miss the hummus with "lemon caviar."
And it should be noted, don't miss a hotel breakfast at the Brach. My poached eggs with spinach were perfection.
Brach restaurant: Seating is available both inside and outside for this ground-floor restaurant. The Brach restaurant is open for breakfast, lunch and dinner reservations +33 (0) 1 44 30 10 00. Dress code is city chic.
For a more casual dining experience, Chef Bentalha also runs the Terrace (located one floor up from the main restaurant).
The 1st floor terrace overlooks the quiet street and is full of greenery and lounge chairs and a foosball game for kids. It's definitely got a boho/Asian vibe. As such, I was not surprised the service was slow (but again, with great-looking waitstaff). I wanted a light lunch before heading off to shop. The menu is spare and focused on Asia. Pick from dim sum, spring rolls, poké bowls and a few other items. I had the delightful vegetable dimsum with yellow curry. 
Brach Terrace: Open from 12 o'clock to 11pm. Located on the 1st floor terrace.
It's hard to resist French pastry. Especially when it's made in house by Yann Brys. The pastry shop is located off the front lobby of the hotel. And neighborhood guests frequent the casual option of the hotel for a coffee and sweet. Award-winning pastry chef Yann Brys, doesn't disappoint. The pastry shop at the Brach is open Monday-Sunday: from 7.30 am 
Brach Paris Hotel Rooftop
If you want stunning 360 views of Paris, climb up to the 7th floor of the Brach and head to the secret garden. 
Well, it's not really a secret, but it is private and perfect. On a warm Paris night in June, I found my happy place nestled into a lounge chair sipping rosé and nibbling on patê as the Eiffel Tower light show began.
Heaven probably looks and tastes like this experience. The rooftop is a quirky space that's heavy on the greenery. There's a small hot tub (fits maximum of two people) and perhaps 20 seats and cushions are available. Who has the best seats? Probably the hotel chickens. In addition to the plentiful herbs and vegetables, there are three hens on the roof.  
The young staff sets guests up with baskets and leaves them be. This was a time when less attention was more. 
Decisions are simple up here. Pick where to sit and opt to nosh on either a veggie terrine or a meaty one (65 EUROS for a basket). Each wicker basket comes with chilled Rose et Or 2018, the prestige vintage of Château Minuty. The Brach rooftop is open from 6:30pm to midnight. 
Sports Club Brach New Stylish Paris Hotel
Paris is a wonderful walking city, and it's the easiest way to work off all the sublime food. But I'd be remiss not to send guests for a visit to the Brach Sports Club.
Located on the basement level, the sports club is a full-service operation. The club serves not only hotel guests, but private members as well.
Water is always welcome after a long flight from the US to Europe. There are 2 swimming pools (22m/6 and 5m/6) with plenty of space to swim laps or just chill with some soaking jets.
On our first day, we signed up for a cool aquabike class. It's like SoulCycle in the water. It was just what I need to shake off my jet lag. There's also a full gym and a yoga studio. Private training sessions are also available. 
Cool Features Brach New Stylish Paris Hotel
While there's no spa at the Brach, there is a cool hispter-friendly addition -- a good old-fashioned barber. Gentlemen can pip in for a trim and to clean up the facial hair. Tattoos seem to be required (wink, wink).
Plan your Visit Brach Paris Hotel
Are you ready to visit? It's expensive, but I'm all for an investment in an experience as opposed to a thing. Stark has said about this design:
And he's done it. This chic spot is a welcome addition to Paris and will be a favorite spot for my many returns.
Location: 1-7 Rue Jean Richepin, 75016 Paris, France, closest subway : Rue de la Pompe – Line 9, +33 1 44 30 10 00 bookings https://brachparis.com/
MORE FRANCE
For more on France check out these posts:
PIN IT!
Use pinterest to save your favorite travel articles.
This Brach New Stylish Paris Hotel feature is not sponsored.