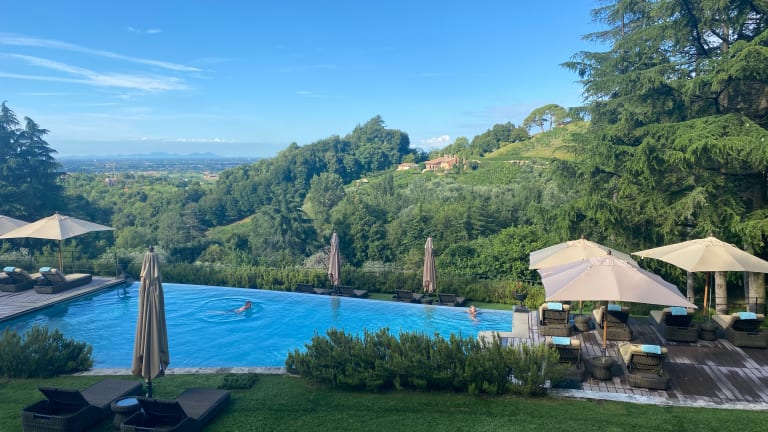 Best of Northern Italy Villa Cipriani Luxury Resort Review
Stay in a charming villa far away from the crowds as you experience the best of Northern Italy.
Italy is a country that just keeps surprising and delighting me. After visiting the larger cities and making a few trips south to Sicily, Mr. Momtrends and I ventured to the northern part of the country on our last trip. Our home base was the delightful Villa Cipriani. This resort truly is the best of Northern Italy and a villa that's teaming with charm. If you are looking to get away from crowds, plan a visit taking our travel tips in mind.
History of Villa Cipriani
Villa Cipriani is located in the Veneto Region of Northern Italy in the small town of Asolo. The tiny hamlet is encircled by medieval walls. There isn't too much of note in the town, but it is an idyllic setting for a resort thanks to the views and the remote location.
I went online to HistoricHotels.com and got some great scoop on the history of this resort. Back in 1889 British poet, Robert Browning purchased the villa from an Italian family. Browning's son old the villa in 1902. It traded hands a few more times before the property was folded into the Cipiriani family holdings. The Cipriani's managed the famous hotel in Venice (home of the Bellini cocktail) and set about renovating and refining this country estate. There's now new ownership, but the classy experience remains.
Welcome to the Villa Cipriani
We rented a car and drove from Venice to Asolo. The route isn't terribly scenic until you start heading uphill as you approach the resort. Once you start the climb, the busy industrial route melts away. As you gain elevation, you gain views and soon you'll be in a storybook setting.
The lobby is warm and inviting with a large study area and separate bar off the main entrance. Just outside is a lovely outdoor area where guests can take breakfast, afternoon cocktails or dinner. The property is beautifully maintained with blooming flowers, olive trees, grapevines and cypresses. There are so many spots where you can secure a quiet spot to read or take in the views (just don't count on the WiFi, it was very spotty on our stay).
After we set our bags down in our room and freshened up a bit, we went down to the garden to take in the setting. We ordered a bottle of rosé and exhaled.
Award Winning Pool
A highlight of the property is the pool that looks out over the valley below. Notably, they were awarded as "Best Italian Pool" in the 2014 Italian Pool Award. The views from Asolo are so magnificent it has been nicknamed the Village of 100 Vistas and poolside is one of the best spots to take it all in. It's a long pool and perfect for anyone who likes to swim laps. If you just want to read and chill, you can do that too--there is drink and food service available. 
Families seemed to love the pool area, there is also plenty of grass around to kick a soccer ball and play. But don't expect kids activities, this isn't geared towards entertaining kids, you'll have to do that yourself.
Dining at Villa Cipriani
Guests certainly come here with high food standards--and they are never disappointed. With the Cipriani name, you expect quality and exquisite service.  Villa Cipriani restaurant didn't let us down. We had a special anniversary dinner there complete with caviar, champagne and the most delicious fish all with garden views. Breakfast was equally splendid and leisurely. The staff grasps the rhythym of guests who just want to sit still and savor life. You'll find them available, helpful, friendly but also professional.
Interior Views of Villa Cipriani
There are 29 guest rooms and suites in all and no two are alike. Our room in the main building gave us a stunning view of rolling hills and valleys dotted with olive and pomegranate trees. The spacious room was designed to make the most of the landscape and filled with elegant, unfussy antique furniture. The lovely bathroom had glorious hand-painted tiles. 
What to Do a the Villa Cipriani
It's not a location that's packed with things to do, the beauty is in slowing down and taking in the views. You could come here to unwind after a few busy days of sightseeing and touring in Venice. Asolo has a cathedral, fine restaurants and few other historic buildings, if you want to meander, it's easy to do on foot without much of an agenda (but do make reservations if you plan to dine out--everything books up). It's a sublime spot to unwind and reconnect with nature and your own thoughts. Once you've regrouped, you can plan an excursion to the nearby vineyards to better yet, head to Treviso Province to explore the architecture canals, shopping and restaurants.
We did use the small gym, though mostly decided to swim and walk for exercise. I booked a signature massage from the wellness center with special oils -- it was a treat and perfectly relaxing. This is the spot to open your watercolor set, finish a book or master the art of the post rosé art of afternoon nap.
There were a few families on the property and they were completely welcome. The resort isn't overtly fancy or fussy, so kids fit right in.
Plan Your Visit
Via Canova, 298, 31011 Asolo TV, Italy
Book your trip here www.villacipriani.it/en/
More Travel Trends to Consider
Pin It!
Use Pinterest to start your bucket list travel ideas. Be sure to follow our Travel with Kids board here.
This is not a sponsored post.