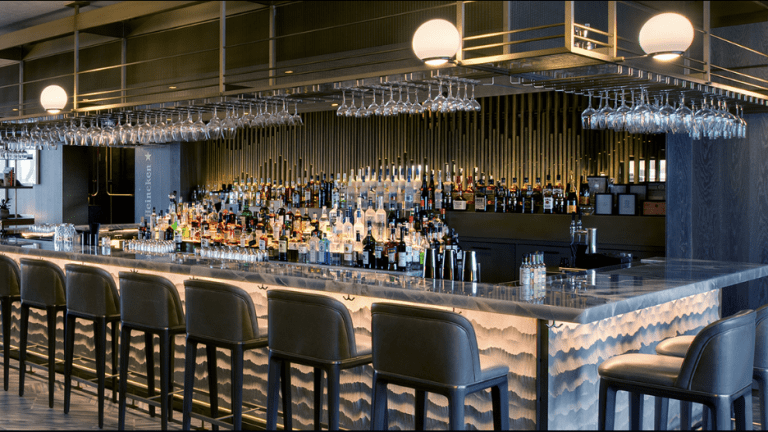 Best Manhattan Rooftop Experience
Wine Down Wednesday at R17 at South Street Seaport Pier 17
I scored a much needed girls night out in NYC. I'm not going to mince words, 2019 has had its challenges. Mom life, a husband who travels a ton and a business that requires a lot of care and feeding feels like a juggling act. This month, some balls got dropped. Treating myself to a girls' night out with a friend was definitely what I needed to put a spring in my step. Our destination was the swank new rooftop bar at the South Street Seaport called R17 for "Wine Down Wednesday," and I'm telling all the mamas I know to grab a friend a and a sitter and make a date.
The Rooftop at Pier 17
The Seaport District has had a major revitalization after Hurricane Sandy. The new Pier 17 is a huge event venue space. The pier makes the most of the views along the East River. In the winter, the rooftop has a mini skating rink and in the summer, it's a outdoor concert pavilion. On my visit I could see skaters having a joyful time at the Winterland Rink. Fun Fact: this is New York City's only outdoor rooftop ice rink. 
R17 is newly opened and the only rooftop cocktail bar in NYC's Seaport District. Since I live in downtown Brooklyn in an area called DUMBO, the Seaport and Pier 17 are in my backyard. I can see the glow of the building out my window every night. It's easy to get to -- I can take a quick $10 Uber ride, a nice night a 20-minute walk over the Brooklyn Bridge or hop on the ferry to Pier 11/Wall Street. Walk north along the water until you get to the Pier 17.
Wine Down Wednesday at R17
I made a visit for "Wine Down Wednesday." From 7-9 p.m. R17 offers a buy one, get one deal. I made a date for wine and a light dinner. I was prepared to be a bit cold, but here's the thing about R17, you get the views and you get to be cozy! 
We scored a table near the bar that had one of the fireplaces. The lounge is designed with luxurious furniture that invites you to settle in and enjoy the views of the lower Manhattan skyline and the Brooklyn Bridge. 
The pace of R17 feels just right. The soundtrack was eclectic with a mix of about 40 years of music. Guests ranged from a mommy meet up, to couples, to savvy tourists. It was a genuine NYC mix.
Small plates at R17
We loved our tasty sampling at R17. The curated menu features savory plates that are perfect for sharing with a friend. We ordered four or five things and turned the meal into a light dinner. The menu was dreamed up by Chef Cassidy Hallman and centers around "New-American" dishes. 
Standouts include the Hamachi Crudo with a sauce of chipotle, honey-soy and pickled mustard seeds. ($22); and be sure to try the Grilled "Caesar" served on brioche with parmesan crisps ($14). The most filling plate is the Chicken Tonkatsu with a sauce of cheddar, pickled Thai chilis with an herb salad. ($16)
We devoured the cauliflower and mushrooms with lemon confit and pine nuts ($16) and my ultimate favorite was the Wagyu Beef Skewers. The meat was so tender and flavorful a perfect pairing to the house red.
Plan your trip to Pier 17
For a few hours we caught up on the news of the day and enjoyed the fact that we didn't have to cook dinner or supervise homework. It was a much needed night off. I'm definitely going to send local moms here and any friends who are visiting NYC and want a distinctive experience. R17 is open Tuesday – Saturday: 4-11pm.
The Rooftop at Pier 17. 89 South St, New York, NY 10038 917.512.7540
Plan your trip https://www.r17nyc.com/
For more of out NYC picks, check out this page.
Pin it!
Use pinterest to save travel ideas and date night thoughts.
This Best Manhattan Rooftop Experience feature is not sponsored.