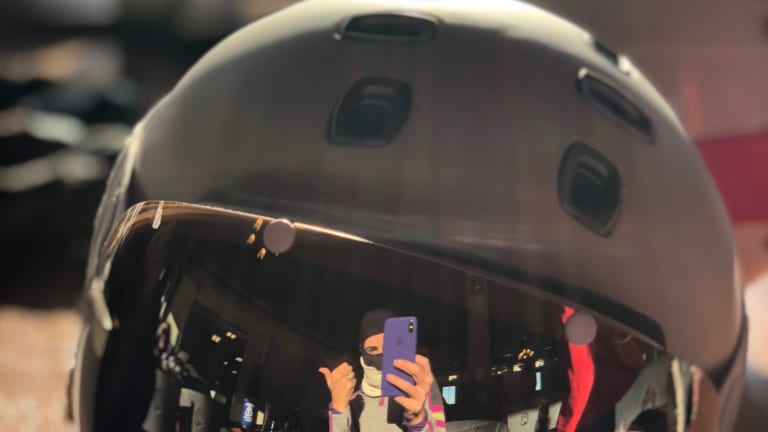 Best Looking Ski Helmets
Trying Pret on for Size
Is there anyone out there NOT wearing a ski helmet anymore? I mean even this YETI has a helmet on under his suit! For me the big impetus was when Natasha Richardson died from a fall (no helmet). I bought one the next day. With the first helmet, I just acted fast. I wanted something to protect my lid ASAP. Now that I've been skiing for a decade, I decided it was time to update my look. I started to research the best looking ski helmets. My search ended with Pret Helmets.
Why Wear a Helmet?
I'm not a risky skier or a particularly fast one, but I do fall. It's part of participating in snow sports. Since falling is a part of the sport, I know I need a plan. Brain safety is just common sense. This winter I upgraded to the Lyric helmet from Pret. It's warm, light and comfortable and I think it's one of the best looking ski helmets around.
According  to this NY Times article, helmets do a "very good job at protecting against skull lacerations and skull fractures." That's enough for me. But you do need to remember, that helmets can't protect you from all types of traumatic head injuries. You need to ski smart too.
Why Pick a Pret Helmet
First things, first. Pret has done the research on safety. The Lyric X that I'm wearing has MIPS. This has set a new standard in helmet safety. Brain surgeons have studied the causes of brain damage and a big issue is when a blow caused your brand to slosh around in your skull. This helmet was developed by doctors and scientists to help address injury due to rotational acceleration. MIPS uses a system that is designed to rotate inside the helmet absorbing rotational energy that's generated from a fall. And it can potentially reduce the impact on your brain. I'm into it. 

The Lyric offers all the latest safety protections with a sleek design. It comes in a variety of modern colors, I like the "pearl chalk" because it goes with a lot of my ski gear. I love the accent colors of grey on the ear flaps (it's a soft blend of wool and ecoSmart recycled fleece). The Lyric is audio ready featuring our detachable Covert Ear Covers. I don't ski with music - I like to be fully aware of what's going on around me when I ski. But if you do like music, Pret recommends Outdoor Tech® Chips® audio (not included) - they say most earbud style audio systems will fit underneath the ear flaps.
The Lyric Fit:
I wear POC goggles. They fit great with the Pret helmets. Pret helmets are designed to match the curvature of most of the popular goggle frames. One of the big bonuses of wearing a helmet is head warmth and cutting down on the frozen face I endured when I just wore goggles and a hat. On warm ski days (rare, but they do happen) the Lyric has lots of venting.
Getting the helmet to fit your head is easy. First pick from small or medium (I'm a medium and then use the Ripcord System (RCS) to adjust to your noggin. Simply pull up on the adjustment dial and the exclusive Ripcord feature instantly releases the system.)
The Lyric is also really easy to click on thank to the fidlock SNAP buckle. I can even click my helmet with gloves on!
2017 Family Ski Guide
Want more information on ski gear? Head to our 2017 Family Ski Guide
This Best Looking Ski Helmets feature is not sponsored. Pret did provide me with a helmet for testing.