When you travel as much as I do, you get incredibly picky about gear. I've been working and playing in my new Arctica Women's Classic Down Packet Jacket and want to share my review of why I love this versatile piece of outerwear.
Whether you're planning a fall trip to Vermont or a winter ski break, this jacket is a must-have for the family.
Arctica Women's Classic Down Packet Review
Last year to produce our annual ski guide, I worked in 44 ski days at 22 different ski resorts. With all the travel I do, I've become a savvy packer. In fact, on most trips, I'm a carry-on kind of girl. You'd be amazed how efficient you can be when you've done your research.
When going to cooler climates, many women think you've got to start hauling around a ton of gear. Not so. You just need the right gear on hand. That's where the Arctica Women's Classic Down Packet jacket comes in--the original multifunctional goose down jacket that converts into a travel pillow.
It's is a pillow, a pack and a jacket all in one. Stuffed with 650-fill power ethically sourced goose down, the down puffer is easy to convert from a pillow to a jacket in seconds. The DURALITE shell and lining fends off moisture and keeps you toasty without getting sweaty.
The Arctica Classic Down Packet comes in sizes Small through XL and is available for men, women and children. Moms love the large storage pocket on the back of the jacket. It's the perfect spot to stash spare gloves and snacks...you know the mom life essentials. This season the Classic Down Packet is available in four colors for men and seven colors for women. I'm wearing one of the new metallic colors called Gunmetal for women (there's also gold and silver available). The styles are right on trend.
Arctica Classic Down Packet on the Go
We put the jackets to the test in Montana. My girlfriends and I modeled the Arctica Classic Down Packet on our April trip to Big Sky, Montana.
Sure, the jackets are perfect for skiing, they are light and warm, but more important, they were also great in and around the village.
What makes it so versatile is the large rear pocket that the entire down jacket packs into itself to make a travel pillow. That's what makes this down jacket perfect for travel use.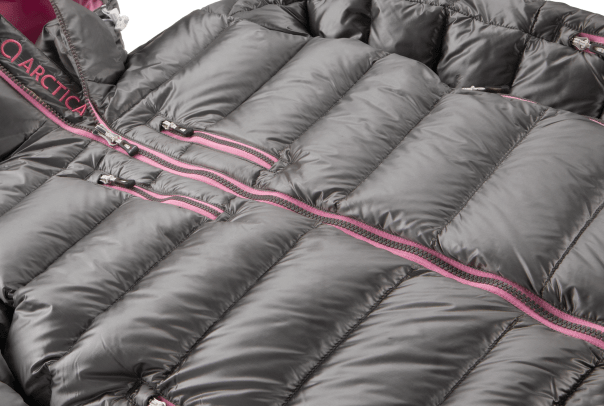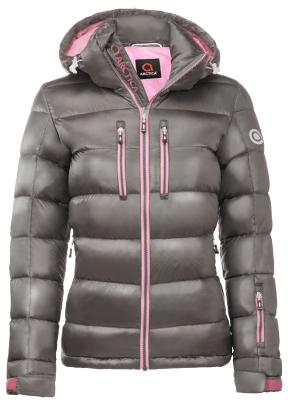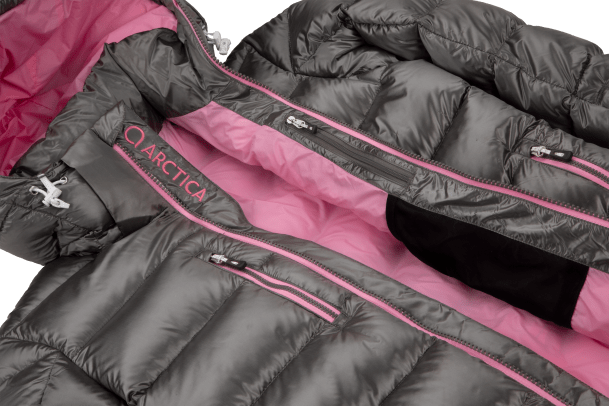 Arctica Classic Down Packet for Kids
Often kids gear is dumbed down. Some brands skimp on materials when it comes to outerwear for kids. Arctica kids gear is made to the same specs and uses all the same high-quality materials and goose down as the adult products. The Arctica Classic Down Packet is perfect for kids whether they are on the mountain or on the playground.
My girls are both fans of cold-weather and they love these convertible jackets. At ski races, they are a great jacket to warm up between runs. When we travel, the girls love to stuff the jacket into the pocket to transform it into a pillow for power naps in cars and on planes. This season the Classic Down Packet is available in five colors for youth.
Find out more about why Arctica is the Down Destination from Arctica here.
As you know from previous posts, I love Arctica jackets. They have become my travel favorites because not only are they warm and lightweight they are also extremely packable. Check out my daughter and I sharing our highlights of the Arctica Featherlyte Down Packet and PackVest here. 
Pin it!
Use pinterest to organize all your favorite travel and fashion articles.
This Arctica Women's Classic Down Jacket Review feature is sponsored by Arctica.