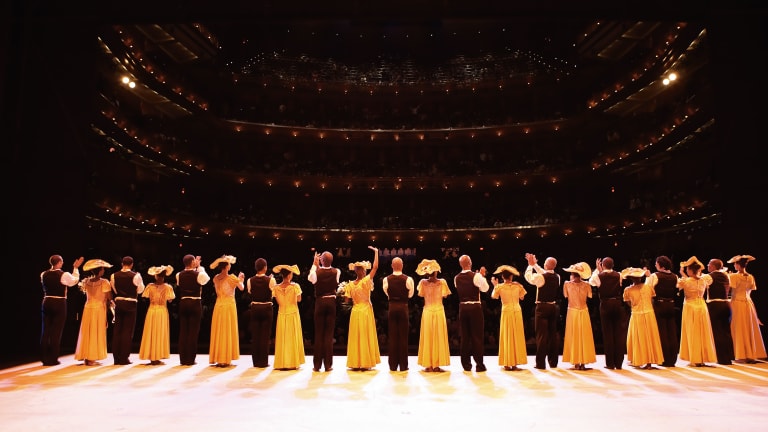 Alvin Ailey Family Matinee
Ailey Highlights Family Matinee Series During Holiday Season at City Center Dec. 4, 2019-Jan. 5, 2020
NYC is a magical place at the holidays. The lights and displays are glorious and the city is never more full of cheer (and people!). Our family tries to mix culture and charity into the season. I don't want it to be all about CONSUMING and SPENDING. Each year we set aside an  afternoon to see an Alvin Ailey Family Matinee and I'd encourage visitors and locals alike to add this family tradition.
Making More of the Season
When it comes to giving back we participate in the Salvation Army Angel Tree and we started a diaper drive for the Hopeline Community Center in the Bronx.  I also live in the greatest city in the world for live performances. Sitting at home and letting the season pass me by isn't an option.
Yes, we love the tree at Rock Center and the Rockettes, but we also love modern dance. For the past ten years my family has been making trips to see Alvin Ailey.
Give the Gift of Memories Not Stuff
I used to go with girlfriends, but now my girls are old enough to go and enjoy this incredible dance company.
When Alvin Ailey started, there wasn't much room in classical dance for African Americans. He made his own space. The first performance of the Alvin Ailey American Dance Theater happened in NYC in 1958. That performance changed the face of dance. It gave voice and opportunity to talent never seen.
If your house looks like mine, you don't need more stuff. What you need is time together. Tickets to ANY Alvin Ailey show make a great gift to your family, but the Alvin Ailey Family Matinee is extra special.
Conceived by Alvin Ailey Artistic Director Robert Battle, the Family Matinee series are all followed by question-and-answer sessions with Ailey's dancers. On stage, the dancers are god-like and beyond reach, but up close, it makes the performance and the dancers more human and relevant. Who knows, it might even inspire the next generation of Ailey dancers!
Among the premieres debuting this season, select Family Matinee performances will introduce families to Ounce of Faith (Dec 7), Darrell Grand Moultrie's exuberant ballet that reflects the lasting impact of a teacher's influence on a young child; and Artistic Director Emerita Judith Jamison's Divining (Dec 7, 21 and Jan 4), featuring complex movement set to African and Latin rhythms. 
A special performance on December 14 includes students from The Ailey School – now celebrating five decades of excellence – in a cherished favorite, Memoria, the only ballet in which Mr. Ailey combined dancers from Alvin Ailey American Dance Theater with students. Audiences will also witness a special program entitled, "Ailey Classics," (Dec 28) featuring excerpts of Mr. Ailey's best-loved ballets including Night Creature, Mary Lou's Mass, Love Songs, and Cry.
Get your Tickets to the Alvin Ailey Family Matinee
Each holiday the Alvin Ailey American Dance Theater comes to NYC's New York City Center. If you miss this year, mark your calendars for 2020! Putting a dance performance on our calendar has become a joyous holiday tradition.
Saturday, December 7, 2pm – Divining, Ella, Ounce of Faith, Revelations (with live music)
Saturday, December 14, 2pm – Night Creature, Cry, Memoria, Revelations
Saturday, December 21, 2pm – Mass, In/Side, A Case of You, Divining, Revelations
Saturday, December 28, 2pm – Ailey Classics program including Revelations
Saturday, January 4, 2pm – Mass, In/Side, A Case of You, Divining, Revelations
Plan Your Visit to an Alvin Ailey Family Matinee
Momtrends Tip: Performances on Saturdays at 2pm that are all followed by question-and-answer sessions with Ailey's esteemed dancers. 
Tickets starting at $29 are on sale now at the New York City Center Box Office, through CityTix® at (212) 581-1212, or online. Discount tickets are available for Ailey Super Fans who purchase tickets for more than one performance, for students with an appropriate ID, and for groups of 10 or more (discounts do not apply to $29 tickets). 
New York City Center - 131 West 55th Street, between 6th and 7th Avenues, New York, NY (212) 581-1212
Head to CityCenter to get tickets. www.nycitycenter.org
The Alvin Ailey Family Matinee Performance
We saw four dances at our show. It started off with the jazzy The Winter in Lisbon choreographed by Billy Wilson with music by Charles Fishman and Dizzy Gillespie. My 9 year old daughter is a fan of jazz. She loved the bold bright costumes and exuberant score. This is a joyous series that really drew her in.
Night creatures, unlike stars, do not come OUT at night - they come ON, each thinking that before the night is out he or she will be the star." -- Duke Ellington
Next we saw Night Creature (by Alvin Aily) featuring the alluring Rachael McLaren. McLaren flirted with the audience and her sinuous movements lit up the stage. A total crowd pleaser, this series featured Duke Ellington's music and wonderful costumes. 
Akua Noni Parker made the 1971 Cry come alive. It's a rapturous dance that might require a bit of explaining to your younger kids. That's the awesomeness of art. It makes us think and feel and leave our own skin for a bit. After the dance, I chatted with my daughter that Noni Parker was showing us all the feelings of being a black woman in the American experience. It was a heady conversation, and one of the many reasons I take my white children to see Alvin Ailey. I need her to look at experiences of others with compassion, interest and intellect.
The program finished with the world-famous 1960, Revelations. This is the dance that gets standing ovations every year. It's a spiritual dance that goes through all the emotional range from despair to joy. Considered Alvin Ailey's signature masterpiece, my girl could barely stay in her seat to watch it. 
Favorites included Sinner Man (look for jumps) and the mesmerizing duet, Fix Me, Jesus with Ghrai DeVore and Jeroboam Bozeman (don't try those moves at home!).
Win it!
Giveaway for two tickets (one pair) to Alvin Ailey American Dance Theater's Family Matinee Performance at New York City Center on Saturday, December 21st at 2pm. Plus, FREE post-performance Q&A with the Ailey dancers inside the theater, great chance for young people to connect with the dancers
PLAN YOUR NYC VISIT
Check out our NYC page for things to see and do in NYC and don't miss these highlights.
PIN IT!
Use Pinterest to save your favorite NYC outings. Be sure to follow our New York City board here.
This Alvin Ailey Family Matinee feature is not sponsored. The non-profit group sent me press tickets to help promote this wonderful organization.