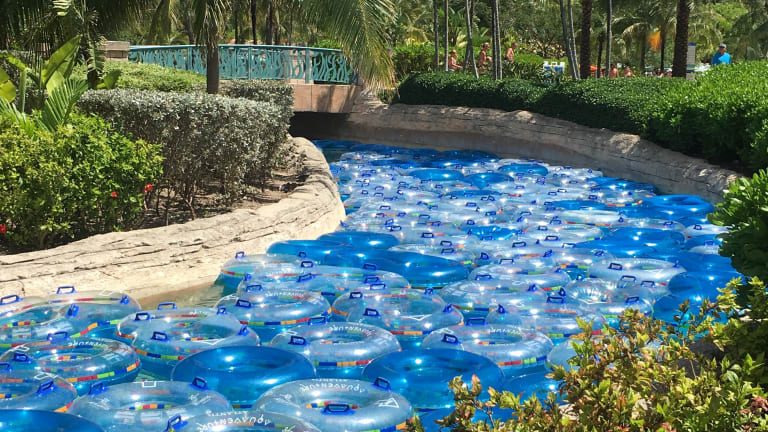 Active Family Vacations: Atlantis Review
Planning the perfect Bahamas getaway with your family
Paradise is Calling! Are you ready to book your active family vacations to Atlantis? Let's dive into planning the perfect trip. I've visited the property three times and continue to be charmed. On my first visit, my daughter was, four, this year I"m heading back with a teenager. Atlantis is truly a resort for kids ages 2-102.
Why I love Atlantis for an Active Family Vacation
Momtrends thinks the best vacations blend exceptional experiences while retaining the essence of your family. We love to travel, we love to be active and we strive to be healthy. Atlantis delivered on many fronts. What do they do best? The water attractions at Atlantis are simply spectacular. 
The pools open at 10 and close at 5 (a little odd that the pools shut so early) and for families that love water you won't be bored for one minute. The best bargain? All these attractions are included in the room rates.
My four year old adored her water-soaked days in the water and so did this middle-aged mom. Momtrends Tip: Don't let the kids go o the rides alone. Wear a swimsuit with straps and join in the fun.
Many of the twenty pools were filled with knee-high water, perfect for the young swimmer who is still perfecting her stroke. At times I wondered how alert the Atlantis lifeguards were, but my opinion changed when my daughter and I were dumped on a river rapid tube ride. In a second, a guard was in the water and ascertaining if we need help (we were fine but did need assistance chasing down our raft again).
More than just water at Atlantis
Indoor activities for the kid's center around the awesome new Atlantis Kids Adventure, a drop-off club for kids ages 3-12. AKA has a ton of kid appeal--fantastic games, a make believe play area stocked with tantalizing toys, a friendly staff, dress-up galore, a magical craft station, and so much more. I loved that in the stage area they got the kids moving with a huge light board game of dodge ball. On the downside, why the need for a Willy-Wonka like host passing out candy! Believe me the spectacular club is eye-candy enough; kids don't need the sugary stuff to enhance the experience. For older kids, activities abound at the CRUSH Teen Club for kids 13 – 17,  
Adult Time at Atlantis
It's not all kid-centric at Atlantis. I encourage every mom to indulge in a spa treatment while on holiday. If you like gambling, play in the Caribbean's largest casino. I don't love how families have to traipse through the casino, but, that's not a huge complaint.  
With all that swimming, dancing and play, I knew my 4 year old was getting plenty of exercise,  One option is the 7,500 sq. ft. sports center offers many choices. I balked a bit at the $15 gym fee. Getting a workout in while traveling with kids is no easy feat. Parents will either have to swap childcare with a spouse/friend or fork over the $45 fee for a half-day of childcare at the Atlantis Kids Adventure. It seemed excessive to add on an additional gym fee. On the plus side, the gym was appointed with all the latest equipment and had tons of natural light and is a hop skip and a jump away from the AKA.
A better free option is the 4-lane, 25-meter lap pool located tucked into a quiet nook next to the gym. After swimming, I could use the gym's steam room and changing facility for no additional charge. Another free workout is to power walk or run. But be warned, there isn't a natural loop (most of the staff looked at me like I was crazy when I asked about running routes). I ended up leaving the grounds to get in a 3 miler.
Other options include scuba adventure and snorkeling the "Ruins of Atlantis." There's also an 18-hole par 72 Tom Weiskopf designed golf course boasts challenging play.
Don't Miss the Dolphins
Atlantis, Paradise Island is home to the world's largest open-air marine habitat. There are over 50,000 sea animals living in 14 exhibit lagoons scattered across the property. The dolphin encounter is a can't miss. This was my third time kissing a dolphin and it just doesn't get old. Pre-book your Dolphin Shallow Water Interaction so you don't miss out on your chance to venture into the water with dolphins. 
Our Atlantic Bottlenose Dolphin was Brewer and he was a gem. He's an adolescent dolphin rescued after Katrina. Our trainer shared dolphin facts and was respectful to both the animal and the humans. Splurge for this interaction. And gulp down the pain and spend $140 to get your photos (no, I'm not kidding, that's what it costs).
Staying Healthy at Atlantis
The biggest challenge to staying healthy on this vacation? I felt like I was on an uphill battle all week to get my daughter to eat a modicum of good food and I had a hard time finding inspired fresh food to meet my own needs. You've got to plan ahead. Opt to make breakfast healthy and get a salad at dinner or lunch.
Buffet after buffet was packed with fried food and fatty dishes. Momtrends tip: Load up on the fresh fruit at breakfast. This is a one of the few times it's easy to "eat the rainbow". Sure we all like to splurge on desserts while on vacation, but I was not impressed with the non-stop sweet assault and lack of creative kids' food. Baby carrots, tomatoes and dip, grilled chicken--missing in action. It was tough being the mom who had to keep saying "one treat today" or "you had a cupcake at lunch you don't need another one at dinner. "
Atlantis caters to families that have either saved a bundle for a big splurge vacation or families that regularly travel with luxury in mind. I've got to imagine these same families value nutrition and health. I can whole-heartedly say the resort is an excellent choice for an active family--providing outdoor thrills and excellent adventures.
Exploring Nassau Island Bahamas
When you book your trip to Atlantis, be sure to work in a day to explore Nassau.  has a wonderful beaches and a popular fish market area with small restaurants. It's also a shopping hub full of galleries and small boutiques. Get our picks of what to do here.
For other options on where to stay in Atlantis, check out this post on the Comfort Suites.
Pin it!
Use Pinterest to save your favorite family travel ideas.
Atlantis did not pay for this post. Momtrends spent four days at the resort as part of a press tour with no obligation to post anything. All views are those of the Editor.