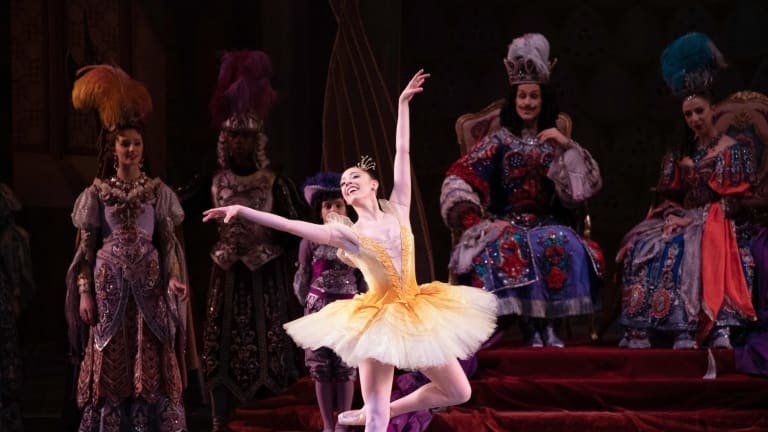 A Visit to the New York City Ballet
A behind the scenes visit to the famous New York City Ballet
Momtrends experienced Canon's The Big Moment with the world's smallest and lightest DSLR, hosted by the New York City Ballet last week. Canon just released the world's smallest and lightest camera ever called EOS Rebel SL1. Throughout the day all guests were able to use this new and innovative camera to capture their "Big Moments".
Related: Family visit to Hudson Yards
Visiting Lincoln Center
We began our day at Lincoln Center, meeting the New York City principle dancers in George Balanchine's The Nutcracker: Abi Stafford, Jared Angle and Daniel Ulbrich. Daniel taught the small group of writers a mini dance class. I was a ballerina when I was younger and haven't practiced since. Some of the moves came right back to me; but it definitely felt more of a workout since I was so out of practice. Next, we enjoyed dancers Abi and Jared perform a dance from The Nutcracker's Sugar Plum, while being able to capture their "Big Moments" on camera.
Capturing the Moment
Using the new Canon EOS Rebel SL1 was a dream. It's so lightweight you will forget you have a DSLR in your hand, not joking. The quality of photos were incredible and new features like their fun filters which include: black&white, fisheye, are all accessible via touch screen. I own a Canon T3i but found the SL1 way more user friendly but same quality of the photos.
After our lunch, we toured backstage the David Koch Theatre at Lincoln Center, being able to capture photos of different props used in The Nutcracker and what it looks like for the dancers rather than the audience. And finally our day ended with a matinee performance of The Nutcracker. The performance was stunning and absolutely a dream experience. I have seen other versions of The Nutcracker but nothing quit like this! It was breathtaking and just pure beauty and talent on stage. I cannot wait to take my children to see this stellar performance! I will never forget this amazing experience!
Plan your visit
David H. Koch Theater
20 Lincoln Center Plaza
New York, NY 10023
United States
Find listings of performances https://www.nycballet.com/
MORE NYC CENTRIC THINGS TO DO
Favorite Museums: www.momtrends.com/travel/favorite-museums-in-new-york-city-for-kids
Best Broadway Shows: www.momtrends.com/travel/broadway-for-kids-and-family-shows-in-nyc
Heading to NYC for the first time? I love this what-to-do list from Jessica Turner at MomCreative.
PIN IT!
Use Pinterest to save your favorite NYC outings. Be sure to follow our New York City board here.
Momtrends was not compensated for this post.