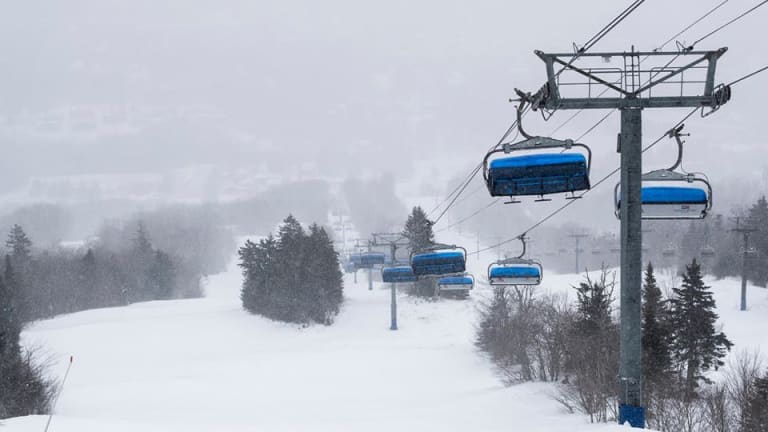 A Mom's Guide to Skiing Mount Snow
With convenient on-mountain activities, lodging and dining options, it's an ideal destination for avid skiers and amateurs alike.
Creating winter memories with your family is as easy as a trip to Vermont. This Southern Vermont mountain is the closest "big" mountain for families that live in NYC or Boston. I've been to Mount Snow many times with my kiddos and know it to be a reliable and seamless place for a family trip. They are always investing in the on-snow experience. To help you plan your first trip, I've put together a mom's guide to skiing (and riding) Mount Snow.
Related: Where to eat at Mount Snow
Mount Snow by the Numbers
Nestled into the Green Mountains of Southern Vermont, Mount Snow is a member of the Vail Resort properties and is one of 37 resorts on the Epic Pass. Lots of city folks rely on Mount Snow for access to skiing and snowboarding, as the resort is just 2.5 hours from Boston and 4 hours from New York City. Founded in 1954, it was one of the very first ski resorts on the East Coast.
Ability Level: 16% Beginner, 66% Intermediate, 18% Expert
Snowmaking Coverage: 83%
Terrain Parks: 100 acre Carinthia mountain face - 10 terrain parks and the half pipe
Average Annual Snowfall: 156"
Mountain Areas: Main Mountain, North Face, Sunbrook, Carinthia
Total Skiable Acreage: 601
Base Elevation: 1,900'
Summit Elevation: 3,600'
Vertical Drop: 1,700'
Total Lifts: 20 
A few things to highlight that make this mountain special. First, they have a bubble lift. Not many mountains on the East Coast have them (but they are slowly coming!) These bubble lifts provide a bit of warmth and shelter as skiers move up the mountain. My family absolutely loves them...especially on super-cold days. The Bluebird Express is located right by the Clocktower Base. It serves terrain from green to expert. 
Beginners are in for a real treat at Mount Snow. The longest run on the mountain is Long John and it runs from the peak of Mount Snow (3600') to the base in a winding 3.1 mile run. It's an iconic experience and suitable for confident beginners. 
For intermediate skiers, this mountain is a dream. There are loads of wide open trails with varied pitch that offer both a challenge and confidence building. On a busy day, or really any day, I love popping over to the Sunbrook Lift and cruising on the Little Dipper trail. Sure, the lift is slower over here, but you won't find crowds. 
Advanced skiers can find plenty of challenges off the North Face area. It's a combo of glades and steeper trails.
Another notable feature of Mount Snow are the terrain parks, if jumps, features and flipping are your thing, you'll adore this place. Mount Snow offers a terrific progression of features, please start small and work your way up! Head to the 100 acre Carinthia mountain face and enjoy 10 terrain parks and the half pipe. 
Momtrends Tip: Get a tour with a Mountain Host. Tours are designed to accommodate the guests' ability level, will feature a number of different loops and lifts that will familiarize you with our mountain quickly, and normally take an hour. Inquire at Guest Services at the Clocktower Building.
Where to Stay at Mount Snow
The Grand Summit Hotel makes a great home base for families. Many  rooms boast efficiency kitchens and all of them have plenty of space to spread out. In addition to the Grand Summit, Mount Snow has condos with 1-4 bedrooms. Head to www.mountsnow.com/your-stay to book your trip. There are also lots of vrbo and airbnb's nearby.
Note: in the smaller rooms (without kitchens, you can call ahead and request a mini-fridge for your room).
I like ski-in/ski-out access, so The Grand Summit is my pick. It has everything I need in a ski hotel. There's a gym with a decent stretching area, a large outdoor pool and two steaming hot tubs for soaking sore muscles. Plus two restaurants on property, and a friendly staff.
In the morning, you'll find a free coffee station on the first floor. Down on the lobby level, the Deli offers more java options as well as breakfast sandwiches and other quick fuel.
To start your ski day, the Ski Valet is located right out the back door (facing the mountain). It's a free service for guests and quite convenient. Don't forget to tip.
At the end of the day, sit by the outdoor fire pit and recap your ski adventures, or head to the heated pools. You can't miss either way. 
Another favorite spot is the seating area by the roaring fire in the lobby. It's a great place to take a cup of tea and a book when you get a quiet moment. 
Skiing and Riding at Mount Snow
If your family is looking to learn to ski or build on skills, Mount Snow is an awesome choice. To get started, book your lesson, tickets and rentals BEFORE you head to Mount Snow. 
Mount Snow offers private lessons as well as group classes for kids and adults. Classes for the littles start at age 3. They will separate kids by age and ability in group lessons, but when in doubt, you can always book a 1-on-1 session. 
As for grownups, well, we can learn too. Mount Snow also offers adult group ski and snowboard lessons and private lessons. Momtrends Tip: you're never too old to learn something new. If you can, take a lesson.
Lessons can be arranged for full-day or half-day. Book ahead for the best offerings. If you have questions, call the ski school at 800.889.4411 or email them MOSkiSchool@Vailresorts.com. 
Mount Snow also offers adaptive skiing options. To find out more visit adaptiveatsnow.org.
The rental shop is located right near the base in the Mount Snow Rentals and Grind Tune Shop. Book your rentals when you get your lodging squared away. I advise getting skis and boots the night before you plan to ski. Pick up your equipment any time after 3 PM and you won't be charged for that day. Helmets are also available to rent, but NOT goggles--you'll want to buy those before you get to the mountain.
Momtrends Tip: If you are an experienced skier or rider, upgrade your rentals at the DEMO shop located in the village. Spend the extra cash and you might get to ski on a great pair of Head Joy skis like I did. The team there gave me the perfect skis for the conditions.
If you have an Epic Pass you can go right to the lift with your pass, if you plan to buy a day pass, please book ahead, it will save you time when you get to the mountain.
Maybe you don't need rentals or a lift ticket...well, lucky you! It's right to the lift. A great part of Mount Snow is the reliability. They are REALLY good at making snow. They specialize in "gun powder" glorious man made snow that keeps the mountain ice-free and a joy to ski. Last season Mount Snow spent $30 million to upgrade their snowmaking.
My favorite runs were Upper Exhibition and Canyon. Wide trails with great coverage. Teens love the different terrain parks with more than 200 features. There's plenty of green (easy or beginner) terrain to start on and Mount Snow has a great series of intermediate runs as a next step.
Momtrends Tip: Be sure to download the Epic Mix app here. I use it to navigate the mountain and book meals. It's the official App of the 34 US and Canadian ski resorts on the Epic Pass. You'll get interactive trail maps, weather updates and resort alerts too.
Where to Eat at Mount Snow
With over a dozen spots to eat on and off the mountain, Mount Snow gives families a ton of variety. I had a lovely dinner at Harriman's Farm to Table. Located in the Grand Summit Hotel, the focus is on local brews and farm fresh food. We loved sharing a glass of wine and listening to music at this spot right on the ground floor at the Grand Summit. A ski mama has to have time for aprés ski with her friends. Momtrends tip: always say yes to cheese when you are in Vermont.
On your next trip to Mount Snow head over to Carinthia Base to explore the foodie options. Carinthia Park is a gorgeous base area. The $22 million dollar development includes the Iron Loft restaurant (with table service) and cafeteria. I had an awesome salad at the Iron Loft. Service was a little slow on my visit, but the steak salad was worth the wait. It's on hold right now due to COVID, but there is service downstairs. Book your lunch at the High Timber counter-service area on the Epic Mix app. There's also a big outdoor space for soaking in the sun on blue sky days.
Another option is located in the Main Base Lodge, Cuzzins is a great place to refuel with lunch, drinks, and a legendary après scene.
What to Do other than Skiing at Mount Snow
If you are looking for a bit of rest and relaxation, book an appointment at the NatureSpa. I had a fabulous deep tissue massage that was heavenly. Every ski mom deserves time off the mountain for self care.
NatureSpa has a love of health and fitness classes too. Head to the gym to get a list of the week's yoga classes. There are several offered each day. The spa is also the spot to book a guided snowshoe tour. Guided snowshoe tours are $45 for a 90 minute tour. 
Bottom Line about Mount Snow
With some of the most powerful snowmaking in the Northeast, Mount Snow is a reliable escape for families who want to experience the magic of winter. This is the spot that is home to the largest fleet of fan snow guns in North America, and they are upgrading to more energy efficient guns over the years. They are also investing in more high speed lifts to get more skiers on snow and out of lines. I've been to this resort MANY times over the years and they really have an incredible staff. When you combine the human investment with great infrastructure, you get a resort that's a great match for families.
MORE SKI FEATURES FROM MOMTRENDS
PIN IT!
Use Pinterest to save your favorite family travel features. Be sure to follow our Ski Moms Pinterest Board.
This is a sponsored post.