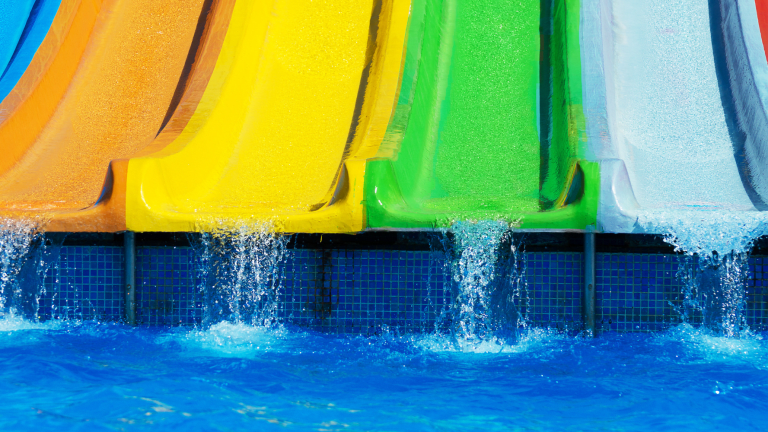 7 Tips for a Successful Trip to an Indoor Water Park
Water parks aren't exactly my thing... The shirtless crowds, the long lines, the miscellaneous band-aids at the bottom of the Lazy River. Still, I occasionally suck it up and brave the scene for the sake of my two little people who enjoy the splishing-splashing wet-and-wild fun of it all. Harder yet to swallow and tolerate? Indoor water parks. Like big cavernous sweaty saunas, these winter-weekend places are popping up all over the place and my kids just "HAD" to experience the joys of getting soaked in bathing suits despite the 30-degree forecast. 
And, so, like a dutiful mom, I packed a bag full of towels and snacks and took my kids to Kalahari Resort in the Poconos. And while I may not have enjoyed every moment playing life guard, my six year old and four year old had an absolute blast--and I guess that makes up for the sea of hairy bare chests and snot-nosed toddlers. Plus, I walked away with some sage advice and insider tips for future visitors...
Don't Go on a Holiday 
This might sound obvious, but, regardless, Imma reiterate this point. I made the mistake of booking a stay on Presidents' Day--and it was truly mayhem. In the hotel, in the water park, at the restaurants. It was body-to-body unpleasantness everywhere we went. 
You don't want to wait on a 50 minute line for a 20 second water slide--so avoid peak holidays (duh) and weekends. It was majorly expensive and we didn't even get to experience everything the park had to offer. Ideally, book mid-week for a night or two; pull the kiddos out of school (eh, I say it's okay when they're young!) and you'll be rewarded with better rates and shorter waits. 
Go Late
The masses significantly thin out after hours--kids have to go to bed and parents are exhausted. But most indoor water parks keep fairly late hours. So, I advise going first thing in the morning, doing other activities in the afternoon and then returning for the last two hours of admission.
BYO Food
As with any resort destination, the food at indoor water parks is generally overpriced and underwhelming. Pack a picnic and you'll save money, save time (talk about long lines!), and save yourself a belly ache.
Bring Life Jackets
Most indoor water parks require that children wear life jackets. But sizes aren't always available and don't necessarily fit well. If you have one your child usually uses for swimming, take it with you. They'll be more comfortable and you can feel more confident. 
Water Shoes Are Your Friend
I wasn't kidding about those mystery bandages at the bottom of the wave pool. All those barefoot people strutting around? Bleh! Protect your feet from germs and make a stylish statement in water shoes.
Get a Locker or Cabana
Claiming your space on a string of lounge chairs doesn't always fly at these busy places. I saw some people moving and rearranging belongings to suit their own needs. Consolidate your things and put all the most important belongings in a locker for safety and security. Better yet, if you can splurge, get your family a private cabana. You'll have a private space to retreat to between rides. Most cabanas feature a fan, flat-screen television, and food service.
Take Robes
In general, indoor water park hotels provide towels, but they're sometimes inadequate and tattered. Bring robes for the family. You can throw these on over your suits between rides or even avoid that nasty trip to the changing room and don your robe from the water park to the lobby to your hotel room.
Want more family friendly toddler travel? Check out our post about Sesame Place and Hershey Park and Camelback.
This is not a sponsored post. All opinions are our own.