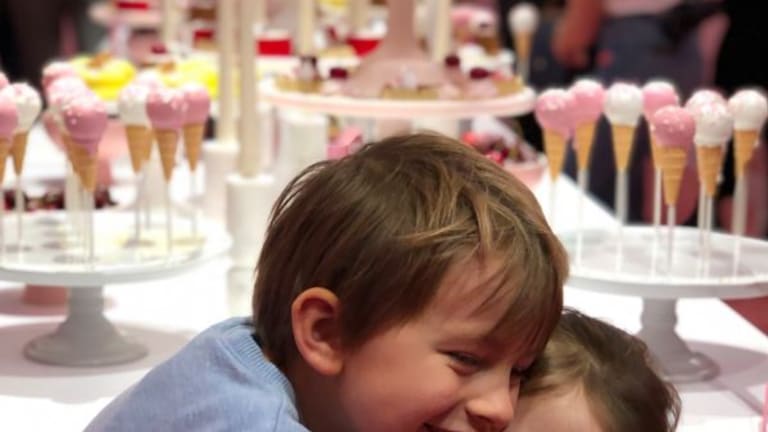 8 Reasons to Visit the Museum of Ice Cream in NYC
Bring your sweet tooth, and get ready for a magical and yummy time at the Museum of Ice Cream.
The Museum of Ice Cream is back in New York City with new multi-sensory interactive experiences and whimsy to spare. And whether you've been to a MOIC pop-up in the past or are new to the colorful deliciousness, you're going to want to take the fam (or invite friends!) and try everything--one spoonful at a time!
Related: Plan a fun visit to Bryant Park, NYC
Plan Your Visit
The MOIC, located at 558 Broadway in Manhattan's bustling SoHo neighborhood, features playful installations that bring to life an ice cream lover's sweetest dreams. There's a magical floating table, a twirling three-story slide, a celestial pink subway that seemingly glides to your destination, and, of course, a playground and "soaking" pool chock full of oversize sprinkles. (Plus, there are tasting stations in almost every room!). Book your tickets here.
Bring your sweet tooth, and get ready for a magical and yummy time. Here are our top 8 reasons to book a ticket and visit the Museum of Ice Cream.
Try All the Flavors
The Museum of Ice Cream has debuted seven wacky, winsome, and wild flavors from gooey peanut butter with salted pretzels covered with creamy milk chocolate to juicy tropical mango with a hint of spicy chili and bursts of sweet raspberry to swirls of rich dark chocolate and creamy vanilla with ribbons of fudge and crunchy pieces of chocolate-covered cone.
Bounce in a Playground
There is a colorful room near the end of the exhibit with games, toys, and playground equipment. This is a great spot to let the kiddos burn off some of that ice-cream fueled energy. The scoop-inspired seesaw is extra fun (watch out for cherry bombs!), and the carnival-like games are a guaranteed hit.
Have an Instagram Moment
The MOIC is basically an aspiring influencer's dream realized (ha). There are countless opportunities for selfies and photo bombs. If not for the fun, do it for the 'gram!
Embrace Whimsy
One of the first rooms at the MOIC features a regal pretty-in-pink display of faux desserts. Facilitated by an Ice Cream emcee, you are invited to help bring these sleeping temptations back to life. The littles were absolutely enamored with their own magical abilities, while the adults were swept away by the enchantment of this royal scene.
Float Among the Clouds
The celestial pink subway and adjoining sky room makes you feel like you're living in the clouds. With 360 screens, you are seemingly moving and floating and flying. Also, I have to note here that it's particularly impressive how the MOIC spaces out guests. The entrance was crowded, so I was worried all the installations would be packed. But, in reality, we had many rooms all to ourselves.
Go Bananas
We went mid-holiday break; so, suffice to say, my kids were a bit, well, bananas. They needed to let out the "cray," run around, and giggle uncontrollably. We were able to do all this and more at the MOIC. My monkeys particularly enjoyed the banana room--and running through rows and rows of rubber fruit.
Dive Into the Pool
Before going to the MOIC, I vowed that my nine month old would NOT try ice cream and would NOT touch communal toys. The second I walked into the his marvelous fantasy land, I abandoned all resolve. I practically threw her into the sprinkle pool, and she now has an affinity, nay, a weakness for vanilla.
Have a Private Party or Team Tour
Want to really make a celebration extra sweet? You can host private events from birthday parties to weddings at the MOIC. You can start your day with a "morning swim" for up to 40 people in your own private Sprinkle Pool before heading into the experience with your group. Or, enjoy the decked out Piano Room and play DJ on the pink turn tables. 
Browse and Enjoy a Scoop
The cafe at the Museum of Ice Cream is open to the public. You can enjoy all their signature ice creams. There's also an adorable gift shop full of other non-edible delights.
PLAN YOUR NYC VISIT
More fun things to do and see in The Big Apple.
PIN IT!
Use Pinterest to save your favorite NYC outings. Be sure to follow our New York City board here.
This is not a sponsored post. We purchased our own tickets.