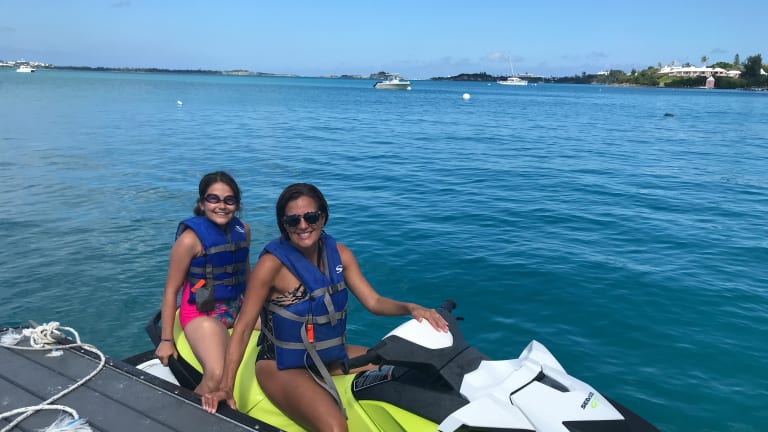 7 Family Fun Activities in Bermuda
Plan your perfect family vacation to Bermuda
Are you looking for a beach vacation that will appeal to active families? Bermuda is a perfect choice. From water sports to on-island excursions, there are loads of activities to keep teens and tweens engaged and off those phones. Check out our ideas for seven family fun activities in Bermuda.
Video Highlights from Bermuda
7 Family Fun Activities in Bermuda
Crystal Caves
Aquarium
Turtle Swim
Jet Ski
The Blue Hole
Cricket
Stand-Up Paddle Board
Crystal Caves Bermuda
The natural wonders of Bermuda go beyond the beautiful beaches. Deep below the surface of the island are some incredible cave systems. Bermuda's Crystal and Fantasy Caves are quite popular with tourists. We took our kids to check them out. 
We were led by a chipper and knowledgeable guide through a  series of gates to start the tour that took us deep into a series of god-made caves. Along the way, we were told the origin story of the caves -- it all started with two bored teens on a bit of a lark.
The boys discovered these limestone wonders full of white stalactites that cover the roof of the cave.  
The experience has an other-worldly quality. The exquisite blue water looks like it's straight out of a sci-fi movie. Crystal-clear, the underground lake hits depths of 50 feet. 
After your cave experience, be sure to walk over to Bailey's Ice Cream for a frozen treat (2 Blue Hole Hill). This locally made dessert was the perfect thing to complete the outing.
Plan your visit. http://www.caves.bm/
The Bermuda Aquarium, Museum & Zoo
The Bermuda Aquarium, Museum & Zoo was a favorite of the girls when they were younger. The small zoo is full of educational opportunities and is very well maintained. 
On the smaller side, the zoo can be managed in a few hours. It's clean and well cared for and full of knowledgeable staff members. 
It was founded in 1926 and is one of the oldest aquariums. They are devoted to promoting learning about island environments All in, there are more than 200 species of fish and 300 animals to observe. BAMZ is perfect for kids ages 10 and under.
Plan your visit https://bamz.org/visit/planning-your-visit
Turtle Swim
The turtle swim is a newer excursion to the Bermuda itinerary. Our guide, James, took us out for a private adventure that lasted about three hours. We puttered along the shore line looking for turtles and spotted more than a dozen.
In a few spots, our guide moored the boat and let us glide in the water to closely observe the sea turtles. Swimming with them requires patience and a smooth swimming stroke. Lucky for us, we had two wonderful open water interactions.
Along the way we got a great tour of the islands.
On the downside, I wish the boat had a bit more shade and that the captain shared more knowledge about turtle habitats and science. I would have been great to have some on-board visuals to help us learn about the turtles.
Plan your excursion with Winnow here https://winnow.life/experiences/bermuda/swim-with-green-turtles
Jet Ski with Kinezumi
Feel the wind in your hair as you skim over the ocean on one of these top-of-the-line Sea Doo jet skis. The 2.5 hour tour starts near the Rosewood hotel. 
Antoine was our guide for the Jet Ski East End Adventure tour. Safety was a priority as he gave us easy-to-follow instructions. He was adept at spotting sea turtles and knew the area well. We toured along Tucker's Town and Castle Island and quite a few other beaches. 
Along the way we made a few stops to peek at the homes of billionaires and do a bit of snorkeling. Please note: this is not a snorkeling tour, it's mostly about the jet skiing.
Our tour was small -- 4 people and a guide. We rode an adult and child on each jet ski. Trips depart from Tobacco Bay Beach.
Plan your excursion with https://www.kinezumiwatersports.com/
The Blue Hole Bermuda
Located near the airport, the Blue Hole is a natural phenomenon. It used to be home to a dolphin show, but now it's a spot where locals and visitors can take a leap. The two jumps are off a well-trodden path (the paths get quite muddy from slippery swimmers walking along them). Pick your pleasure: jump from 6 feet or 10 feet.
After you jump, swim over to a rocky area to climb back up and do it all over! The climb out is a little slippery--be careful. 
There's a small viewing platform and grassy area to towel off. There is no lifeguard. Strong swimming skills are recommended. It looked like there were tours going in and out of the area. We took a cab from the Hamilton Princess to the park and walked in. 
Cricket in Bermuda
Cricket is the national sport of Bermuda and it's going strong on this island. Each year there's a match between the two main teams on the island. Proceeds go to charity.
On our visit, there was a cricket demonstration going on in St. George. Mr. Momtrends took a few bats and managed to connect. The big Cup Match, one of Bermuda's biggest events of the year, was about to take place and cricket excitement was everywhere.
The Cup Match takes place in the summer between two island rivals, St. George's and Somerset. Find out more about cricket on Bermuda here.
Stand Up Paddle Board
This is a great way to test your balance and get in an ocean adventure. We used the complimentary paddle boards provided at the Hamilton Princess's private beach.
The Hamilton Princess Beach Club is sheltered on the beautiful Sinky Bay, a private cove on South Beach. This secure cove is a great place for kids to learn SUP skills. The waves are gentle and the water is shallow. It's easy to make a "rescue mission" to retrieve an over-tired kiddo that can't get back to shore.
TRIP PLANNING TO BERMUDA
PIN IT!
Use pinterest to save your favorite family travel destinations to help inspire your next trip.
This 7 Family Fun Activities in Bermuda feature is not sponsored. Some of the activities were hosted.