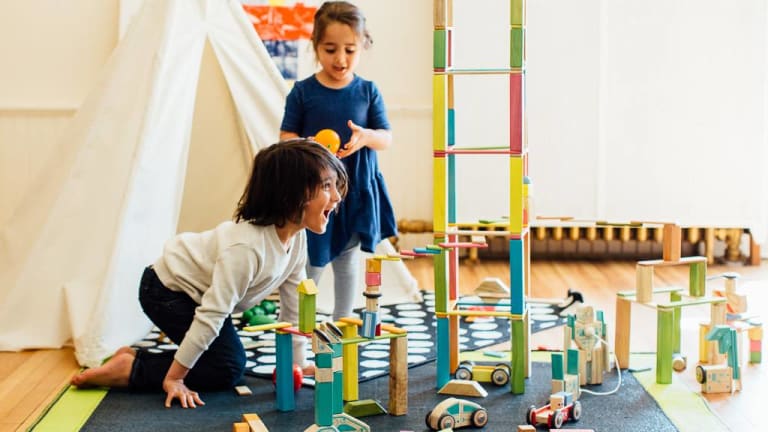 Creative Play with Tegu Blocks
These creative and educational blocks have been a welcome addition to our home, find out why we love them.
While I am loving the summer, I also have been having a hard time with that delicate balance when my daughter is out of school. We keep busy thanks to literally having everything at our doorstep in NYC, but there are days when we just relax and focus on creative play with Tegu Blocks at home.
Related: 10 Best Sewing Kits for Kids
To beat the heat and flex our creative mind we have been playing with Tegu blocks, specifically the Tegu 24-piece set. As a product that is designed only to be limited by your child's imagination, you can literally create any combination of figures or structures using this blocks. Featuring four shapes of blocks (8 Medium Columns, 6 Mega Planks, 4 Long Planks, and 4 Short Planks) and 22 pieces, we had a blast creating everything from train stations to a house to a castle to a spider.
Creative Play with Tegu Blocks
What are you building today? Build this & more with our 24-Piece Set!
Get the Tegu 24-piece set here. (note: this is an Amazon Affiliate link)
Playing with Shapes and Colors
I loved working with my daughter as we figured out what shape would compliment each other as we decided on the look of our structures. Very different than your typical building blocks, we loved using the magnetic blocks that was a lot of fun to use as my daughter figured out which sides would attract to the other blocks to make a structure that worked. It was also cool to see her imagination at work as she played with me or her dad or her friends. Not just for my four-year-old, my baby loved touching these blocks (and even more so - crashing them down) as she was learning the concept of building.
As a unit, I also loved how the box was extremely sturdy. As much as I like to keep things in descent condition, the kids have another idea on their mind where we now have a lot of cracked and smashed boxes. The boxes also include a lot of fun factoids about the blocks and a booklet featuring the Tegu Story where you can find various building ideas and information about Tegu's social and their environmental initiatives in Honduras.
Not just for kids, my husband and I also loved playing with the blocks with our daughter and really enjoyed flexing our creative muscles to figure out new configurations.
These creative and educational blocks have been a welcome addition to our home, and I can't wait to see what new creations crop up at home.
Get the Tegu 48-piece set here. (note: this is an Amazon Affiliate link)
For more information, please visit: www.tegu.com
MORE KID-CENTRIC FUN FROM MOMTRENDS
PIN IT!
Need more ideas on what to do with the kids? Be sure to follow our Activities to Do with the Kids board on Pinterest here.
Momtrends was not paid for this Creative Play with Tegu Blocks post.