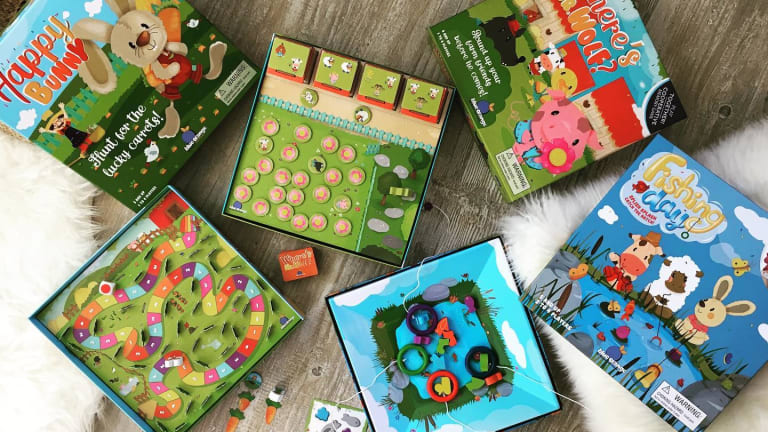 Blue-Orange Games: Eco-Friendly Wooden Games for Kids
Toys made to last and create fun.
Earth Day is rapidly approaching (April 22) and so is Big B's birthday. We try to make earth friendly choices when shopping for new items and know that toys made from natural materials are best suited for our children. That's why we are so excited to introduce a slew of games from Blue Orange.
Related: The 10 best wooden play kitchens for kids
Toys Made from Better Materials
Toys and games that are meant to passed down, cherished by many and don't make a lot of noise are must haves in our household. We usually look for toys without batteries, are made from sustainable wooden materials and are of course, safe for or children. Blue Orange wooden games fits all of our requirements. We love that they plant two trees for every one tree used! Blue Orange wooden games use only non-toxic, water based paints and sustainable woods, making them as safe as they are durable. They are tested to be free of heavy metals and are lead -free.
Each toy and game was designed in the USA (San Francisco) or in France and are made in family-run, highly regulated and established factories in the Orient.
Blue Orange Toys to Try
Pengoloo: Wooden Skill Building Memory Color Recognition Game for Kids Get it on Amazon here.
Mindblock Brown: Think ahead to gather your blocks into sets and runs, using the blocks already at play, and keeping in mind You can create new combinations by stacking them. Get it on Amazon here.
Games for All Ages
Blue Orange offers eight wooden games for ages three and up. I loved that not only did they put a recommended age on each game but an approximate playing time. This reminded me of the short attention spans little ones have, and how to best meet the needs of the curious little minds. The games are easy to learn, challenging enough to be interesting and strengthen a host of skills such as memory, dexterity concentration, strategies, counting and color recognition. Another favorite aspect of Blue Orange? They offer replacement pieces! So helpful especially for those of us that travel a lot where precious pieces may get left behind.
I love how I can leave the vividly colored games out in the family room and they don't look unattractive, bulky and most importantly they don't buzz and beep!
In addition to wooden games, Blue Orange does offer tin and pocket sized games. Their games range from $8-$30. Blue Orange Games have a received a host of awards, are beloved by parents everywhere and are sold in stores near you! 
MORE TOY PICKS FROM MOMTRENDS
PIN IT!
Need more ideas on what to do with the kids? Be sure to follow our Activities to Do with the Kids board on Pinterest here.
Momtrends was not compensated for this post. We did receive sample games to review.