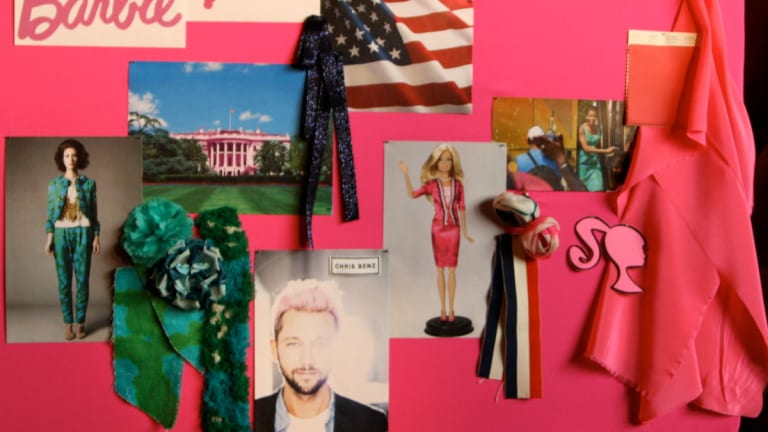 Barbie For President
Barbie says, "If You Can Dream It You Can Be It" and sets her sights on the Oval Office
The latest candidate on the campaign trail is no other than Barbie. With her campaign slogan, "If You Can Dream It You Can Be It," this global icon will represent girls of all ages on her road to the "Pink House," serving as the "B Party" candidate. Yep, Barbie For President!
This represents a message to girls of all ages to "B inspired," "B informed" and "B involved" as well as to empower the next generation of girls to learn about leadership roles.
At a recent press conference, I was able to see the Barbie I Can Be...President doll firsthand and hear from renowned fashion designer Chris Benz as he spoke about the inspiration for her dress, hair and shoes. True to the Barbie look, the Barbie...I Can Be is accessorized with pink wedge shoes where she can stand up on her own and fitted in a gorgeous pink skirt suit complete with red, white, and blue ruffles. 
As Chris noted, "It was important for the outfit to convey professionalism and strength in silhouette and design." He also commented on the details given to her hair where he stated, "I am obsessed with her hair and I wanted it to be powerful while also looking feminine." He focused on keeping her political style classic and sophisticated while also incorporating bright colors and fun designs.
To further deliver her message, Barbie will continue to partner with The White House Project - a national, nonpartisan women's leadership development organization - from the presentation of the "Barbie I Can Be Award" to a young girl at the organization's annual awards gala to a "Take Your Daughters to the Polls" movement in November.
Momtrends was not paid for this post