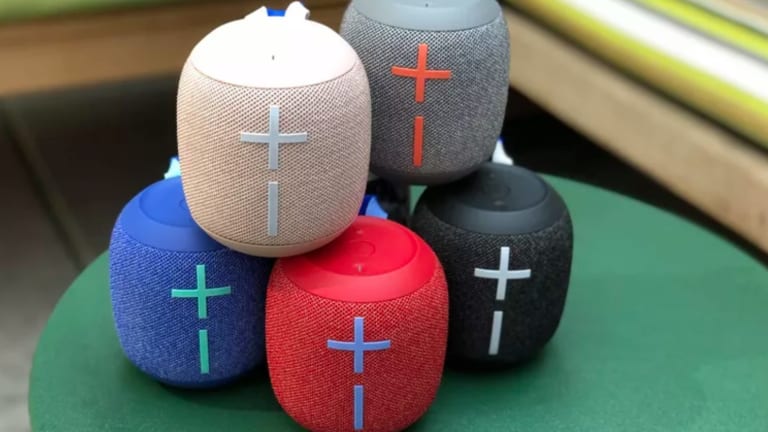 Best Headphones & Speakers For Summer Fun
The beach to the pool, road trips to plane rides, we're sharing our favorite headphones & speakers for the whole fam - wherever your summer trips take you!
Summer is here! Time to celebrate! Whether you are headed to the beach or the pool, on a long road trip or a plane ride overseas, parents and kids alike need a way to take their summer playlist with them. Today we're sharing our favorite speakers and headphones for the whole family - wherever your summer adventures take you!
After our speaker and headphone picks, be sure to scroll down to the bottom to find a Spotify summer family playlist from Family Circle - sure to kick off your summer in (musical) style! 🎶
At the beach or by the pool
Music is a great addition to any beach day or pool party but there are often two issues. First, you need something that you aren't freaked out about getting wet and second, you need a way to boost the sound beyond your phone. The JBL Flip 5 is the perfect solution for bringing your tunes to any watery summer adventures. The fully waterproof portable Bluetooth Flip 4 wirelessly connects to up to two smartphones or tablets, lets you access Siri or Google Now, and has an impressive 12 hours of playtime. And they aren't joking about it being waterproof - you can completely submerge the Flip 4. You know, when the song is so good even the fish need to hear it. Buy: Amazon
When the kids want to rock out (but parents don't want to listen)
No shame - when we go on long car rides, I love relying on tablets to keep my kids entertained. What I don't love is listening to hours of bells, dings and booms from their favorite apps. That's when we pull out our Kidz Gear headphones. These kid-friendly headphones come in two options - Wired Kidz Gear KidzControl™ Volume Limit Headphones that limit the volume about 80% of the original max regardless of how many times they press the volume up button and the Wireless Bluetooth Headphones which can sync with a tablet or phone. I love that both styles are durable and designed to fit kids as young as 2yrs+ - though after 9-10, kids may be ready to move on to the Bluetooth ones. Plus they come with an included carry/storage bag to make sure they last. BUY: Amazon
When you're short on space (but still want big sound)
Whether you're trying to pack light for a day on a boat or the car is already crammed for your family road trip, sometimes you need BIG sounds in a tiny package. The Ultimate Ears WONDERBOOM is a pint-sized, portable Bluetooth speaker that can fit in the palm of your hand while still putting out big sound. The WONDERBOOM is fully waterproof, provides 10 hours of playtime, can be paired with another WONDERBOOM for surround sound, and has a convenient little loop so you can carabiner it onto your bike, boat or beach umbrella. Its small size makes it easy to bring just about anywhere, and the sound quality is top-notch. BUY: Amazon
When you want to block out the umpteenth viewing of Frozen Sing-a-long on your roadtrip...
I'll be honest. Sometimes on a long car trip, I just can't listen to another kid movie. Or my husband and I want to listen to our own music or podcast. In these times, we pull out the big guns like the JBL E55BT Wireless over-ear headphones. These headphones are perfect for car trips or plane rides because they are cordless (though they come with one in case you need it), go over-the-ear to block out surrounding noise, are ridiculously comfy, and have a whopping 20-hours of battery life. Plus, it's simple to switch from your favorite podcast to taking a call and the headphones lay flat for easy packing. Now to catch up on episodes of RadioLab... BUY: Amazon
When you're trying to fit in a vacation run
While vacation might seem like a time to stay up late and have one-too-many margaritas by the pool, some people like to exercise on vacation. Like Momtrends CEO Nicole. If you follow her on Instagram or have seen any of her many workout posts, you know this woman values the importance of fitting in fitness - even on vacation. Music is a must for me when I workout so this summer, I'm hoping to motivate myself to move with these 1 Voice Wireless Bluetooth Active Lifestyle Earphones. Designed for active use, these Bluetooth headphones are comfortable, portable and very lightweight, and specifically designed to stay in place regardless of your workout. The built-in mic will let me make hands-free calls when I need and the 7+ hours of playtime is sure to last me for a vacation-worth of workouts. As long as I can get out of my lounge chair by the pool.... BUY: Amazon
MORE TECH ACCESSORIES FROM MOMTRENDS
PIN IT!
Use Pinterest to save your favorite tech finds. Be sure to follow our Mom Boss board here.
Momtrends was not paid for this post. It does contain affiliate links. Some samples provided