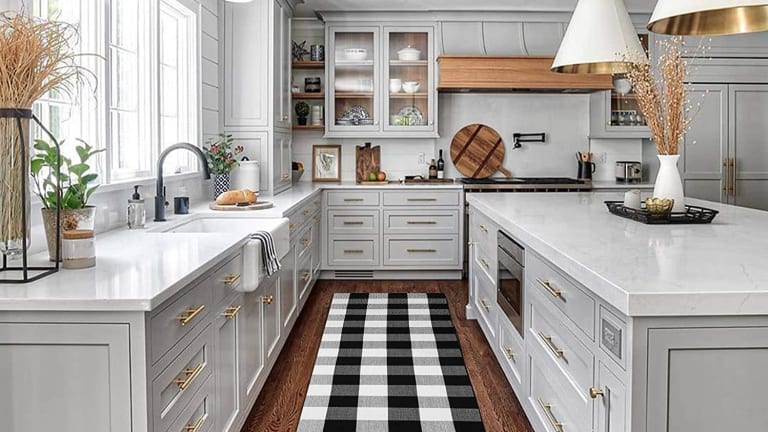 Three Kitchen Rugs that Do the Job with Style
Ever since my contractor said the ominous words, "Are you sure you want a wood floor in your kitchen? You'll have to keep it dry." I've been a little obsessed with kitchen rugs. I've tried many and learned a few things about what makes them work. 
Related: Mom Life doormats that tell it like it is
First of all, they get very dirty (especially when my husband cooks!), so I stay away from white. Second, if the tag says to professionally clean, the rug will probably get ruined in the washing machine. (I bought a great looking rug at Target for $10 and with one wash in the machine, it looked like a rag.) Unfortunately, most rugs need to be professionally cleaned, so the best bet is to go for an indoor/outdoor rug. You can wash it off in the sink or outside with a hose and your rug is as good as new. And your floor stays dry!
Three Kitchen Rugs that Do the Job with Style
Here's my short list of rugs that I can wash in the machine AND that look stylish. 
Buffalo Plaid Check Rug Runner. This cotton hand-woven Buffalo plaid rug goes with many farmhouse style homes. Comes in four colors and 12 sizes. It can be vacuum-cleaned, hand-washed or machine-washed.
Ruggable in Kenza Charcoal. The ruggable system comes in two pieces. The lightweight, removable rug cover fits perfectly inside the washing machine, while the clingy, nonslip Rug Pad keeps the Cover securely in place. When it's time for a wash, simply peel off the Cover, throw it in the wash and voilà—good as new! Available in 5 sizes.
Crate & Barrel Cotton Runner. This classic cotton woven runner comes in six gem tones and in four sizes. It's 100% cotton and can easily be tossed in the washer for cleaning. 
One more option
Wellness Mat. Ok, so this one isn't so stylish, but boy, does it do wonders for aching backs and legs. Designed to eliminates fatigue, the wellness mat is thick and supportive. It's also got a non-slip surface. This comes in two sizes--6' long or 3' long with a width of 2'. On the downside, you spot clean this one, you can't toss it in the wash. If you search these on Wayfair, you'll find a ton of immitators in a variety of prints.
MORE DESIGN TIPS FROM MOMTRENDS
PIN IT!
Need more ideas on what to do with the kids? Be sure to follow our Organization board on Pinterest here.