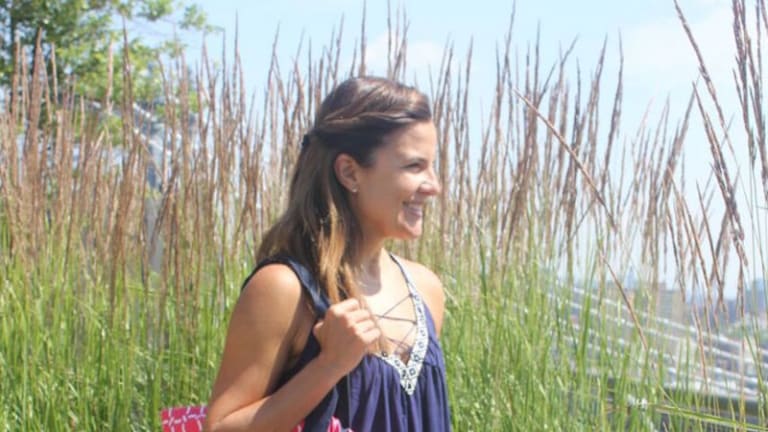 Patriotic Style 4th of July Outfit
Red, white and blue can make a great outfit, get inspired for your holiday week.
Great 4th of July Outfits are meant to be easy and red, white and blue. Since I wanted to get into the spirit of things, but I didn't want to look like a flag, this year, I opted for no stripes, but lots of fun, patriotic accessories.
Related: Kid craft DIY fireworks shirt
Patriotic Style Shoes
These shoes are vintage 2013 from Tory Burch. Every time I wear them, women stop me on the street to ask about them. I know they aren't the exact same pair, but this red wedge from Tory is also fabulous. I wish I could link to the exact pair, but when you build a wardrobe, you shop your closet for good stuff from the past.
The Dress
Last week I talked about the buy one, get one at 50% deal at Francesca's. This is the other dress bought. With the discount, this Lia Dress was $22. How great is that!
The Perfect Beach Bag
The beach tote is from Ame & Lulu. It's the Cabana print. This bag went to the Bahamas and was spacious, sturdy and right on trend. At $72 it's an investment in a beach tote that will last for seasons, and they have multiple prints. And unlike most beach bags, this one has a top zipper so all your stuff doesn't spill out. Smart.
The Bracelet
The bracelet was a purchase from cabi. The Helios Cuff is a simple summer accessory that has a flair. I've worn it with boho outfits, yet it just as easily works with this nautical look. Versatility is key with jewelry.
4th of July Outfits Should be Easy
Just a few easy piece make this 4th of July Outfit easy to pull together and somewhat classic. I hope you have a great holiday and that there's a pool, a book and some cute sandals in your future.
p.s. Have you signed up for LiketoKnow.It yet? I'm using it more and more to tag my instagram photos so friends can shop from my picks. It's an easy way to get my favorites delivered to your inbox. You like the photos on instagram, and you get an email with the shopable links of what you liked. Pretty easy. Get all the details here.
MORE 4TH OF JULY IDEAS FROM MOMTRENDS
PIN IT!
Use Pinterest to save your favorite ideas for summer fun. Be sure to follow our 4th-of-July board for more inspiration.
Please follow us on Bloglovin too! Follow our blog through email. You'll get an email every time you update.
This is not a sponsored post. Some affiliate links are used. When you shop the links, you support Momtrends and our editorial staff.