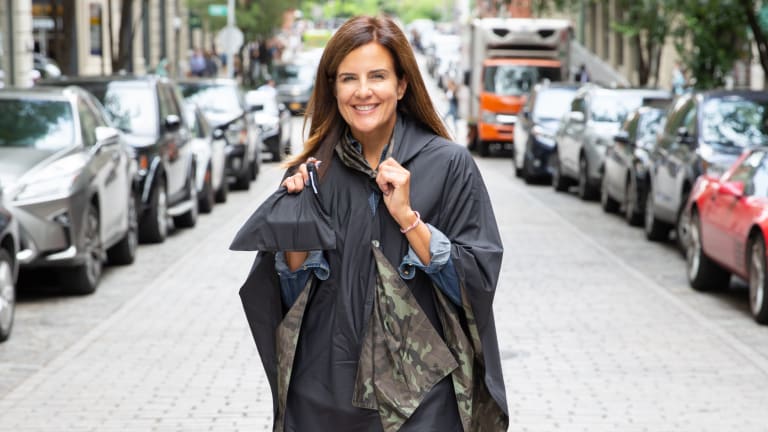 Cool and Functional Rain Gear
Rainraps fashionable and practical alternative to traditional bulky rain gear.
How many times have you left when the sun is shining up above only to get caught in a sudden, unexpected downpour? Unfortunately this has happened to me on more than one occasion. I'm excited to share my latest find: RainRaps reversible rain covers. Cool and functional rain gear is something every mom needs.
A fashionable alternative to traditional bulky rain gear
Living in New York City means dealing with all the seasons and what they bring. From sweltering summers to frigid winters, we get it all here in the Big Apple. 
Since we get a ton of rain here (NYC gets 47 inches of rain a year), I need good rain gear. I'm wearing the Hooded Black & Camouflage RainRap, it's a fashionable and practical alternative to traditional bulky rain gear.
How RainRaps Got Started
Like many of the mom-friendly brands we love, this one was also started by a dynamite duo of ladies. The two founders dreamed up the brand in 2011 -- they wanted a water repellent wrap that was not only utilitarian but also stylish. 
RainRaps are reversible, super thin yet repellent rain wraps. You simply pull it out of your bag and it conveniently fits over whatever you're wearing and protects you from the rain. RainRaps are super lightweight and are as functional as they are fashionable. They come in a variety of fashion colors and prints and are designed with water-repellent, fast-drying materials to keep you dry year-round.
As the brand has grown, they've added more color combos and styles. There's something for every taste, and while the style may differ, what the collection has in common is functionality.
Wearing RainRaps on the Go
Unlike my other raincoats, this one isn't stiff at all. it's got great movement and is lightweight. When I tested it out in DUMBO last week, it was perfect at keeping me dry when the storm rolled through. It comes in a tidy little pouch that's easy to stash in my "mom bags" and backpacks. 
On those days when I get caught in the rain, having this handy wrap in my bag means I can forge along with my normal NYC pace of doing doing all the things.
I think they are great for travel, especially when you are out and about in New York City.
The original RainRaps cape comes in four reversible colors and retails for $65 and can be purchased by clicking here.
MORE FASHION TIPS FOR MOMS
For more ideas on how to style a denim shirt, check out my friend Audrey's post on How to Style a Denim Shirt.
PIN IT!
Use pinterest to save your favorite fashion posts. Be sure to follow our Fall Fashion Trends Pinterst board here.
Momtrends was not compensated for this RainRaps reversible rain covers post. We did receive a RainRap for the purposes of this Cool and Functional Rain Gear review.