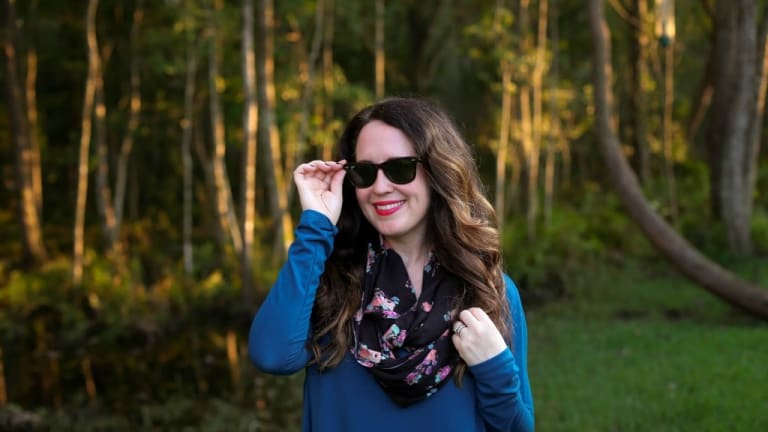 Why You Need an Infinity Scarf this Winter
Our go-to accessory is in the cold weather is this versatile and cozy accessory.
You know how much we love accessorizing around here, so today we're going to talk about why you need an infinity scarf this winter. If you asked me what my go-to accessory is in the cold weather months, I would have to say the scarf. It's always the scarf. Blanket scarves are a given. They double as both scarves and wraps, so they're definitely a must have. That being said, there are so many other styles of scarves out there that I would recommend adding to your fall and winter wardrobe too. And one of my favorites is the infinity scarf. Would you like to know why? I knew you would!
Related: Styling a favorite trend the long fall cardigan
The Infinity Scarf
It's EASY...You have to be adept at tying and wrapping other types of scarves. Not that it's difficult, but draping a scarf just the right way requires some practice. The infinity scarf requires no such practice. You just throw it over your head and if you're really feeling feisty, loop it around your head one more time. Bwah!
It's warm...Infinity scarves really envelope your neck in a soft, cushy cloud of fabric. And they look super cute peeking out of your coat. I'm actually quite fond of winter, but not if I'm cold. If I'm all wrapped up toasty warm, I love being outside in that cool, brisk air. Infinity scarves keep me nice and comfortable!
It's cute...There is no reason you shouldn't be cute AND comfy. That will forever be my mantra and it holds up in the winter months too. Winter wear can be darling....Hallmark holiday movie darling. Pick up a super cute print and your infinity scarf will make you feel like you're starring in your own Countdown to Christmas flick. And who wouldn't want to feel like that?! 
More Winter Style Inspiration
Since I'm pretty sure I sold you on why you need to add some of your own infinity scarves to your closet this season, I shared some of my favorites below. Perhaps you can help me pick out a new one? You can never have too many scarves in this girl's book! Accessories MAKE the outfit after all!
And for even more winter fashion inspiration, check out our mountain chic style!
Shop our Favorite Infinity Scarves on Amazon
These are all Amazon affiliate links, and they have lots of color options.
MORE FASHION TIPS FOR MOMS
PIN IT!
Use Pinterest to save your favorite fashion posts. Be sure to follow our Fall Fashion Trends Pinterest board here.
We were not paid for this post. It does contain affiliate links.