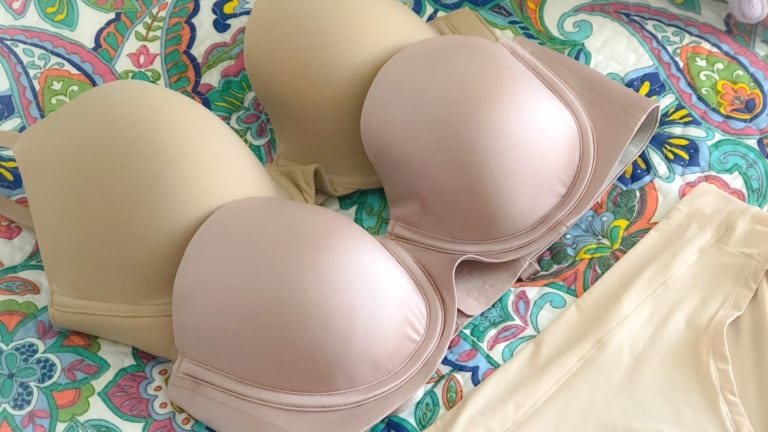 Why You Need to Update Your Underwear Drawer Now
We're willing to bet your undergarments need an upgrade and we're here to help!
If I asked you to take stock of your underwear drawer, what would you find? Would you find undergarments that are in good condition or would you find more than a few pieces that are well past their prime? Does the same go for your pajama drawer? If so, I'd say it's time for some updating. Ladies, this isn't about your significant other. I'm going to tell you why you need to update your underwear drawer, and your pajama drawer too, for that matter. And it's for YOU.
Sure, new undergarments can keep things spicy in the bedroom; but, more importantly, you will feel better about yourself if you have a solid lineup of quality unmentionables that you can turn to when it's time to get dressed for the day or undressed at night. Plus, they simply make your clothes look better. Ill-fitting, worn out undergarments will do nothing for your figure or your outfits. So, before we get to your pajamas, let's talk about some undergarments all ladies need...
Must-Have Undergarments
Soma is one of my go to stops for bras and underwear, and it has been for years. Their undergarments hold up well, are stylish and are, most importantly, super supportive and comfortable. That being said, it has been a few years since I've done a solid refresh of my own underwear drawer, so I updated my collection with a few new must-have pieces recently. I'm talking about basics that I can wear with a variety of outfits.
Since there is no such thing as a one-bra-fits-all scenario. I've always found that I need to have at least one full-coverage, racerback and strapless bra in my collection. And frankly, I would recommend more than one of each of those because if you wear the same bra all the time, it's going to wear out and it's going to wear out fast. Plus, while nude is always a solid choice, you might want to sprinkle in some color when your clothing warrants it... But I digress. Every girl needs a few different styles of underwear too, because we wear all kinds of different outfits.
On that note, here are a few of my new favorites:
Enbliss Full Coverage Underwire Bra: The first thing I look for in a full-coverage bra is support. This bra has it in spades. The next thing I look for is smoothness. I want to be able to wear it under my million and one tanks and tees with ease. Summer's coming and that means thin material that shows everything. Not with this bra!
Enbliss Hipster: If comfort is the name of the game, this panty is for you. This style is actually an integral part of my workout wardrobe. When I'm exercising the last thing I want to be thinking about is underwear that's riding up. This hipster stays put! And they're perfect for your lounge wear too. Hello Sunday afternoon comfort!
Vanishing Strapless Bra: If you have an ample chest, you know how hard it is to find a strapless bra that can handle the job. Not only does this one virtually disappear under your clothes, but the wide sides and band help hold you up, while the multi-way straps gives you plenty of options. So, if you have a halter dress, for example, you can adjust the removable straps to go around your neck.
Vanishing Edge Microfiber Boy Short: I gave up thongs with my first pregnancy and never looked back. I live in boy shorts these days, and with this pair, you don't have to worry about visible panty lines. They kind of remind me of the little shorts I give my daughter to wear under her dresses, but the grown up version. Who needs thongs? Bwah!
Racerback Bralette: Bralettes are so on trend these days, but support doesn't typically tend to be their primary function. A lack of support isn't an option for this girl, so imagine my delight when I found one that was up to the challenge! And there's not a wire in sight. Plus, it's perfect for all my racerback tanks.
Kimono Sleeve Robe: Any mom who has a teen or tween boy at home knows how necessary a robe is. Bwah! I swear my mom swimsuit embarrasses my kid. Sigh. So, a cute and comfy robe that doesn't make me full on sweat in the summertime is clutch! And this print is just so pretty!
The Cutest and Comfiest Pajamas Around
Now that we have your underwear drawer covered, let's talk about your pajama drawer. I am guilty of wearing my pajamas into the ground. And sometimes I don't even wear pajamas. Sometimes you'll find me in my hubs' old t-shirts. Haha! But when I do invest in a nice pair of pajamas, I feel so much better! So, why don't I do it more? Let's make a pact that we will, shall we?
It feels so good to slip into something soft and made just for me. And that's just the feeling B Collection by Bobeau pajamas will give you. I've been wearing their french terry top and french terry shorts non-stop. They actually function quite well as both jammies AND lounge wear! I mean there is a drawstring and pockets in the shorts...need I say more? And they're "blousy" without being unflattering. SCORE!
So, are you ready to update those underwear and pajamas drawers STAT? I knew you would be! You deserve it. mama! And for more ways you can treat yourself, check out the luxury pillow we can't get enough of!
We were not paid for this post. We did receive samples.