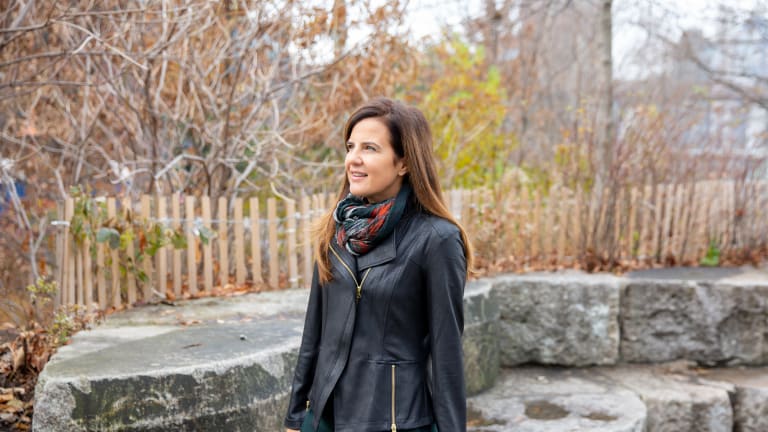 Why You Need a Faux Leather Jacket
Brooklyn designer, Roseann Sunwoo, has dreamed up a way to make "liquid leather" into a vegan leather jacket that looks and feels fabulous.
I'm not a PETA member and while I love animals, I could be a better advocate. Here's the thing, I'm admittedly self-serving when it comes to what I wear. Mostly I'm lead by my fashion sense. I'm very into the faux leather trend and now I've got a new find to share. Here's why you need a faux leather jacket - they look great and are better for the world. Everyone wins.
This gem is from Brooklyn designer, Roseann Sunwoo. She's dreamed up a way to make "liquid leather" into a jacket. The material also happens to be vegan. We can check the innovative box AND the animal friendly one. 
But most important to me, you can check the style box.  
Why You Need a Faux Leather Jacket 
This jacket looks polished while being as comfortable as a favorite sweatshirt. It will be packed on all my upcoming business trips because it amazing even after being jammed in a suitcase. And unlike many faux materials, this one is breathable.
The Sunwoo team makes this from a beautiful signature stretch knit, with a "lambskin feel." The finish is slightly distressed to give it an "antique" textured and I adore the contrasting gold trim. I'm wearing a the black liquid leather jacket (its comes in three colors) in size small (I'm 5'7" and 125) and thought the sleeve length was perfect. 
Shop the Clara Sunwoo Liquid Leather Jacket here.
Clara Sunwoo Makes Clothing That Works
When it comes to design, Sunwoo is all about dreaming up clothes that are appealing to women of any age. She's also extremely practical. She works washable, wrinkle free and travel-friendly fabrics. All things that appeal to me. 
Roseann is part of a mother-daughter team. She's been working with her mom, Clara Sunwoo, since 1997 and the brand is called Clara Sunwoo.  
How to Style the Clara Sunwoo Faux Leather Jacket
The team focuses on fit and fabric. I love this jacket because while it looks substantial, it's as light as can be (it should be noted, I think it's a great indoors all winter long, but won't be nearly warm enough to wear outside in NYC. It's more of a layering piece in the winter. Consider a cooler option than a cardigan. 
I'm wearing a long sleeve basic tee underneath with cool silk scarf bundled around my neck. The pants are from Theory. In my quest to not wear denim every day, I pull this pair out a ton. I added fabulous Joules booties and I was ready to go. 
Find about more about Clara Sunwoo and her designs here www.clarasunwoo.com.
MORE FASHION TIPS FOR MOMS
PIN IT!
Use pinterest to save your favorite fashion posts. Be sure to follow our Fall Fashion Trends Pinterst board here.
This Why You Need a Faux Leather Jacket feature is not sponsored. I was given a sample for photography.