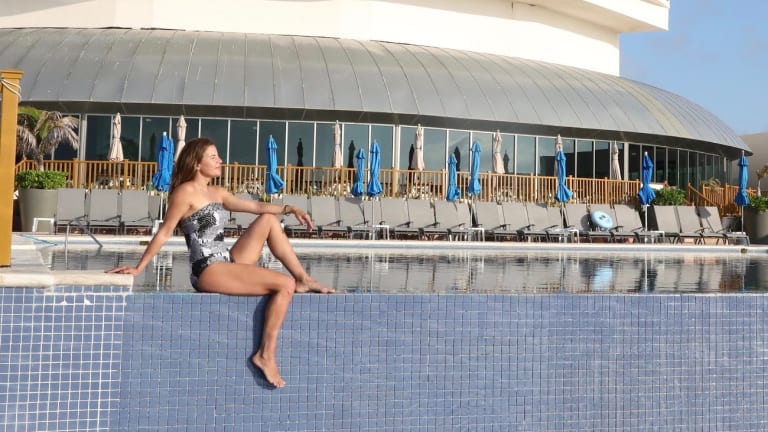 Why You Must Experience a MiracleSuit Swimsuit at Least Once
Trying on Swimsuits Doesn't Have to be Painful with MiracleSuit
Is it not enough to tell you you'll look ten pounds slimmer in just ten seconds? Well, if you need more convincing, read on as I tell you why you must experience a MiracleSuit Swimsuit at least once.
Trying on a MiracleSuit
For the past two years we've hosted a gorgeous group on mom influencers in Mexico to celebrate beauty. This year we were hosted at the gorgeous Seadust Resort in Cancun. The purpose of the trip is to celebrate women and to convince our blogging friends why they must experience a MiracleSuit Swimsuit at least once.
Most of the time, when we talk about this event, it takes a little cajoling. Our models aren't prepping for the Sports Illustrated Swimsuit Issue. They are moms who have great style. They are moms who work and take care of kiddos. Women with a lot of responsibilities that don't include fasting and hiring personal trainers to prep for photo shoots in Cancun.
We always look for really fabulous women who want to tell the truth about swimwear. We want all shapes and sizes because that's what motherhood looks like. 
Once we start the conversation, we talk about MiracleSuit and how the brand is there to support us as women. Really even the most skeptical moms are convinced when the swimwear ships .
The perfect one-piece suit from MiracleSuit
For a day on the boat heading to Isla Mujeres, I opted fo the Avanti suit in this cool black and white botanical print. The bandeau suit features the boost of underwire and removable straps (perfect for snorkeling). I'm a BIG fan of underwire in my suits. As I'm closing in on 50, I want all the support I can get. I find this suit extremely comfortable and I love how I look in it.
Shop the Avanti suit at Everything but Water 
The MiracleSuit Difference
Nothing beats the slimming power of a one-piece swimsuit. I used to think bikinis made everyone look younger and more fabulous. And while I do love a good two-piece, I have seen the light. 
The MiracleSuit Difference is three things.
Fabrics: MiracleSuit swimwear is made with LYCRA® XTRA LIFE™ Spandex for a long lasting fit. The fabric hugs your curves and smoothes out areas that might make you less confident.
Style: Prints and patterns that are sophisticated and flattering. Nothing that will make you look frumpy and dated. They pick the hottest colors and trendy prints that are ready for the hottest beaches in the world.
Fit: These structured suits support your chest and nip in your waist. The cuts of the suit are meant to accentuate the most alluring parts of your figure.
Are you ready to try on a MiracleSuit?
Our group of influencers hit the pools, boats and sand to show that moms can look fabulous in swimsuits and that summer is meant for EVERY BODY! That's right even a 40+ post-baby x2 body deserves to shine.
It's all a matter of finding a suit that fits, flatters and supports. That's where MiracleSuit comes in. I've been wearing this brand for years, because it makes be feel supported and stylish.
More Swimwear Inspiration
Want more swimsuit inspiration? Last year I showed off the Amoressa line from the same company. It's got a little less support, but it's equally stylish. Head here to see more from Amoressa.
Find out more about MiracleSuit here.
MORE FASHION FUN FOR MOMS
Pin it!
Use Pinterest to save your favorite fashion and swimwear posts. Be sure to follow our Mom Fashion Pinterest board here.
This Why You Must Experience a MiracleSuit Swimsuit at Least Once feature is sponsored.