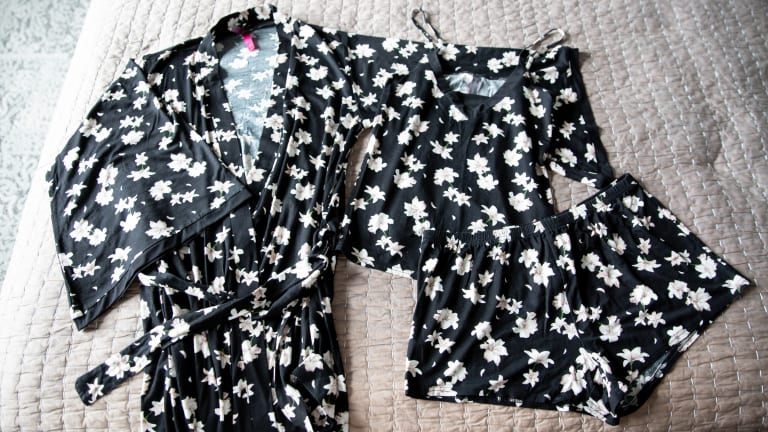 Why You Deserve Pretty Sleepwear
Trying on Vince Camuto Loungewear to update my sleeping attire
Here's why you deserve pretty sleepwear: you might be a mom, but you are also a woman. Before the kids came along, you were a woman, probably one who invested in her style. Now that you and I have evolved into women with children, we seem to have less time for ourselves. Getting some of your mojo back is as easy as ditching the yoga pants and getting better loungewear.
Why You Deserve Pretty Sleepwear
Little investments count. From a 5-minute meditation session to a quick coffee with a girlfriend, we ladies need a chance to connect with the things that give us joy.
I was definitely in a rut when it came to my sleepwear. I opted for cozy over chic. You know the drill -- tank tops, t-shirts and yoga pants. It was a look that was tired, and I was turning into a cliché--and I hate a cliché. 
Well, there's good news, I can have both. Designers like Vince Camuto are giving moms like me the chance to upgrade without having to sacrifice on comfort.
We really can have it all, ladies!
Trying on Vince Camuto Loungewear to update my sleeping attire
I'm wearing the three-piece Annabelle Travel Set in black. The set comes with shorts and a tank with a short robe. The pieces are all soft and elegant, and I adore the flower print. These picks are part of the summer 2019 collection, I can't wait to see what they have for fall.
Ready to shop? Find out more over at the Vince Camuto site.
Find more fashion fun at Momtrends
If you like my style tips and advice, there are loads more. I started sharing my favorite finds 13 years ago, the archives are deep! Here are a few recent finds:
Pin it!
Use pinterst to save your favorite fashion finds.
This Why You Deserve Pretty Sleepwear feature is not sponsored. Photos by suzannecohenphotography.com the only woman I trust in my bedroom!