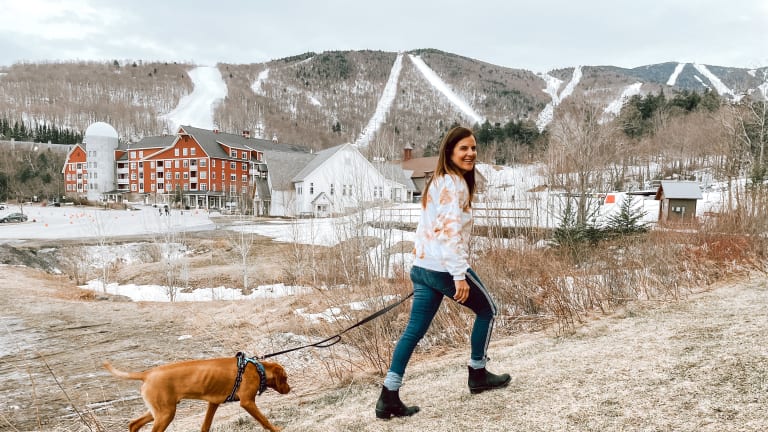 Why we love the tie dye trend for spring
Jump on this timeless spring trend to keep your wardrobe young and colorful.
In my quest to keep things interesting in my wardrobe, I'm adding some prints for spring. This new sweatshirt also helps support a small Vermont brand called Mother of Stone. All the pieces are hand dyed and completely gorgeous. I'm crazy about my new sweatshirt from Mother of Stone and want to tell you why we love the tie dye trend for spring.
Related: Where to find loungewear that looks cute
Why we love the tie dye trend for spring
Tie dye has been around for decades. It's a young fresh style that is timeless. Right now since we are all living a more casual life, it's the perfect time to add a new piece of tie dye to your wardrobe. 
For moms, I think a top or two is the perfect thing for spring. Add in your favorite jogger or denim on the bottom and you've got a laid-back outfit for working from home. The key to styling this trend is to keep everything else simple. 
Favorite Tie Fashions
I'm wearing a Mountain Air tie-dye sweatshirt from Mother of Stone. The small Vermont-based brand was personally hand dyed in Stowe, VT. It's got a roomy unisex fit. I wear it with denim for now and will toss it on with shorts and skirts when things warm up even more. The patterns will be different on each and every sweatshirt--and that makes each one a work of art.
More Tie Dye Picks for Spring
Here are more of our one-of-a-kind favorite pieces of tie dye for you. We're especially keen on the Vera Bradley Unity bag. The powerful pattern represents coming together, celebrating diversity and uniting for change. Released during Black History Month, the tie-dye pattern was the dream of a Vera Bradley store associate, who felt moved this past summer to email the CEO directly about her idea to create a print that stood for unity. "I wanted people to know Vera Bradley is for everyone." The exclusive, limited-edition style is tied to our commitment to fostering inclusion within our community. They are making a $20,000 donation to Women Who Create, which provides scholarships and mentorships to young creatives identifying as women of color in fashion, advertising, music and tech.
1. Splendid Sunbeam Tank ($78)// 2. Tie dye baseball cap ($15)// 3. Tie Dye Swimsuit ($30)// 4. Tie dye tote ($90) // 5. Dip Dye Top ($138)
MORE FASHION TIPS FOR MOMS
PIN IT!
Use Pinterest to save your favorite fashion posts. Be sure to follow our Spring Fashion Trends board here.