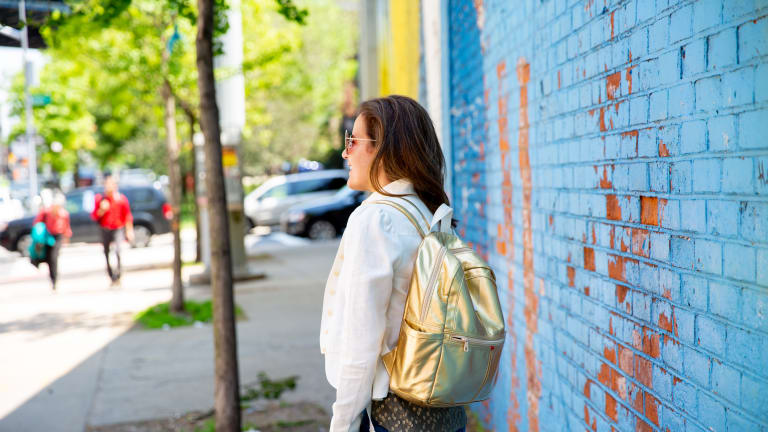 Publish date:
Why You Need these Summer Travel Style Essentials
Keeping it chic even on the road with a few favorite fashion finds.
Keeping it chic even on the road with a few favorite fashion finds.
It's summertime and that means I am hitting the road, and the airports, and the train stations. My middle name is adventure and I love to explore the world. As such, I've become a pretty adept packer. One of my claims to fame is that I took a year-long trip around the world with only carry-on luggage. Ready for my tips? Here's why you need these summer travel style essentials
Packing Tips video
To make it quick and easy for you, check out this video on my summer packing essentials.
With a bit of clever planning and some shopping, you can make packing simple and fashionable. Here are my resources for keeping it chic even on the road with a few favorite fashion finds.
Summer Travel Essentials
Nalgene has a water bottle for every lifestyle and every adventure. Made in the USA, BPA free, durable and dishwasher safe. I love that these colorful bottles are environmentally friendly AND remind me to stay hydrated. I prefer the Nalgene bottles with the wide opening. It's perfect to add ice and make fruit-infused water. Check out my favorite infused water recipes here.  
The 32-ounce wide mouth Nalgene bottle is perfect for travel and it comes in a rainbow of colors. It's dishwasher safe AND has a loop for the lid so I won't lose it. Shop https://www.nalgene.com/ bottles here.
Sam's Club always surprises me and is a great travel resource. For this video, I found a great cooler bag and travel accessories from Dabney Lee. Every visit is an adventure. Find out where you local Sam's Club is and get a membership now.
Earth Shoes offer women support and style. This forest green sandal is a great new neutral to pack for summer. Pair this with your favorite denim skirt or a flirty dress. And of course, everything goes with denim!  Shop Earth Shoes on Zappos here.

5 Pretty Ways To Organize Your Jewelry
I admit - I'm guilt. Despite my best efforts, my "jewelry drawer" has become a tangled mess of necklaces, bracelets and earrings. This cluttered collection not only makes it hard to see what I have, but difficult to untangle the pieces I do want to wear! This summer, I'm ...read more
This Year's Coolest Jumbo Pool Floats
Pool season is almost here! I can't wait to relax, read a book, and sip a cocktail while lazily drifting in an oversized float. (Just kidding, I have two toddlers--but a swim mama can dream, right?). If you've got a staycation planned, check out this year's coolest jumbo pool ...read more
Crystal Clear and Pristine: Pool-Cleaning Tips
Tropical Storm Isaiah gave us quite the midsummer surprise here in the suburbs of New York City. We just got our power back on after a whole week of darkness! With trees down, debris everywhere, and lots of uncertainty, one thing we forgot to check on: our above ground Intex ...read more
MiracleSuit knows how to make a woman feel great. I bring these suits on every vacation. Find out why you MUST experience a MiracleSuit here.
Trestique makeup products are full-sized and 2-in-1 with built in applicators. It's a travel-friendly set that comes in a pouch with a mirror and is all TSA approved (nothing is liquid). And the crayon caps are magnetic so they don't open in your bag (who doesn't love when your makeup is mess free?!) The only place to customize and buy a complete Essential 8 Set is on trestique.com. Head there to get a customized set.
USE PROMO CODE: MOMTRENDS20
20% of $30 or more on trestique.com

The Arctica Featherlyte Down PackVest  is a must! Since I often go north during the summer, I always pack a light jacket and the "packet" is a two-in-one piece of clothing I love. It's is a pillow, a pack and a jacket all in one. The secret is the huge packet pocket that stores gloves, ski straps and plenty of other gear for the day. Stuff your jacket into the pocket to transform it into a handy pillow for that quick power nap. Find out more: https://arctica.com/
State Bags: The gold backpack is from STATE. The company designs fashionable bags for work, travel, gym, & play.  There's a padded laptop sleeve that fits up to a 13" laptop. Shop the State collection on Zappos here.
More Travel Tips
What are your travel essentials? Let me know what I need to pack on my next adventure. If you want more travel inspiration, check out a few of our recent travel posts:
Pin it!
Use Pinterest to save your favorite style articles. Be sure to follow our Summer Style Pinterest board here.
This Why You Need these Summer Travel Style Essentials feature is not sponsored