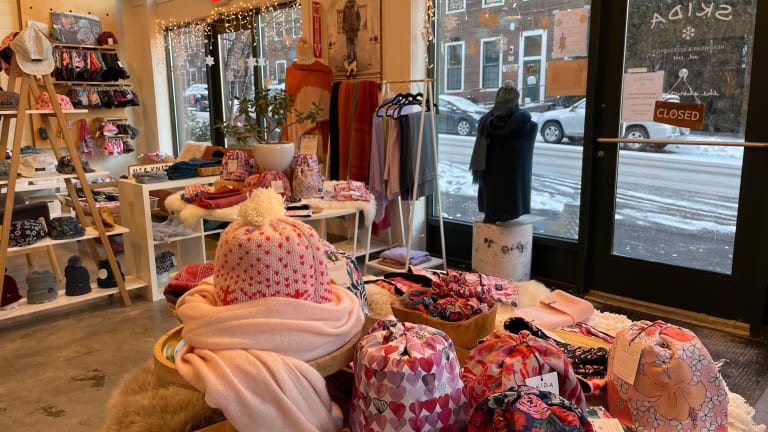 Why I love Vermont Made Skida Gear
Bright, colorful and extremely durable, these winter accessories are our go-to brand.
Skida is Swedish word for ski, and if you ski anywhere in Vermont you are likely to see the spiffy Skida neckwear on the slopes. Bright, colorful and extremely durable, these winter accessories are our go-to brand. 
Related: Ski gear to keep you warm and stylish on the slopes
Like my girls, the founder Corinne Prevot, went to a ski academy here in Vermont. She started a little hobby creating hats for her cross-country skiing teammates. During school, her hobby morphed into a business and its kept growing organically with a small marketing budget, but big goals to spread a love of the outdoors and of playing in the snow. Read about the Skida sustainable practices here. 
This winter, since we are Vermonters, we made a pilgrimage to "the big city" of Burlington to check out the store and load up on face coverings.
What we Love from Skida
The girls and I wear Skida to train and play outdoors. The Tour Neck Warmer is what we wear when running, cross-country skiing, or to walk the dog. It's soft and light, but substantial enough for warmth and safety. Pair the Tour with and Alpine Headband and you are set for more active workouts. 
For skiing adventures, we opt for the Alpine Neck Warmer and Alpine Hat. This is what I wear when I'm skinning uphill or skiing downhill. Thicker and warmer, these pieces can stand up to the Vermont cold. 
Each season the design team at Skida dreams up new prints. There's always something cute for babies and tots, something cool for teens, and something awesome for guys. The winter accessories aren't cheap, but know with each purchase from Skida you are investing in the goodness AND the Vermont community.
More Reasons Why I love Vermont Made Skida Gear
My girls are 15 and 13, and they have very STRONG opinions about ski apparel. Most of what I love, they won't touch, but Skida is one brand we can agree on. Skida has a long history of supporting great causes--like cancer survivors and giving work to the capable hands of locals. Based in Burlington, the brand designs and manufactures locally. 
Skida supports a handful of causes that are personal and meaningful, like sponsoring ski racer Paula Moltzan with a limited edition print each season. #ThePaulaProject collection reminds us to keep smiling - especially when life gives you lemons! I'm wearing the "tour" version of this print in some of the photos. Support Paula's podium pursuits on the World Cup: 40% of proceeds from #ThePaulaProject Collection go to Paula to fund her goals.
Visit Skida in Vermont
I feel great supporting a smallish, woman-owned business. But I feel even better knowing that when I buy Skida, everyone in my family will stay warm and stylish. If you want to really get a sense of the brand and all they offer, visit the Skida store when you are in Burlington, Vermont. 16 Kilburn St #116, Burlington, VT 05401
When you are there, you'll likely meet one of the Skida family dogs. We were lucky enough to meet Yskkuh the husky on our visit. 
MORE SKI FEATURES FROM MOMTRENDS
PIN IT!
Use Pinterest to save your favorite family travel features. Be sure to follow our Ski Moms Pinterest Board.
Momtrends was not paid for this post.