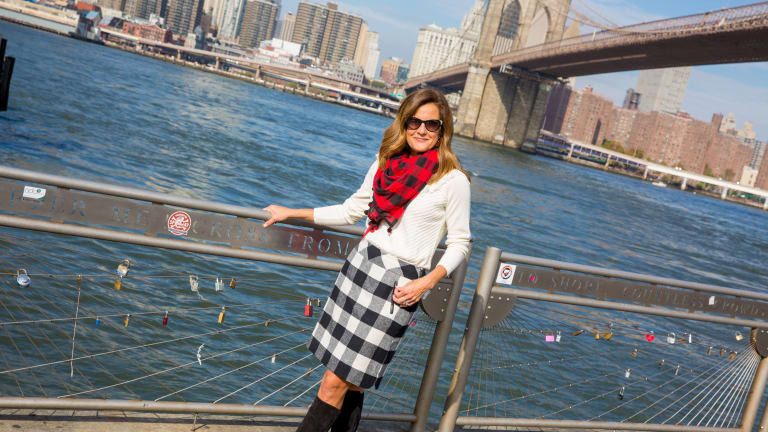 What to Wear Winter Outfit
Check out this easy look
How are your winter outfits treating you? As I move from fall (lots of scarves and cozy sweaters) to winter (more layers), I'm still trying to keep it fun, colorful and fresh. When it comes to a "what to wear winter outfit" I'm adding more cream and red to the mix.
I tend to wear too much black in the winter. It's a color that works with the messy weather we get in New York. My love for black's practicality, doesn't mean I can't work other colors into the mix.
Talbots has me "checking out" the check trend. It's a perfect holiday pattern. We all love plaid, but plaid to me screams "Christmas" - with checks you can keep wearing the trend even after the New Year.
What to wear winter outfit
For this "what to wear winter outfit," I started with a cream sweater. The Fringe & Cable sweater from Talbots is warm and cozy. It's not too bulky, so I can tuck it in.
This Fuzzy Buffalo Check skirt is my new party favorite. It can go to church, work or play with ease. I have paired it with a black turtleneck for a basic winter look and then with cream for a lighter, more cheerful look.
Add a Scarf
By now you know I'm crazy about scarves. They turn clothes into an outfit and they are a great warm layer. This Talbots one has pom poms and mini checks. It comes in white (online) and red (in store). Either pick is an easy way to update your winter style.
And the Bag
I love a crossbody! This small bag is ideal for a day around the city when I don't want to carry much. This one comes in a bunch of colors (gift alert!) and can be shortened or lengthened. I also styled it with this long check vest.
The Tassel Earring
These Melina Threaded tassel earrings seem to go with everything.  It's a fun twist on the fringe/tassel trend. This combines a hoop style with multi-colored fringe. Thanks to all the colors, these earrings seem to go with everything.
What do you think? What are you wearing this winter?
This what to wear winter outfit is not a sponsored post. There are affiliate links in this post.