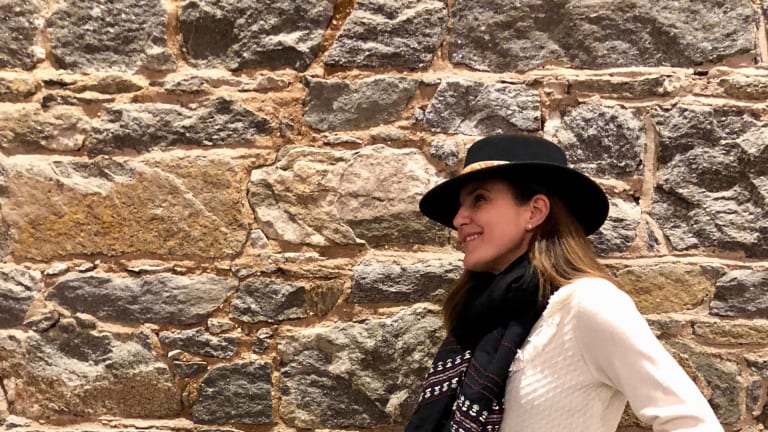 What to Wear When You Are Tired of Your Clothes
Solution: Add a hat and go!
It's official. I am tired of all my winter clothes. Rather than shopping up a storm and loading my closet full of sweaters I don't need, I'm relying on accessories to get me through this phase. I like to call this solution: What to Wear When You Are Tired of Your Clothes!
What to Wear When You Are Tired of Your Clothes!
Here's the situation. The groundhog said six more weeks. I think he's being optimistic. On the East Coast we've got to dig in and know that we've got MONTHS more of sweaters to wear.
I had a birthday lunch date out with out team at Sugarcane Bar in DUMBO (it's awesome - get the carrot soup and the Brussels sprouts).
I wanted to look cute for my girls (don't we all really dress for other women, I know I do!) but it was a day of 37 and freezing rain. 
Ugh.
I knew I needed my Hunter Boots (purchased in 2013). I added in my Athleta pants (featured in 2016 here). The sweater is from Talbots and I wore it for this fun Instagram campaign here.
And now a sidenote
To show you that I'm not all bluster about wearing what you already own, I'm highlighting when I previously featured outfits. Let me know what you think about this!
It's all about Accessories
I found this $44 hat at Urban Outfitters and I new it was mine. It was warm enough and had all the style I needed. Now when I need something to grab to liven up an outfit, I don't have to simply go for a skull cap.
The scarf is from Paris - always a good place to pick up accessories. I have a bunch of friends heading to Paris this month, I tell them all to try Le Berenice my favorite boutique in Paris. I love this scarf. It's great for travel since it's HUGE and it's really warm. Thanks to the tassels, the boho vibe works with the hat too!
The End Result
I hid a bad hair day and didn't bulk up my closet with more sweaters I don't need. I feel like I'm winning. Let me know if you are trying to get through these winter doldrums too!
Pin It! Save this Look for days when you need outfit inspiration!
This What to Wear When You Are Tired of Your Clothes! feature is not sponsored.