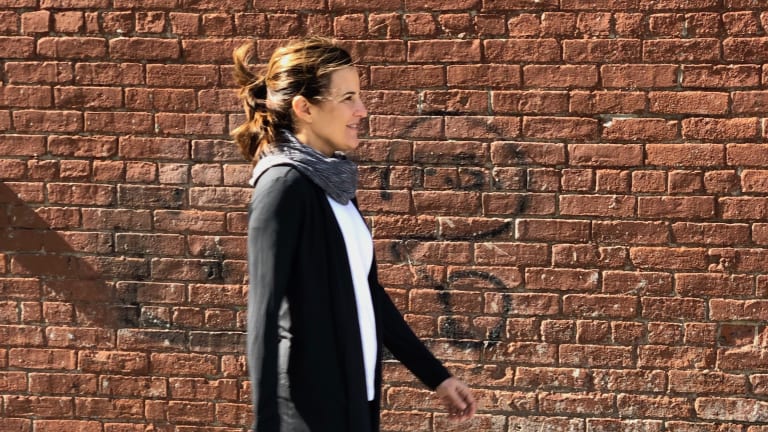 It's spring break here in New York City. Well, at least for 50% of my kids. Soon I'll be headed off on lots of travels and today is all about getting things done. My to-do list is a mile long and the the last things I want to stress about is what to wear on Monday. 
As I tackle my in box, packing and trying to create some fun for my daughter I opt for super sporty work from home attire for moms. Peach makes affordable and fashionable clothing that can go to the gym to school drop off and all the way through your day.
Outfits that embraces comfort and style
Getting dresses on Monday can start with a great t-shirt.  I like this simple Peach slub scoop neck ($49) in Peruvian Pima cotton. It's got a Sunday vibe but can be layered to look a little more like you mean business. The more I wash it, the softer it gets and I like the "not too long" length. It's great under sweaters and cardigans like this.  
I love leggings, and practically live in them some weeks. I was smitten with the sheen on these Nina Leggings ($79). The fabric is a stunner, but Peach does need to fix the crotch on all the leggings. I never recommend a legging with a camel-toe effect. Is that too blunt? Well, when I try things on I want to share my honest opinion.
What I DO love is this flyaway cardigan. It's a great layering piece and it is the perfect length. I love the versatility and always travel with a piece like this one. I wear it open and flowing, over leggins and jeans. When I start yoga class I'll tied at the waist, or tied around the back until I warm up ($90).

Save Money at a Ski Swap
Are the slopes in your future? If you want to save money on ski gear, consider a ski swap. A swap is a great way to buy and sell used equipment. Most swaps consist of a variety of gear, from brand new to used skis and snowboards to skis; from poles to boots to bindings and ...read more
The Ten Best Wooden Play Kitchens For Kids
Cooking is a timeless fascination for children. This type of play goes beyond gender and teaches kids loads of life skills along the way. An investment in a play kitchen is money well spent, as it can provide hours of entertainment. We've rounded up the ten best wooden play ...read more
New Victory Announces a New Season of Shows
We know you're busy planning picnics and summer outings, but we wanted to let you know that The New Victory just announced their new season and it looks fantastic. We thought you'd like a sneak peek of what's in store! Each year the New Vic theater brings culture to tourists and ...read more
The key to elevating a Monday outfit is adding a few accessories. Finish off the look with a scarf (this one is from Ivivva, the girl's line from Luluelmon) and cool sneakers.
These Puma sneakers are awesome. The PUMA Women's Suede Classic can be jazzed up and work with skirts and dresses or my workout gear. I bring them on all my trips since they are so versatile.
Shop Peach clothing here https://www.discoverpeach.com/a/nicolef
Check out more pieces from Peach here. Now tell me, what are you wearing on Monday?
Pin it! 
Use pinterest to save your favorite outfits.
This What to Wear on Monday feature is not sponsored.