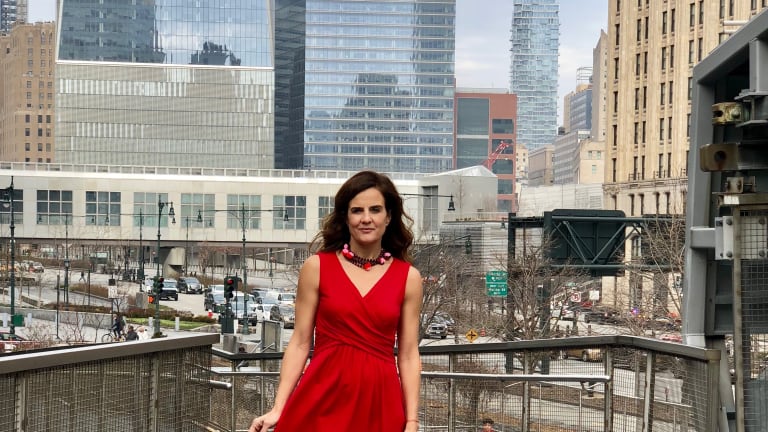 Wear Red for Women's Health
Lands' End supports American Heart Association
February is Heart Health Month and we are so happy to help spread the word. Lands' End sent me some goodies to feature on Instagram in a paid campaign. The idea is to shop red and wear red this month for women's health. Get started here www.landsend.com/wear-red/. I loved the program so much that I wanted to share the outfit and the details. 
Oh, and it's not just me who got into the action--even the office pooch got into the fun!
For year's we've loved how Lands' End has dressed women to make us feel strong, pretty and confident. This year they are supporting the American Heart Association's Life is Why We Give™ initiative and giving back when you purchase red.
Life Is Why We Give™ increases awareness of heart disease and stroke, the No. 1 and No. 5 causes of death in America. The money raised will go to research and education. Did you know gratitude can improve your heart health? Yep, it's true. Check out this article about heart health here.
How You Can Help
Share #WearRed Photos – Lands' End is asking everyone to join the movement and share photos on social media using hashtag #WearRed and #MyLandsEnd. For each photo through February 28, 2018, Lands' End will donate $1 to the American Heart Association.
Shop the Red Collection – Visit the Lands' End landing page https://www.landsend.com/wear-red/ to purchase from the Red Collection and Lands' End will donate 10 percent of the item purchase price to the American Heart Association.
Take Care of Your Heart: Head to the https://healthyforgood.heart.org/ to educate yourself about ways to improve your health.
What I'm Wearing
The Lands' End Wear Red collection spans from accessories to goodies for your dogs. As for me, I can't say enough about this swingy dress I found. I'm wearing Women's Sleeveless Fit & Flare Dress - it's a fabulous red and a cut that flatters just about every figure.
I styled it with some pumps from J.Crew and a Baublebar necklace. Thre dress is party-ready and also travels extremely well.
So how about you? Are you ready to wear red?
This is not a sponsored post. The instagram image we posted WAS sponsored, but I loved the dress so much I wanted to share it.