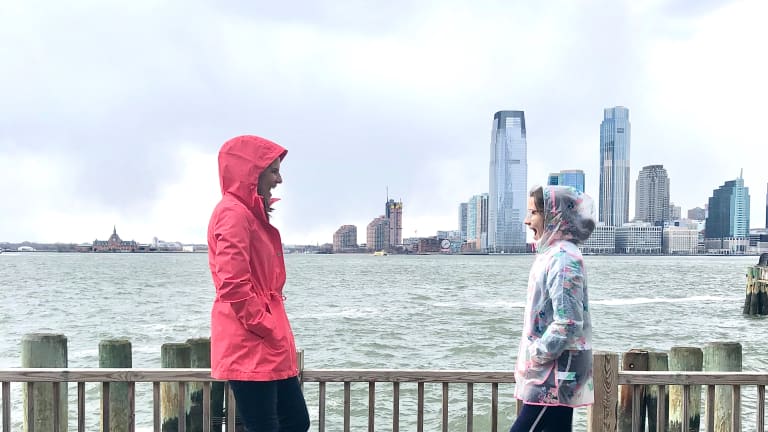 We Found the Best Rain Gear for You and Your Kids
Joules USA makes boots and coats for families that want to stay dry and stylish.
New York gets 119 days per year of precipitation. That means about every third day we are dealing with rain, snow, sleet, or hail. Having rain gear here isn't optional. My kiddos and I need boots and coats that can keep us dry. We found the best rain gear for you and your kids: Joules USA makes boots and coats for families that want to stay dry and stylish.
Related: Fall Style Favorites from Joules
Be sure to enter the Joules USA Right As Rain photo competition- They are giving away a $1000 shopping spree when you post your rainy day pictures on IG using #JoulesRightAsRain. No IG?- You can enter on the bottom of the JoulesUSA homepage! 
The Best Rain Boots for Kids
Jumping in puddles is a right. Soggy sneakers are a pain. What's a mom to do? Equip your child with rain boots that stand up to any puddle and can take the wear and tear of adolescence. I adore these lightweight Joules USA rain boots because they are light and easy to pack. On the days where it's raining in the morning and clear in the afternoon, my daughter can roll these up and stuff them in her backpack and wear her sneakers home from school.
Versatility is everything! These boots are also awesome for our summer trips to Europe. They come with a handy bag and don't take up much space in our luggage. Each season the brand dreams up cool new prints. We love this bright and sunny blue floral for spring.
Get the Roll Up Rain Boot for Kids  at JoulesUSA.com here. 
The Best Rain Boots for Mom
My daughter isn't the only one who does a lot of walking. According to my AppleHealth app, I walk about 16,000 steps a day. Rain never gets in my way. My solution is to slip on a cute rain boot and get about my business. 
I'm switching it up this spring and ditching my full-length boots for these trendy mid-height rain boots. They are easier to slip on and also let me take a longer stride (and I'm always walking with purpose!). If you have a thicker calf size, these boots are fantastic. Since Joules USA is heavily invested in making the best rain gear, it's no surprise they offer women a delightful array of prints. This spring, I'm taking on the gray days with this navy floral print. 
Get the Molly Rain Boot from JoulesUSA.com here.
Rain Coats I Love for Girls
I'm sure you've nagged your kids about bringing rain gear to school. We all do it. Take a break from the harping and get a cooler coat. This clear coat is loaded with style. The spring floral print looks fabulous and fun AND provides serious protection from the elements. 
Part of the Joules USA Right as Rain collection, this coat is made from a clear showerproof material and has taped seams, so no water can get through to their clothes. For ages 3-12.
Get the Raindance coat in clear at JoulesUSA.com 
Rain Coats I Love for Mom
Short rain coats make me a little nutty. They always end up leaving me soggy and cold. The length of the Shoreside jacket is just what a mom needs to stay covered. Whether you are walking to work, taking out the dog or headed to a lacrosse game, you can be ready for any spring shower with this cool coat. It's the perfect length for layering up until the sun comes out.
Since the brand has roots in the United Kingdom, it's no surprise they know a thing of two about rain. This coat is inspired by walks along the coast. I'm smitten with the pop of color too!
Get the Women's Shoreside Jacket from JoulesUSA.com here
These picks are going to keep us warm and dry here in NYC as we await the "real" arrival of spring. March is wet and wild around here and having the best rain gear is essential for me and my kids.
Pin it!
Use pinterest to save your favorite fashion finds for you and your kids. Be sure to follow our Kids Fashion and Style Board here.
This is a sponsored post.