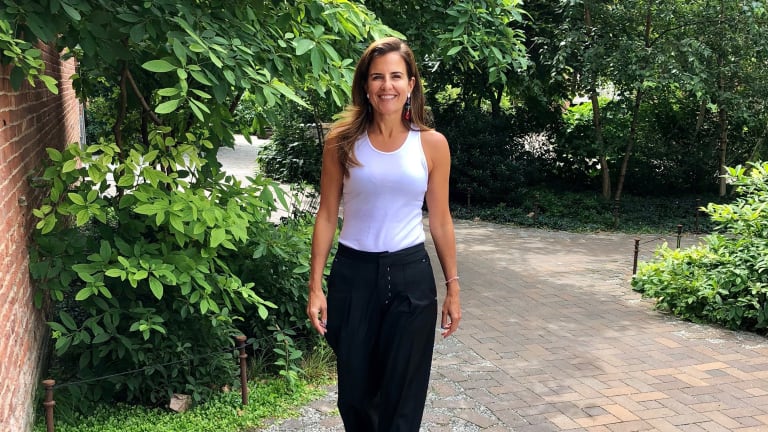 Transition Outfit Ideas for Fall
Using BaubleBar jewelry to transform a basic outfit to something chic.
Last week, I talked about how a new phone case did the trick as an accessory to boost my look. Today, I'm sharing transitional outfit ideas for fall. I'm using BaubleBar jewelry to transform a basic outfit to something chic. It's an easy solution that won't take up a lot of space in your closet and won't cost a bundle.
How to Transition to Fall When It's Still Warm Out
First, let's talk about what to wear right now. I'm still cruising along in summer sandals and dresses. The temperatures in NYC have been hovering in the 80's, and it's definitely not sweater weather. Now that we are half way through September, I'm starting to make the mental shift towards fall. I'll be working more dark colors into my outfits as I transition from one season to the next.
Solutions are Black and White
One of my best solutions for what to wear right now is black and white. This timeless color combination exists in every woman's closet. I picked a white tank top and added a full-leg pant. Though black, these Colovos pants are breezy and lightweight, making them perfect for right now. 
If it gets chillier at night, I can add a denim jacket or a cardigan over top, but a tank plus wide-leg pant is effortless in September. 
A note on proportions
When it comes to proportions, my rule is that one item can be fitted. Since the tank is snug, I picked pants that move. Tight on top and tight on the bottom isn't flattering on most people if they are in a work environment.
Adding Accessories to Complete a Transition Outfit
This outfit would be super basic without accessories. I started with a fun sandal, but leopard flats would work well too. To complete this fall transition outfit, I added a couple of cute items from SUGARFIX by BaubleBar. This collection is sold at Target and is incredibly affordable.
BaubleBar has been offering well-priced jewelry for years. After I stopped wearing a lot of Stella & Dot (the quality seemed to be dipping), this brand has been my go-to for affordable and trendy accessories. 
The 3" Clear Acrylic Drop Earrings are a fun way to brighten up this two-tone outfit. Though they are long and bold, they aren't heavy at all. I love the pop of color and that they look like candy. 
Statement Necklaces Make a Comeback
I took a break from this trend for a few years, but I'm happy to say statement necklaces are back. Rather than getting into really expensive solutions for a statement piece, Target and SUGARFIX by BaubleBar are a fantastic resource. 
The Beaded Clear Acrylic Statement Necklace comes in  two colors. I'm wearing the clear. The 20" beaded necklace is a triple tier of beads that adds a ton of texture to any outfit. Momtrends Tip: Clear goes with everything. 
MORE ACCESSORIES FROM MOMTRENDS
PIN IT!
Use pinterest to save your favorite fashion and style finds.
This Transition Outfit Ideas for Fall feature is not sponsored. I was given jewelry pieces to style.