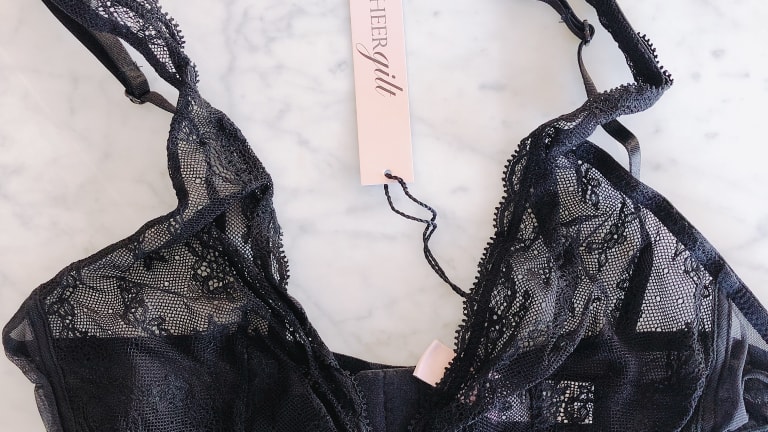 Update your Undies with Sheer Gilt
NYC designer lingerie
When was the last time you updated your lingerie drawer? Mine is in pretty sad shape. When I met the ladies behind the new NYC designer lingerie brand Sheer Guilt, I knew I had an opportunity. It was time to add some pretty bras and panties to the mix of my otherwise drab drawers.
Update your Undies with Sheer Gilt
When it comes to spring cleaning, usually my girlie drawers get ignored. My closets are clutter free, my house is clean (get my favorite spring cleaning checklist here) and I'm pretty good at keeping my fashions up to date. As a fashion blogger, I like to add in new trends and love to play with clothes. But somewhere along the way, I forgot that what you wear under your clothes is as important as what you wear for the world to see.
Sure your partner might get an added benefit when you update your undies with Sheer Gilt, but I think you need to make yourself happy first. 
Sheer Gilt NYC Lingerie
The ladies behind the brand believe we all deserve little luxuries. Everything in this pretty collection is made to be worn, not to gather dust in the top drawer. I met the designers at a networking lunch a few weeks ago. When I heard about the brand, I thought it was a perfect fit for me.
I tried two sets of bras and panties. I loved the black lace on the Natalia Boy Short and the coordinating bra. The panty was just $34 and the bra $58 -- these are the types of affordable luxuries busy moms need. And the key thing is we need to buy pretty things and actually wear them!
And how about the white Tulah bra ($68). If you're like me at all, you probably have a few "sensible" nude bras you wear everyday. When you switch it up to this pretty little thing, it can change your whole outlook.
I love what Sheer Gilt is doing for women. We all need some pretty support. Be sure to follow the ladies on instagram. They have a beautiful collection of inspiring photos
Are you ready to update your undies?
Now tell me, when was the last time you bought yourself something pretty that (almost) no one else was going to see? How about if we all start enjoying the skin we are in just for ourselves!
Pin it! 
Use pinterest to organize your favorite fashions.
This Update your Undies with Sheer Gilt feature is not sponsored.