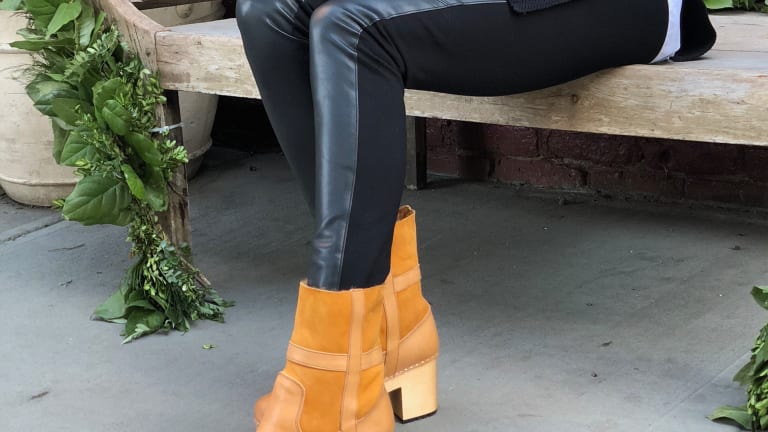 Trying on Swedish Hasbeen Clogs
Fabulous Shoe Finds
I love a good shoe trend. While I don't try to keep up on all the fashion trends I spot, shoes are a different thing. A new shoe doesn't seem like that big of a commitment. It's an accessory that can pack a punch. Today, I'm trying on Swedish Hasbeen Clogs.

The Swedish clogs pay homage to the 1970s trend of clogs, bell bottoms and grooviness. When it comes to fashion, they disappeared for a few decades (I'm sure there were clog lovers who never gave them up, but mainstream, they were not). Now, clogs are back!
Why do women love clogs? 
It's a height and stability thing. You still get a few inches of vertical boost while being able to walk. Maybe we're all giving up on shoes that kill our feet! With clogs you can walk, ride a bike, dance and still feel great. It's a mom trend I approve of! I'm too fond of walking to pick shoes that cause pain.
Trying on Swedish Hasbeen Clogs
I popped on Zappos and picked the Swedish Hasbeens Hippie Low it's a high leather boot with lots of warmth. I've been walking miles in these shoes and my feet are extremely happy.
They have a great boho vibe, and they do indeed look fabulous with jeans, but I decided to pair them with some old leather leggings (I featured these in 2013!) and a long tunic sweater from Athleta that I featured in 2016. This just illustrates that when you pick your clothes well you will love to wear them for years!
And...back to the boots. They are high, I am close to 5'10" in these, but very stable thanks to the lime-tree wooden platform and block heel.
Hasbeens are made in Sweden and they run true to size. They only have whole sizes so be sure to go UP a size for most people. I wear an 8.5 and the 39 is perfect. You can find Hasbeens on Zappos here.
MORE FASHION TIPS FOR MOMS
PIN IT!
Use Pinterest to save your favorite fashion posts. Be sure to follow our Mom Fashion Pinterest board here.
This Trying on Swedish Hasbeen Clogs feature is not a sponsored post.