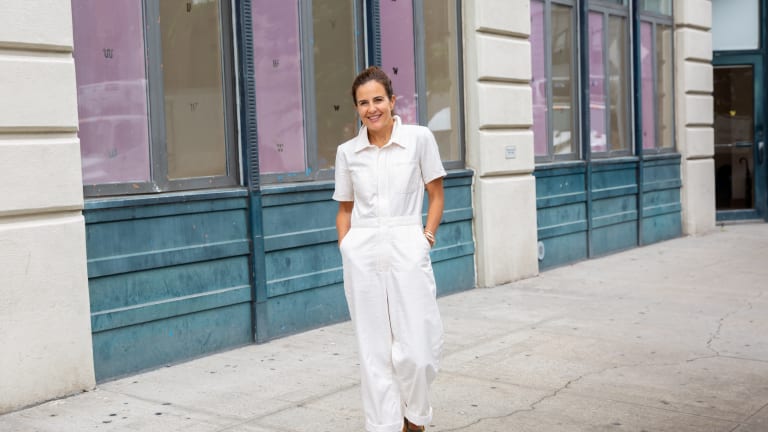 Publish date:
Trying the New Flightsuit Trend On
Style Session: Is the Worker's Jumpsuit a Worthy Trend?
Style Session: Is the Worker's Jumpsuit a Worthy Trend?
Some trends I sit and watch a while before I jump in. Most moms I know love the jumpsuit trend. It's easy and doesn't require a whole lot of thought (though it can be tricky when it comes time to go to the bathroom). A few weeks ago I was in Washington, DC shopping with my teen/tween daughters. I found myself trying the new flightsuit trend on at Urban Outfitters.
Urban Outfitters Jumpsuit
Normally only the girls (14 and 11) find things to love at Urban Outfitters. The store skews young. When I spotted their Canvas Flight Jumpsuit, I grabbed it and headed to the dressing room.
First, I loved the color. It's the palest peach (barely a color at all) and I loved the sturdy cotton fabric and the deep pockets. I slipped it on and certainly felt edgier than normal. It's a very masculine silhouette, but after pondering the mirror I decided the color makes it feminine enough.
And so I did.
Every time I wear this I get loads of compliments from much younger women and feel 100% comfort. 
Jump on the flightsuit trend and pick this up at Urban Outfitters. I'm wearing the medium. The best news? It's under $100. Oh, it's also super-easy to wash and care for.
Trying the New Flightsuit Trend On
Now that I own the trend, I'm having a lot of fun styling it. I've worn it with sneakers and my Tieks flats, but here I'm wearing the Earth Shoes Oak Chestnut sandal.
I got this sandal on a recent visit to Shoe Parlor in NYC. If you visit my city, definitely pop in there. They have the best selection of cute shoes that are ACTUALLY WEARABLE all day. 

Get Ready for Summer Tea Collection Sale
Even if we all have to stay local, summer is going strong. As you head to the pool or day camp you might have noticed your kids GREW during the past year. Just in time for summer, Tea Collection is rolling out a big deal on swimwear and graphic tees for kids. I've enlisted some ...read more
The Key to a Great Overnight Oat Recipe
Working moms know the importance of meal planning. I'm getting ready for busy few weeks and I've been perfecting my fast breakfast options. I've been using Bob's Redmill Organic Steel Cut Oats to prepare my overnight oats for a nice, cold breakfast in the morning and I'm going to ...read more
Morning Sickness Relief with Sea-Band Mama
While pregnancy is this amazing and beautiful time in a women's life, it is also one that can wreak havoc on the body. From morning sickness to discomfort to cravings, the body that you once knew so well becomes this vessel for your baby. Of course, this is all worth it but ...read more
This sandal is $100 at zappos (click here), so if you can't visit you can still get to NYC.  
A touch of platform styling (3" in total height) comes with complete arch support.  It comes in a bunch of colors, but I love the olive. 
Otherwise, I whipped my hair up in a ponytail and added my favorite rose gold bangles and headed to work at The Wing in DUMBO. 
Is the Worker's Jumpsuit a Worthy Trend?
If you often find yourself in boyfriend jeans, you're going to love this trend. if more fitted, slim-fitting denim is your thing, you might take a pass and rely on dressier jumpsuits. 
For more summer fashion inspiration check out:
Pin it! And Share the Style
Love the look? Add it to your fashion Pinterest board to get inspired. 
This Trying the New Flightsuit Trend On feature is not sponsored.