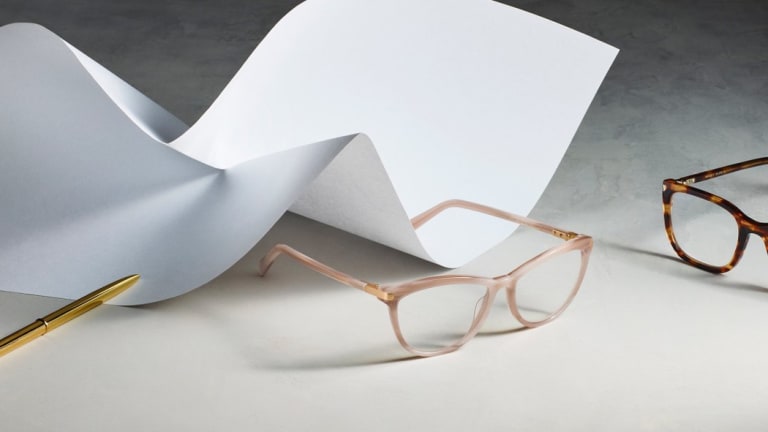 Trying on Glasses at Home
Warby Parker 5 Pairs, 5 Days program
Many of my friends now need reading glasses. While not all parts of getting old are fun, this one part is really not that bad. I look at it as a chance to accessorize. To help busy moms out who either need a new prescription for their vision OR if they need readers for the first time, I made a visit to see what was new at WarbyParker.com. Because here at Momtrends, I'm all about convenience. Trying on glasses at home just makes sense.
We've been talking about this brand for years. They started in 2010 and revolutionized the pricing structure of glasses. Now you can get a great pair for $95. And trying a new style has never been easier. Warby Parker has a great deal where, FOR FREE, you can try five frames for five days.
How the Warby Parker 5 Pairs, 5 Days program works
It's super easy to get stylish new glasses. All you need to do is get online and you are on your way to jumping on the 5 for 5 program. You can take the personality quiz or just dive right in and pick your styles from the easy to navigate website. After you've made your picks, just wait a few days. You'll get a cute little package in the mail.
This is the fun part! Once your glasses arrive, throw yourself a little try on party. 
Momtrends Warby Parker UnBoxing Video
Try them all on a few times and see how you feel. Take selfies, enlist friends to give honest feedback, ask the kids. It's all good!
Selecting Frames on Warby Parker is easy and can even be fun if you get your girlfriends involved. 
And it's a no-sweat purchase. I have 30 days to return the glasses for any reason. For those of us who are rough on glasses (I admit, I'm guilty as charged), they have a one year "no-scratch guarantee" on lenses where Warby Parker will replace them for free.
With new glasses, fit can be an issue. New Yorkers can pop into any Warby Parker store to get a free adjustment. They can tighten frames around the ears, straighten crooked frames and make the temple fit tighter of looser.
If you aren't near a Warby Parker location, you can head to your local optical shop. Save your receipt and Warby Parker will reimburse you for up to $50 of the fees.
Speaking of fees, you can pay with FSA or HSA, or apply for insurance reimbursement from WarbyParker.com
How to Buy Glasses at Home
1. Go to WarbyParker.com and select your 5 frames
2. Warby Parker ships the frames to you at no cost.
3. Try on your new frames, don't wait; you only have five days.
4. Return ALL the frames in the same box they were shipped in. 
5. Head to WarbyParker.com add the pair (or pairs) you want to your online shopping cart.
6. Head to the checkout and follow instructions for submitting your prescription.
7. Frames ship directly to you.
How to Order Readers and Non-Prescription Glasses
For my friends who need reading glasses, I want you to know you can easily get your readers here. 
Select "Single-vision prescription" when adding a frame to your cart, and in checkout you'll have the option to select lenses that have no prescription at all, or lenses that offer simple magnification (like the ones you get off the spinny rack at the pharmacy). They both come with all the same protective treatments as their prescription lenses.
That's it! I think you'll be hooked on how easy and inexpensive it is to get great quality glasses. AND they have the same program for sunglasses - both prescription and regular!
More Great Reasons to Buy from Warby Parker
There's a feel-good element too. You know how Tom's gives a pair of shoes with every purchase? Well, Warby Parker does that too. Since they started the company over 3 million pairs of glasses have been distributed. In needy communities, they are giving vision care and glasses to school-age children in their classrooms, where teachers are often the first to spot issues. 
Did you know? One pair of glasses can increase productivity by 35% and add 20% to a family's income.
Ready for your try-on session? Head here to start. 
MORE ACCESSORIES FROM MOMTRENDS
PIN IT!
Use pinterest to save your favorite fashion and style finds. Be sure to follow our Mom Fashion board here.
Not ready to shop today? No worries, pin this post to your shopping board as a reminder. Let me know if you try this program! I'm always happy to give my fashion advice.
This Trying on Glasses at Home feature is not a sponsored post. There are affiliate links within this post. Momtrends will get a small fee for every purchase made through the link.