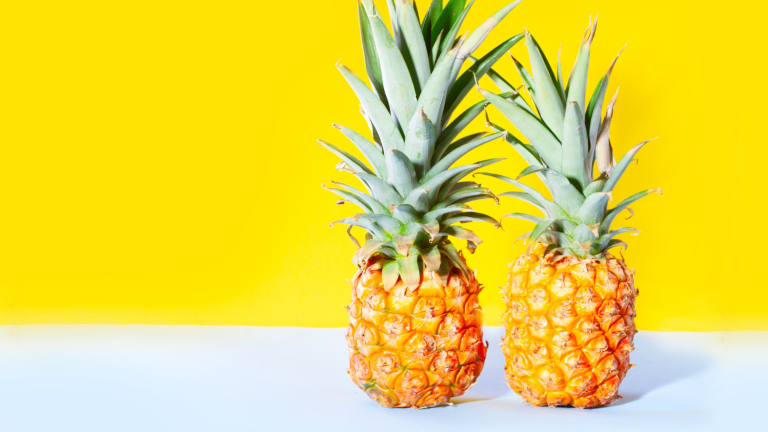 Trendy and Tropical Summer Styles: Pineapple Prints
I'm smitten with these trendy pineapple prints for summer, I've rounded up some of my favorites styles for the warmer weather.
Okay, I admit it. This outfit is just a little bit over the top. (The pom-pom beach bag is what really puts it over the edge.) What can I say? Sometimes I like being just a little bit over the top. I'm smitten with these trendy pineapple prints for summer. Check out our favorites.
Related: Throw a pineapple party
Speaking of bold styles, there's one colorful trend I'm absolutely obsessed with this season—and that's "the pineapple print." It's sweet. It's playful. It's fresh. And it's tastefully trendy (get it?).
This summer, I'm embracing the tropical trend in my wardrobe with a few fun punchy pineapple pieces. My peach tank top and the accompanying aqua scarf are both from Old Navy. They scream "SUMMER." I can't help but feel like I'm vacationing on a Hawaiian island when I wear this insanely sunny ensemble.
To celebrate the season's most delicious fruit, I've rounded up a few delightful pineapple-inspired fashion finds that are ripe for the picking. I want all eight bright, kitschy-cute, and juicy pieces... but I'll wear them all individually—because THAT would be over the top.
1. Pineapple Cardigan, $148 // 2. Kate Spade Sandals, $78 // 3. Pineapple candle, $30 // 4. Pineapple tote $17 // 5. Pineapple needlepoint $12 //6. Pineapple tee $30 // 7. Pineapple skirt $560 // 8. Pineapple Scarf $15 //9. Boden Pineapple Sweater $98
MORE PINEAPPLE IDEAS FROM MOMTRENDS
PIN IT!
Use Pinterest to save your favorite cocktail recipes. Be sure to follow our Drinks board here.
Momtrends was not paid for this post. This post may contain affiliate links. By clicking and shopping, you help support Momtrends and allow us to keep reporting on trends.