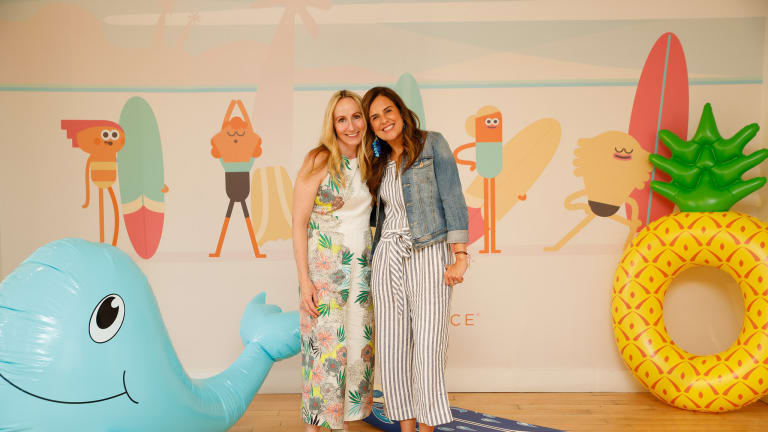 Publish date:
Top Summer Fashion Trend is the Jumpsuit
Easy Sumer Style for Moms
Easy Sumer Style for Moms
Hello summer! It's time to lighten up and play around with clothes. Enough with the serious stuff. Today I want to talk about why the top summer fashion trend is the jumpsuit. I found this great one-piece linen jumpsuit from Splendid. It was the perfect piece to wear to our summer meditation event hosted by Headspace.
I felt chic and stylish without having to sacrifice my comfort. When you are playing hostess, as I was, it's really important to feel good about your clothes. When I am distracted by too-tight clothes or a dress that is too short, it robs me of truly being in the moment. 
Splendid Waistless Jumpsuit
This outfit made me feel confident and let me do what I love most, helping other moms. We talked about meditation and simple ways to be more mindful.
I got tons of compliments on my outfit, so I just had to share it. I love Splendid for the simple styles they put together. There's nothing fussy or uncomfortable in their designs. This Linen Jumpsuit by Splendid is more evidence that Splendid understands how women want to dress.
The jumpsuit comes in XS-S-M-L. I am wearing a small and it fits great. I plan to take this on our Europe trips this summer and wear it to meetings too. Shop the look here.
Why the Top Summer Fashion Trend is the Jumpsuit
First, it's easy. It's a one-piece solution to the "what to wear question." Unlike a dress, you don't have to worry about crossing your legs. This is like wearing play clothes, but you get the benefit of looking pulled together.
Plus, most jumpsuits have pockets. The older I get, the happier pockets make me.

5 Pretty Ways To Organize Your Jewelry
I admit - I'm guilt. Despite my best efforts, my "jewelry drawer" has become a tangled mess of necklaces, bracelets and earrings. This cluttered collection not only makes it hard to see what I have, but difficult to untangle the pieces I do want to wear! This summer, I'm ...read more
This Year's Coolest Jumbo Pool Floats
Pool season is almost here! I can't wait to relax, read a book, and sip a cocktail while lazily drifting in an oversized float. (Just kidding, I have two toddlers--but a swim mama can dream, right?). If you've got a staycation planned, check out this year's coolest jumbo pool ...read more
Crystal Clear and Pristine: Pool-Cleaning Tips
Tropical Storm Isaiah gave us quite the midsummer surprise here in the suburbs of New York City. We just got our power back on after a whole week of darkness! With trees down, debris everywhere, and lots of uncertainty, one thing we forgot to check on: our above ground Intex ...read more
How to Style a Jumpsuit
Thankfully, this jumpsuit is easy to style. The shoulders are wide enough that I can wear a normal bra. If you are heading out for the night and want to have a little layer with you, add a cropped denim jacket. This one is old, but I found a similar one at A & F here. Since jumpsuits or rompers can look very "young" I decided to dress this up a bit with heels.
This pair is from my favorite shop in Paris called Berenice. No, they are not the shoes you can walk miles in, but they sure look cute. 
I added some tassel earrings from Bauble Bar. The color pops and makes this outfit 100% summer ready.
Blushington the Finishing Touch
Before the Meditation Event, I went for a run in Central Park with the Headspace team. They have a fabulous meditation app (read more about it here) and they are starting to work in some meditation for runners. I joined the company in a 5K run and then needed to get ready for my event.
After I popped into Dry Bar at the Parker Meridian Hotel, I noticed they had a Blushington makeup studio. Since I had 20 minutes to spare, I grabbed a walk-in appointment and asked for and on-the-go look. It took $40 and 15 minutes. I felt pretty and polished. Read more about Blushington here.
MORE FASHION FUN FOR MOMS
PIN IT!
Use Pinterest to save your favorite fashion posts. Be sure to follow our Mom Fashion Pinterest board here.
This Top Summer Fashion Trend is the Jumpsuit feature is not sponsored. There are affiliate links in this post.